On Wole Soyinka's Death and the King's Horseman
David Damrosch Relates the Play to Other Great Works
In 1961, a quarter century before he became Africa's first winner of a Nobel Prize for literature, a young Wole Soyinka performed in a radio play version of Things Fall Apart. A year later, he attended the conference at Makerere University College in Uganda where Achebe gave his address on the African writer and the English language. In Death and the King's Horseman (1975), Soyinka brings many of Achebe's themes to the stage, developing them for the rapidly globalizing postcolonial world of the 1970s. The play's global footprint is increasing today in a newly expanding mediascape.
A Netflix film version of the play was announced in June 2020, together with a series based on a Nigerian woman's debut novel. In a news release about the production, Soyinka was quoted as expressing his pleasure that the producer is a woman: "In a creative industry which, even in pioneering countries, is so male dominated, it is always a delight to see robust challenges offered by the female gender, and of attestable quality. Mo Abudu's incursion into this arena as film and television producer has been especially stimulating. It becomes part of one's sense of achievement, if one has contributed, however minutely, to the creation of an enabling environment."
Like Things Fall Apart, Soyinka's play centers on a powerful but flawed hero who comes into conflict with a colonial administration hostile to local religious customs, and the hero's patriarchal obsessions run counter to the perspectives of the women around him. The play also dramatizes a clash of generations as well as of cultures, hinging on a son's shocking death.
Yet Death and the King's Horseman combines many different literary strands, and it is based on an actual event. In 1946, when a Yoruba king died, the king's companion and counselor Elesin, known as the Horseman of the King, prepared to commit suicide as commanded by tradition, in order to accompany his king into the afterlife. Nigeria was still a British colony, and the colonial District Officer placed Elesin under arrest in order to prevent the ritual suicide from taking place. This act of mercy backfired when Elesin's eldest son committed suicide in his father's place.
Death and the King's Horseman combines many different literary strands, and it is based on an actual event.
A friend of Soyinka, Duro Ladipo, had already written a play on this theme in Yoruba under the title Oba Waja, "The King Is Dead." This short, polemical play unambiguously blames the tragedy on the English imperialists who have denied Elesin his proper role in the immemorial social and cosmic order. As he laments in sexualized language, "My charms were rendered impotent / By the European; / My medicines have gone stale in their calabash." Soyinka developed a far more complex play, drawing on traditional Yoruba drama, in which music, song, and dance convey much of a work's meaning. Soyinka also builds on the traditions of Greek tragedy, with a group of market women, led by the feisty Iyaloja, serving as his version of a Greek chorus. Two years earlier, Soyinka had published an adaptation of Euripides, The Bacchae: A Communion Rite, in which he boldly associated Greek tragedy and Christian sacrifice: the tearing apart of King Pentheus by the ecstatic Bacchantes becomes a version of the sacrament of communion.
Soyinka's Elesin has much in common with Sophocles' Oedipus. Both are faced with the need to carry through an ancestral pattern that other characters—Oedipus's wife, Jocasta, District Officer Pilkings in Soyinka—wish to relegate to ancient history. In both plays, the life of the community requires the hero's self-sacrifice. Death and the King's Horseman also ends with a Sophoclean combination of reversal and recognition, complete with dialogue concerning vision and blindness. Elesin's son Olunde is deeply disappointed when he discovers that his father hasn't committed suicide as he should have.
Elesin reacts to Olunde's palpable disgust by crying, "Oh son, don't let the sight of your father turn you blind!" The son's blinding insight into his father's failure is doubled with the father's reciprocal, devastating vision of his son's success, when Olunde's body is displayed to him in the final scene. Soyinka's play can also be compared to Shakespeare's tragedies. Unable to free himself from earthly attachments, Elesin has delayed his suicide in order to consummate a last-minute marriage, much as King Lear tries to retain a sizeable retinue even after giving the kingdom over to his three daughters. Echoes of Hamlet can be heard as well. Soyinka has Olunde returning from medical school in England—a modern equivalent to Hamlet's philosophy studies in Germany—to try to heal the murderous disorder he finds at home. Like the young Hamlet, Olunde loses his own life in the process.
Soyinka takes further Conrad's overlaying of Africa and England. In Heart of Darkness Marlow connects the Congo River and the Thames; now, one of the market women asks: "Is it not the same ocean that washes this land and the white man's land?" Soyinka complicates the theme of the intertwining of civilization and barbarism by shifting the story from its occurrence in 1946 back into the midst of World War II. When Jane expresses her horror at the prospect of Elesin's ritual suicide, Olunde retorts, "Is that worse than mass suicide? Mrs. Pilkings, what do you call what those young men are sent to do by their generals in this war?"
Like Things Fall Apart, Soyinka's play portrays the tragedy of a community struggling to uphold its traditions in the face of colonial domination. Yet Nigeria's situation in 1975 was very different from 1958, when Achebe was writing on the cusp of independence. A parliamentary government was established in 1960, but it was overthrown in a military coup in 1966, and growing ethnic and economic conflicts led to the Nigerian–Biafran civil war of 1967–70. Soyinka suffered two years of imprisonment on charges of aiding the Biafran cause, then went into exile in England, where he wrote his play. Though Soyinka set the action back in the colonial period, Elesin's attempt to satisfy his personal desires by evoking traditional customs echoes comparable efforts by Nigeria's military leaders in the 1970s—a similarity we'll see in Georges Ngal's work as well.
Building on Achebe's call for African writers to reinvent the English language, Soyinka uses English as both a resource and a weapon. Pilkings and his fellow administrators use blunt language with their African subordinates, who often speak in a creolized English ("Mista Pirinkin, sir") that registers their lower status in the colonial hierarchy. But Soyinka plays with the politics of language among his African characters as well. When the Nigerian Sergeant Amusa goes to arrest Elesin to prevent his suicide, the market women block his path. After mocking him sexually, they take on British accents: "What a cheek! What impertinence!" They then stage a little play within the play, acting the roles of self-satisfied colonialists: "I have a rather faithful ox called Amusa"; "Never known a native to tell the truth." Amusa is reduced to a stammering pidgin: "We dey go now, but make you no say we no warn you."
Yet even though he is working for the colonists, Amusa retains a deep-seated respect for his culture's traditional values, and he is horrified when Pilkings and his wife, Jane, don Yoruba egungun costumes for a costume ball.
The egungun are the spirits of the dead, full of uncanny power. Amusa pleads with Pilkings, "I beg you sir, what you think you do with that dress? It belong to dead cult, not for human being." Pilkings only mocks Amusa for giving credence to such "mumbo-jumbo."
The position of Jane Pilkings is particularly interesting in this war of races, genders, and words. Though she is loyal to her often obtuse husband, she makes genuine efforts to understand what's really going on, and she gradually becomes aware of parallels between the natives and herself as a woman within a patriarchal society. As she and Pilkings prepare to head off to the costume ball, hearing the ominous sound of drumming in the distance, she hints that he may not have been handling the problem of Elesin "with your usual brilliance—to begin with that is." Pilkings impatiently replies: "Shut up woman and get your things on," to which she responds in the language of a native servant: "Alright boss, coming."
_______________________________________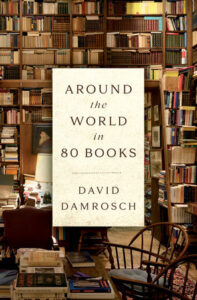 From Around the World in 80 Books by David Damrosch, to be published by Penguin Press, an imprint of Penguin Publishing Group, a division of Penguin Random House, LLC. Copyright © 2021 by David Damrosch.
---