On Troublesome Women in the House of Windsor and the Allure of Royal Outsiders
Wendy Holden Recommends Books That Pull Back the Curtain on the Lives of Exalted British Royals
My interest in royal outsiders actually began with royal insiders. It all started with a Coronation souvenir book from 1937 belonging to my grandmother. Splendidly encased in gold cloth covers, it chronicled the crowning of George VI, the Queen's father, and abounded with photographs of all the major players.
Here were George V and Queen Mary, George VI's parents, both looking amazingly grumpy. There was the new King, looking like a rabbit trapped in the headlights. His sweet-looking wife Elizabeth, mother of the Little Princesses. Princess Elizabeth (now The Queen) and her sister Margaret, both looking adorably serious. Then the former Edward VIII, the whole reason this coronation was taking place as he had abdicated in favor of his brother, looking as spectacularly bored as he was spectacularly handsome. And of course, the mysteriously glamorous Wallis Simpson, villainess of the piece, dripping in jewels and caressing a pet dog in much the same way Blofeld in the old James Bond films caressed his cat.
Who wouldn't want to put this lot in a novel? Even as a child they seemed to me larger than life. Subconsciously, there and then, I began to plot my book about The Windsors.
It took more than 40 years before I found the right approach. It was through what might seem an unlikely character. A young working-class woman who, after years of loyal service, had been cast out by the Windsors and almost erased from history. But who had had an outsider's perspective on royalty and sought to modernize the ancient institution.
Marion "Crawfie" Crawford was a young Scottish teacher who, from 1933-1950, had a great influence on the young Queen and her sister. She reluctantly gave up her private life to steer her beloved Little Princesses through the successive dramas of the Abdication, accession of their parents, and the whole of World War II. Yet afterwards, when she retired, they cut her off cruelly and never spoke to her again. The reason was a harmless and loving autobiography, The Little Princesses, which she was tricked into writing. But which the Windsors considered an unforgivable breach of privacy.
It was as I was writing my novel The Royal Governess, based on Crawfie's autobiography, that Wallis Simpson first appeared. She was supposed to have a mere few lines but ended up taking over the whole chapter. The context was her arrival in Scotland, to stay at Balmoral. She had been met at the station by her lover the King, and it had caused a sensation because he was supposed to be opening a hospital. Wallis got the whole blame for his no-show, but it occurred to me as I wrote the chapter that she would not have been aware of this prior commitment. It made me wonder what else she had been unfairly blamed for, and before long I had a whole alternative narrative. It ended in a complete reassessment of her role in the main thing she's held responsible for—the Abdication itself. This novel is The Duchess, just published by Berkley.
Two women, both blamed by the royal family. Both punished and exiled for things not really their fault. Both coming from the outside world with new ideas. Both stirring up spectacular dramas of love and loyalty; both exerting an influence that is felt still.
I had a theme here, I realized. Troublesome Women in the House of Windsor. And there was a third story to tell to make it a trilogy, that of the most famously troublesome Windsor Woman of all. I'm working on my Princess Diana novel at the moment, for release next summer.
For deeper reading into Troublesome Women in the House of Windsor, check out these titles.
*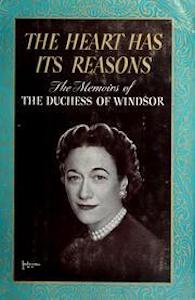 Wallis Simpson, The Heart Has Its Reasons: The Memoirs of the Duchess of Windsor 
My inspiration for writing The Duchess was Wallis Simpson's own account of her life, especially the start of it. Her description of her difficult childhood and catastrophic first marriage to a violent alcoholic showed a completely different, completely vulnerable side to the woman usually portrayed as a hard-hearted schemer. Her remarriage to kindly Ernest Simpson and subsequent move to London was also a near-disaster, as Wallis hated her new city—bad weather, unfriendly people. How, I wondered, did this lonely, shunned creature become the beloved favorite of the dazzling Prince of Wales? That is the story The Duchess tells.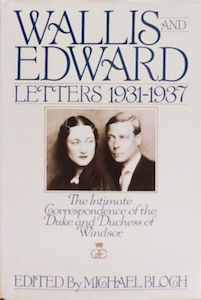 Michael Bloch (Editor), Wallis and Edward: Letters 1931-1937
This fascinating cache of personal correspondence tells the story of the most famous love story of the 20th century as it actually developed. There are pet names, jokes, parties, and cruises but then a growing sense of desperation as Wallis realizes Edward really is going to renounce the throne to marry her. Her letters expressing her utter horror and his expressing his implacable determination were the best sources I found to support my central conviction—fictionalized in The Duchess—that Edward used Wallis and not the other way round. Her unsuitability—at every possible level—to be Queen of England was what attracted him most about her. He never wanted to be King and she was his get-out.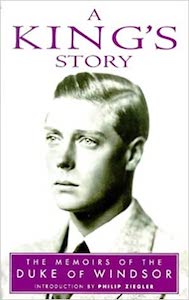 Edward VII, A King's Story: The Memoirs of the Duke of Windsor
Edward VIII's own account of his childhood and life as the most popular Prince of Wales in history makes riveting reading. Edward was a very witty man and writes with a wonderfully wry, light touch about the many absurdities of his formal royal upbringing. He describes with horror being kissed by Queen Victoria and throws light on some crucial relationships, especially that with his famously distant mama and his even more famously bad-tempered father. But he also tells us of his love for Fort Belvedere, his party castle in Windsor Great Park. We learn all about the bathrooms he has put in and the gardening projects he has undertaken. And of course, the fateful meeting with Wallis and how their relationship developed.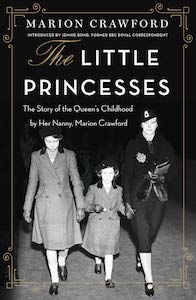 Marion Crawford, The Little Princesses
When this book fell off the shelf in a second-hand bookshop in the North of England, I picked it up to put it back. Then I opened it and read the first page in which Marion Crawford explains that she never intended to work for royalty; her interest was in the children of the Edinburgh slums. I was hooked right there and then and that was without even knowing she was with the King, Queen, and Princesses throughout the seismic events of the Abdication, Coronation, and the whole of World War II, all of which she saw exactly as they did. And yet the reward for her devotion was ostracism. It's an utterly incredible story and one I made into my 2020 novel The Royal Governess.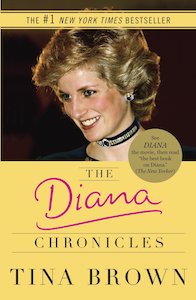 Tina Brown, The Diana Chronicles
Reading for my Diana novel, I've found this sparky, irreverent and sharp-witted biography by the celebrated journalist both fascinating and entertaining. Brown, whose background is upmarket British glossy magazines, knew Diana's milieu well and has some pungent opinions on why what happened happened. She is especially good on Diana's early life, which is the focus of my book. A breezy and well-informed take on the fairytale which was actually anything but.
__________________________________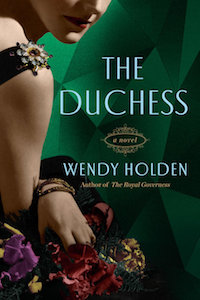 The Duchess is available from Berkley Books. Copyright © 2021 by Wendy Holden.
---