On the Sexist Reception of Willa Cather's World War I Novel
From Hemingway to Mencken, No One Thought a Woman Could Write About Combat
When Willa Cather's fifth novel, One of Ours, won the Pulitzer Prize in 1923, it was divisive among critics. Reviewing the book in The Smart Set, H.L. Mencken wrote that the first half, which is about protagonist Claude Weaver's young adult years on a farm in Nebraska, was very good, and the second, which follows Claude to France and the trenches in World War I, operated "at the level of a serial in the Ladies' Home Journal." Playwright Sidney Howard wrote in Bookman: "It seems to me a book to show what a woman can write supremely and what she cannot write at all… the pity is that Miss Cather did not know war for the big bowwow stuff that it is and stick to her own farms and farmer folk."
But the most memorable comment was one that Ernest Hemingway wrote to Edmund Wilson in a 1923 letter: "Wasn't [the novel's] last scene in the lines wonderful? Do you know where it came from? The battle scene in Birth of a Nation. I identified episode after episode, Catherized. Poor woman, she had to get her war experience somewhere." (Hemingway was bitter over the novel's "big sales," and it showed.)
These critics read the heroic wartime section of the book literally, which is a strange failure of comprehension. Some of them (mostly women) got it. In the San Francisco Chronicle, Nancy Barr Mavity observed: "One of Ours reads like a book written during the war instead of after the shock of awakening. Can Miss Cather be as simple as all that? No, but Claude is, and the identification of the author with the character is so perfect that not a line of criticism, of ironical comment is allowed to seep through."
The character of Claude was initially inspired by G.P. Cather, a Nebraskan cousin of the writer's, who died in France and was hailed as a hero. While she was writing it, Cather called the project, fondly, Claude. She was eventually convinced to change the title, in consideration of possible market appeal, but perhaps she should have kept it. The best way to read the book is as a deeply sympathetic character study of Claude, a Midwesterner born on a prosperous farm who is deeply unhappy with his life. It's written from his perspective, and he's nothing if not a romantic.
Looking in the mirror early in the book, Claude thinks about himself: "He was exactly the sort of looking boy he didn't want to be. He especially hated his head,—so big that he had trouble in buying his hats, and uncompromisingly square in shape; a perfect block-head." He loves his mother, and Mahailey, the hired woman who has lived with their family for years, but neither his mother nor Mahailey really understand him. His father, a prosperous burgher, spends most of his time rattling around the neighborhood in his old buckboard, which he prefers to a car in part because it "was so rickety that he never felt he must suggest his wife's accompanying him."
Everyone in the household operates in well-worn grooves of interpersonal interaction, and the comfortable repetitiveness of this life makes Claude—an early-20th-century precursor of the Beats, hippies, and hipsters, a character literary scholar Joseph Urgo has called "the prototype of the rebel without a cause"—completely miserable.
Claude's observations about the town and state where he lives are mordant and cutting. In his review of the book, Mencken thought Cather should have looked at what happened on the home front during the war, rather than trying to understand the combat experience of a soldier. "The grotesque and inordinate monkey-shines that went on at home—the loan drives, the cadging for the YMCA and Red Cross, the looting of enemy nationals, the spy-hunt, all the other patriotic whoop-las of the period," he wrote. "In that period there is abundant material for a penetrating and ironical novel…No other participating nation was so safe from all peril in the war, and yet none other was so horribly scared or so shameless about revealing it."
Claude's native disillusionment with everything around him, which defines his life over and over again, gets entirely swept away when he goes to war.
But in the part of the novel that takes place in Nebraska, this type of social critique abounds. Claude is a second-generation Midwesterner who thinks the whole project has proven a failure. "The farmer raised and took to market things with an intrinsic value; wheat and corn as good as could be grown anywhere in the world, hogs and cattle that were the best of their kind," Claude thinks to himself. "In return he got manufactured articles of poor quality; showy furniture that went to pieces, carpets and draperies that faded, clothes that made a handsome man look like a clown. Most of his money was paid out for machinery,—and that, too, went to pieces. A steam thrasher didn't last long; a horse outlived three automobiles."
Claude blames the easy manufactured abundance of early-20th-century farm life for the shortcomings of the people who surround him: "Sometimes he thought this security was what was the matter with everybody; that only perfect safety was required to kill all the best qualities in people and develop the mean ones."
This perspective on the Midwest did appeal to some reviewers, who saw Claude's withering spirit as evidence of a larger social problem. "The problem that Claude faced is the problem all aspiring youth face in the cramped, mean, unpleasant environment of the stagnant inland towns of America, towns where the pioneer spirit has died from the spread of modern industrialism and no spirit whatever has taken its place," a reviewer in the New York Tribune wrote.
The middle of the novel, in which Claude befriends a German-American family living in Lincoln, where he attends college briefly, is its own appealing little reverie. The Erlichs' welcoming living room and their spirited conversation is described so warmly that through the intimate details of their décor and dress, the reader feels the thrill of Claude's opening mind. Claude changes, in contact with the Erlichs, and begins to enjoy the project of articulating his inchoate beliefs about politics, history, and world affairs.
"He had grown up with the conviction that it was beneath his dignity to explain himself, just as it was to dress carefully, or to be caught taking pains about anything," Cather writes. "It wasn't American to explain yourself; you didn't have to! On the farm you said you would or you wouldn't; that Roosevelt was all right, or that he was crazy. You weren't supposed to say more unless you were a stump speaker." But this brief period of excitement ends too quickly, as the Weavers decide they need their son at home; Claude leaves school and takes over operation of the farm.
In the character of Enid, Claude's fervently Protestant childhood friend and then wife, who cares far more about piety and rectitude than she does about Claude, Cather pokes at the sanctimony of the church, but also at the entrapments and failures of the American domestic ideal. In a beautiful and pathetic stretch of the book, Claude builds a new house on part of his father's farm—an architectural manifestation of his dreamy idealism, filled with features that he thinks will make their lives easier and more sublime.
He makes the whole top floor a big master bedroom, a refuge where he and Enid (a woman whose character he has seriously misassessed in jumping into matrimony) can escape from the labors of the farm, into their own room with a view. But Enid insists on reserving the room for guests—visiting preachers and relatives. She is a perfect housekeeper, and a good cook, but she frustrates Claude's romantic instincts completely.
Claude's native disillusionment with everything around him, which defines his life over and over again, gets entirely swept away when he goes to war. The energy of the project moves him; his fellow soldiers impress him; he finds, in France, a country that values the things he values. It's this second section of the book that offended Hemingway and Mencken so much. During and after World War I, writing about a war, for the first time, became the exclusive province of combat veterans. As literary scholar Samuel Hynes writes: "The notion that only those who fought could speak the truth about war is one that old solders have always had, but it had never been the basis of an aesthetic until the Great War."
Given that this was the case, it seems that Cather, being a woman and a non-combatant, could have done almost anything with the second half of her book, and been critiqued for it. Literary scholar Steven Trout writes that Cather did do extensive research while writing the war section. Cather read the corpus of her cousin G.P.'s letters home to his mother, interviewed returning soldiers, went to France to visit her cousin's grave site, and read doctors' diaries to understand how epidemics unfolded on troop ships. Many of the more flowery passages in the war section, Trout observes, came from these primary sources.
"Claude Wheeler's comments in One of Ours—that he 'had worked with brave men,' 'he commanded wonderful men,'—are not the contrived romantic phrases of a writer who knew nothing about war, but rather almost verbatim lines from G.P.'s letters home, which Willa Cather read in September 1918, during a visit with G.P.'s mother," Trout writes.
Cather received hundreds of letters from former servicemen who admired the second half of the book for its patriotism and commitment to the cause.
The European passages are unflaggingly romantic. Even as the "Spanish flu" hits his transport ship on the way to France, Claude's perspective remains bright. He helps the doctor in charge nurse patients; around him, friends take sick and falter, are sewn into sails and dumped over the side of the ship. This experience seems to have little purchase on Claude—so little that the historian Alfred Crosby, writing about the flu's curious absence in the literature of the time, was to dismiss One of Ours' treatment of the epidemic as culturally insignificant.
But this is another instance in which Claude's flushed, eager perspective dictates that the narrative must remain positive. For him, this mass sickness and death is of minor importance, in comparison to the revolutions he's going through in his mind. "I'll go off my head if I keep losing men! What would you give to be out of it all, and safe back on the farm?'" the doctor Claude is assisting asks him one day. "Hearing no reply," Cather writes, "he turned his head, peered over his raincoat collar, and saw a startled, resisting look in the young man's blue eyes, followed by a quick flush. 'You don't want to be back on the farm, do you! Not a little bit! Well, well; that's what it is to be young!'"
The rest of the book, from Claude's rapturous friendship with a talented violinist and fellow officer to the time he spends with French villagers, sounds like a letter home from a student on a particularly good school year abroad. There's some debate as to whether Cather presents Claude's besotted observations on the deep purpose he's found in France with a hint of irony. In one sequence, the men bathe together in a shell hole—a moment of levity in the middle of a battlefield.
The scene quickly shifts from sweet to gruesome, as Claude finds a German helmet, bubbles begin to rise to the surface, and the men realize they are cavorting in water that conceals a pile of rotting bodies. "As if lifted from one of Siegfried Sassoon's wartime shock poems or the pages of All Quiet on the Western Front, the episode ominously juxtaposes the naked physiques of young soldiers with corpses," Steven Trout writes. But mostly, the wartime sequences are full of brave officers, tables spread with wine and bread in French courtyards, and grateful daughters of French families, happy to eat and drink with the visiting Yanks.
Cather received hundreds of letters from former servicemen who admired the second half of the book for its patriotism and commitment to the cause, as well as its love of France. Reportedly, she treasured these letters. Although, among Lost Generation intellectuals of the types who dismissed Cather's book it was au courant to dismiss the war as a failure and a boondoggle, there were many American veterans who participated enthusiastically in the commemoration of the war in the 1920s, erecting memorials and joining the American Legion. The dark and hopeless perspective given memorable shape by writers like Sassoon and Wilfrid Owen wasn't shared by all.
"If, as Mencken claimed, all fiction about the war must be considered against or written in the manner of Dos Passos's Three Soldiers, who was to tell the story of the G. P. Cathers, the Charles Baylys, the Thomas Cassadys, the Wendell Biesers, and all those soldiers who did not share Dos Passos's view of the war?" Richard Harris writes, citing names of some of the soldiers who wrote Cather letters after the book's publication. In representing their perspective—whether ironically, or not—this book was destined to fall by the way.
__________________________________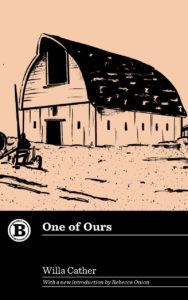 From the introduction to One of Ours. Used with the permission of the publisher, Belt Publishing. Introduction copyright © 2019 by Rebecca Onion.
---