On the Real-Time Thrill of Reading
a Writer's Diary
From Harry Crosby to John Cheever, Duncan Hannah's Favorite Journals
I began keeping a diary at age 16. I initially did it to record lists of my teenage intake of favorite painters, books, records, movies, drugs, sex, and concerts. A year later, I started to jot down impressions and real-life stories. That's where my book Twentieth Century Boy begins, and it ends 11 years later.
I was not inspired by other diaries, because I had not read any. I was inspired by the conversational tone of Henry Miller and Jack Kerouac. As I progressed, I found I was using the journal as a way of matching the mythology of my gang of misfits with the previous generations with whom I felt a kinship, to see if we fit into the continuum of the Beats, the Lost Generation, and other pockets of la vie bohème.
When I was at Bard College, the only diarists I knew tended to write when angry or upset. I was determined to never do this, and instead wrote more from jubilation and intoxication. Discipline set in, and I would feel guilty if I had not recorded notable recent events. I didn't like the way time slipped by so quickly, and this seemed to be a way to slow it down. Fitzgerald made an impression on me with his "Youth is wasted on the young" line, so I tried to salvage what I could as my youth zoomed by. When I moved to NYC in 1973, the feeling that one could make one's own life into ART was definitely in the air, what with Warhol's factory of eccentrics and pop stars such as David Bowie and Bryan Ferry living surreal, glamorous, and semi-fictional lives.
I have since enjoyed reading other journals, including Cecil Beaton, Anthony Powell, James Lees-Milnes, Virginia Woolf, Samuel Pepys, Allen Ginsberg, Delacroix, Edmund Wilson, Alan Bennett, and many more. What a journal offers that a memoir can't, is, of course, the immediacy of real-time. The writer doesn't know how all this will play out. There's no lens of hindsight to shape the facts, no primary source unadulterated by the events that follow. There is the possibility of candor, which is always welcome. As Ned Rorem wrote "A diary has impact only through the accumulation of unlimited observations."
With that in mind, here are five published diaries that have intrigued me.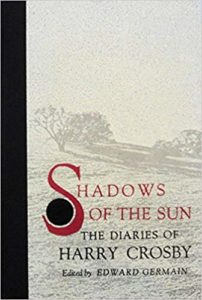 Harry Crosby, Shadows of the Sun: The Diaries of Harry Crosby
(Black Sparrow Press, 1977)
Geoffrey Wolfe's biography of the doomed poet Harry Crosby, Black Sun, had come out the year before and presented a fascinating portrait of a brilliant, hedonistic, elegant, wealthy, impulsive, romantic, and death-obsessed youth, whose life ended in a double suicide in 1929. What was revealed in the diaries that Wolfe had largely missed was Harry's sense of humor and child-like playfulness. Here are some random lines among hundreds of others:
"Is it tomorrow or yesterday? That is the way I feel."
"My heart is a racecourse."
"Perfume and pearls and the prolongation of pleasure."
"Her ears two little slippers for the feet of my voice."
This volume (coming out as it did as punk rock crashed into London and New York) was very influential to me. Learned and delirious.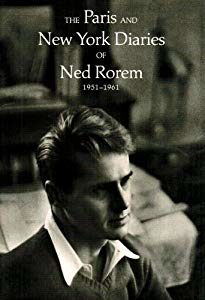 Ned Rorem, The Paris and New York Diaries
(Avon Books, 1970)
Rorem's enviable saga bridges the old Europe of Colette, Balthus, Cocteau, and other historic luminaries from early 1950s Paris to late 1950s modernist New York (Auden, Rivers, Kerouac, Copland, and more). All the while, he is bitchy and horny and drunk and composing his bittersweet classical compositions, working-out his thoughts, observations, indiscretions, opinions, frustrations, and desires in his journal. Contained within it: a testy narcissist forever lamenting the loss of his beauty, even while he still has it. "It's harder to maintain a reputation for being pretty than for being a great artist." He's a creative alcoholic, given to week-long benders followed by a constant grappling with remorse and inspiration. "Liquor's black magic, and I'm a mortal with no talent for combating sorcery." Rorem has a big ego but also the talent and intelligence to back it up. "I can't just 'live,' but must be aware of being aware."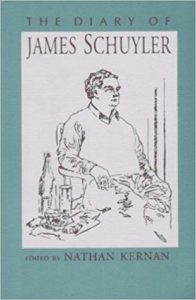 James Schuyler, ed. by Nathan Kernan, The Diary of James Schuyler
(Black Sparrow Press, 1997)
"You know what my diaries are like: they're mostly about looking out the window," Schuyler modestly said in 1989. These diaries sporadically cover the years from 1968-1990, with a break from 1971-1981 due to mental health issues. The diaries are detailed, economical, and touching, as well as funny in a deadpan, goofy, campy way, full of weather reports, nature notes, quotations, reading lists, and painterly studies of the world around him. His antennae were so finely tuned that one feels a dullard in comparison. Schuyler always had a way of making the familiar fresh. He was a connoisseur of idiomatic speech. This book captures the loopy quality of the New York School of poets and painters like nothing else. The diaries are made much richer by the extensive and well researched footnotes (430 of them) that Kernan supplied, down to the slightest touch, such as a potted history of English actress Nova Pilbeam. Also, a very interesting chronology and appendix of names.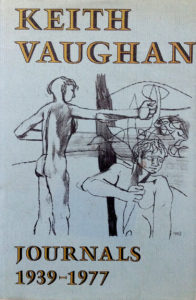 Keith Vaughan, Journals 1939-1977
(John Murray, 1983)
Vaughan was an excellent English painter and teacher at the Slade who straddled figuration and abstraction, and his journals are an X-ray into the thinking and working habits of a complicated contemporary artist. Vaughan used alcohol, drugs, and random homosexual encounters to combat his depressive make-up. He goes into great detail about a rudimentary electrical masturbation machine he built and used. After being diagnosed with cancer, he died by suicide and famously wrote in his journal up until the final seconds of his death.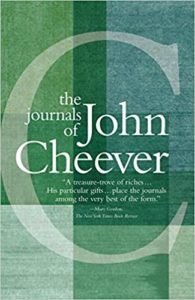 John Cheever, ed. by Robert Gottlieb, The Journals of John Cheever
(Alfred A. Knopf, 1991)
This chronicle spans the late forties to Cheever's death in 1982.  I was so dazzled by his poetic powers, and his ability to telescope out from an everyday incident to the very mystery of being alive, that I couldn't write in my own journal for several months. There's an astonishingly beautiful depth and dimension that I found inspiring and intimidating. My copy is heavily underlined.
"This is the sharp thrill of our mortality, the link between the rain-wet stones and the hair that grows from our bodies."
"And so it is nearly dark, and one has nothing, nothing at all, and one has everything."
"I had, fleetingly, this morning, a sense of the world, of one's life, one's friends, and one's lovers as givens. Here it all is– comprehensible, lovely, a sort of paradise. That this will be taken quite as swiftly as it has been given is difficult to remember."
---