On the Push and Pull of Muslim Cultural Identity
Omar Mouallem: "Islam has a place within me. But do I have a place within it?"
The first time I learned I was Muslim was in preschool.
During an excursion to a pizzeria, which is what passed for a field trip in my hometown of High Prairie, Alberta, I consumed a few morsels of ham. My mom arrived with the other parents to pick me up from class, and I began to sing the praises of Hawaiian pizza. She cut me off with a gasp. "You're Muslim," she said loudly for my teacher to hear. "Muslims don't eat pork."
Abstaining from pork could be the first law of the Five Pillars of Western Islam. Unlike the actual pillars (pray daily, pay alms, fast through Ramadan, pilgrimage to Mecca, and declare Muhammad as a messenger of the one true God), they are defined by what you don't do: eat pork, celebrate Christmas, drink alcohol, gamble, and date. It's safe to say that I'll probably never complete the first set of pillars. But the second I dutifully observed until mid-adolescence. Then I pushed them over, one by one, over the course of ten years. The first to go up was the last to fall.
Which brings me to the second time I learned I was Muslim, a few years ago, at age 30. I outed myself from the atheist closet by eating pork on a Food Network show. I immediately regretted it and decided to inform my mom before one of my relatives got to her first. I tried to explain my disposition to her, but again she cut me off: "You were born Muslim, and you'll die Muslim." I don't think she meant it as a threat, and certainly not as an offense, but that's how it felt.
After the Twin Towers fell on September 11, 2001, two days before my 16th birthday, I started becoming hostile to structural authority—governmental, institutional, and religious. Reflecting on it today, it probably had as much or more to do with how I wanted to be viewed than any firm views I might've held as a fledging writer and rapper. Throughout my 20s, I refashioned myself a professional skeptic in magazines, radio, and music, and I routinely disparaged religion and the religious. Part of my first date with my now wife was spent debating (or perhaps tormenting) a Christian street preacher. On my second date with Janae, we chilled with a documentary about human evolution.
Yet try as I might, I've never been able to shake free from the larger Muslim body, the ummah. When my parents pressured us to sign a sharia marriage contract to give them peace of mind, I was a begrudging Muslim. When Janae's friends, or the parents of previous girlfriends, warned that I might become an abuser and would absolutely dump them to marry a brown girl in time, I was an ashamed Muslim. When a literati type cornered me at a party to ask me why Muslims don't condemn Muslim terrorists, I was a polite Muslim. When the same man years later accused me of anti-Semitism, I was an irate Muslim.
My mother said, "You were born Muslim, and you'll die Muslim."
Until recently, Muslim identity was imposed on me. But I feel different about my religious heritage in the era of ISIS and Trumpism, Rohingya and Uyghur genocides, ethnonationalism and misinformation. I'm compelled to reclaim the thing that makes me a target. I've begun to examine Islam closely with an eye for how it has shaped my values, politics, and connection to my roots. No doubt, Islam has a place within me. But do I have a place within it? Is there a seat in the ummah for nonbelievers?
In search of an answer, I started a journey to discover the oldest and most dynamic mosques in the Americas, as well as humbler temples that challenge the definition of Muslimhood. I wanted to demystify these houses of worship, for myself and others; humanize a minority in need of humanization; and document the diversity among denominations, nationalities, and individuals. I prayed in dozens of mosques from the edges of the Amazon to the Arctic Circle, capturing the multiplicity of practices and beliefs inside. Everywhere I went, I left behind a prayer. It was medicine, going down smooth or bitter, but always tasted like an antidote to the intolerance that once infected me and increasingly infects Westerners scarred by ignorance and fear.
But why the Americas? Anti-Muslim anxieties are more pronounced in Europe, after all. The population of Greater America's Muslims is statistically insignificant: some 10 million people spread across 16 million square miles, even if they occupy an outsized space in the media cycle and collective fears of the other 99 percent.
But it's that very isolation that has allowed American Muslims to develop into the most racially diverse religious group in the United States and the most diverse Muslim population in the world. In a city like Houston, over one hundred Muslim houses of worship go by many names: masjid, jaamah, musalla, Husaynia, jamatkhana, temple. The variation and banality of these landmarks at once debunk the myth of a monolithic Islam and the "clash of civilizations." When there are clashes, they're usually between the temple walls and coreligionists.
I'm compelled to reclaim the thing that makes me a target. No doubt, Islam has a place within me. But do I have a place within it?
Isolated from Islamic scholarship by an entire hemisphere, Muslim traditions evolved uniquely alongside New World cultures until the postwar period. Globalization and Islamism, a relatively modern political movement, complicated Muslims' abilities to practice and define Islam on their own terms. As those practices begin to look standardized, they're being complicated again by the free flow of information in the social media age, gradually evolving into an inclusive Muslim movement with human rights at the forefront.
Perhaps American Islam is overlooked because Islam itself is seen as synonymous with the East. In fact, Prophet Muhammad modeled it on Abrahamic faiths, so it's no more Eastern and no less Western than Christianity, especially in the New World. Its American roots stretch back further than every nonindigenous faith except Catholicism (and maybe further back, according to disputed history of Chinese exploration).
Islam underpinned much exploration, colonization, and development in the New World. After the fall of Granada in 1492, the Spanish Reconquista served as a blueprint for conquistadors. Indigenous Americans were sometimes identified as moriscos and moriscas (Moors), their sacred sites as mezquita (mosques), and their suffering justified by an announcement of "The Requirement," a Spanish decree offering a chance at peaceful submission, or death, exactly what was used to convert, conquer, and expel the Moors. And all of this was before the transatlantic slave trade introduced as many as 3 million Muslims who earned such a reputation for rebellion that Spain made several futile attempts to ban their importation.
Islam continued to shape the Americas, apparent in place names such as Almenara, Brazil ("The Minaret"), and blues music. Thomas Jefferson wrote one of the US Constitution's most sacred clauses ("no religious Test shall ever be required as a Qualification to any Office or public Trust") with a hypothetical Muslim president in mind. Centuries later, Black and brown Muslims would swear on Jefferson's personal copy of the English Quran during their oath of public office.
Westerners treat Muslim communities as a new viral outbreak instead of an essential gene in modern America's DNA. But I can't blame the public for not knowing the richness of American Islam when I did not know it myself. Christian-dominated historians have forgotten, ignored, and erased Greater America's Islamic roots, but so have orthodox Muslim theologians attempting to "purify" American Islam.
The concept of an ummah, a whole Muslim body unified in their beliefs, promotes universal common grounds but it also fuels the false concept of a monolithic Islam. Even I have used it to paint Muslims with this broad brush, ignorant of the nearly eighty sects and innumerable cultural interpretations. Every mosque I visited proved the ummah is, at best, a nebulous concept. In the Persian heart of Los Angeles, I went to a quasi-secular mosque attempting to "bring people in from the nightclub," as well as an older generation who abandoned Islam as a survival tactic. Under an extravagant dome in Dearborn, Michigan, I found a prayer hall nearly abandoned by congregants favoring American ideals. In southern Mexico, mosques reconnected some to their Moorish roots and others to Indigenous traditions. And at an undisclosed location in Toronto, I saw women lead prayers, queer people give sermons, and met fellow atheists seeking spirituality.
Every mosque told a different story. Each story complicated my view of Islam, Muslims, and myself. Every congregation had its frictions, but rarely were these issues related to Muslim extremism. Differences over opinion usually stemmed from differences in age, ethnicity, gender, and sexual orientation. I expected that to an extent. What I didn't expect was the sense of belonging I'd feel with most congregations. I began to wonder: Can one be Muslim if he doesn't believe in its basic tenets but seeks comfort in Islam's select messages and practices? If the airport security and most people assume I'm Muslim, including my own family, does it matter? In other words: Am I still Muslim?
_______________________________________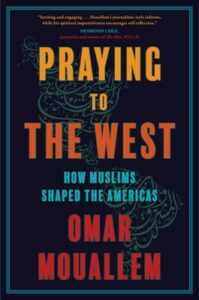 Excerpted from Praying to the West: How Muslims Shaped the Americas. Copyright © 2021 by Omar Mouallem. Excerpted by permission of Simon & Schuster Canada. All rights reserved. No part of this excerpt may be reproduced or reprinted without permission in writing from the publisher. 
---