On the Power of the "Unlinked" Story Collection
Chris Stuck Recommends Books by James Baldwin, ZZ Packer, and More
When I first queried agents about my story collection, I heard this a lot: "These stories are good, but can you link them through a character or a town so I'll have half a chance at selling this as a book?" Each time, I replied, "Well, the town I'm writing about is America. The character is Black folks. Isn't that enough?" It wasn't. One agent who replied within five minutes of me sending a query, clearly without reading my sample, said, "Editors won't even consider story collections without an obvious link and a novel to go along with it. Let me know when you have both." 
The five-headed monster called The Publishing Industry doesn't really want our "unlinked" story collections, people. I'm ridiculously lucky Amistad/HarperCollins is publishing mine. I'll even go a step further: it is the industry that has made people think our beloved "unlinked" story collections are ugly and unsellable. There, I said it. Nowadays, you have to give your fiction a familiar sheen, an obvious link, so the agent, editor, and future reader will want to pick up the book, so it will sell, sell, sell. Unfortunately, no one told me this until it was too late. I was already in love . . . with a zombie, evidently—the traditional "unlinked" story collection. 
When I started reading literary fiction in the early nineties, my late teens, I became smitten with story collections the same way I was with great albums. I read acknowledgment and copyright pages like they were liner notes. I cared where each story had been published. I was intrigued by a collection's variety and creativity and, in a good one that had something to say, its power and precision. The "linked" collection, already a thing even then, just wasn't what I wanted to create. Don't get me wrong. Linked collections are awesome. There are great ones, such as Jesus' Son, Olive Kitteridge, The Things They Carried, Drown. Some of my closest friends have written linked collections. But I get bored with a singular point of view or one place. I want diversity and variation. 
Also, a part of me wants to fight against the industry's rules and business-y desires. When a small-press collection like Deesha Philyaw's The Secret Lives of Church Ladies takes the writing world by storm, I'm like, "See, Industry? I told your ass. Unlinked short-story collections do matter." Another blasphemous statement: Most novels are actually just padded short stories. There, I said that, too. But it's okay. I'm a writer in my forties, with my first book of stories coming out after years of rejection. I'm allowed to be a curmudgeon. 
So, with complaints lodged and my old-fart status confirmed, here is a list of traditional story collections that aren't concerned with selling themselves in obvious ways or acting like novels. They are mosaics with pieces and "links" that maybe aren't as marketable or obvious to an agent or an editor but are, to a generous reader, I have to believe, as clear and sparkling as the truth.
*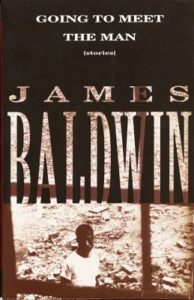 James Baldwin, Going to Meet the Man
(Vintage)
I first encountered this book when I was nineteen and a used-book and old-record junkie. I'd read "Sonny's Blues," but I wasn't aware Baldwin had a collection of stories. There it was, sitting pristine on the shelf. A black cover with the title in white font. It didn't say "stories" or "and other stories." It was simple. Going to Meet the Man. The title seemed important and heavy. I knew what era Baldwin was from. It was saying something about race and Blackness and oppression. I bought the book and just looked at it for a few days. When I finally read "The Rockpile" I was blown away. "Sonny's Blues" is in there, but so were other less frequently anthologized treasures like "This Morning, This Evening, So Soon," "Previous Condition," and "Come Out the Wilderness." Baldwin could teach a master class in titles alone. They were all bangers. It was the title story, though, written from a white Southern sheriff's point of view, that really surprised me. It was an interesting artistic choice, and it opened up my mind.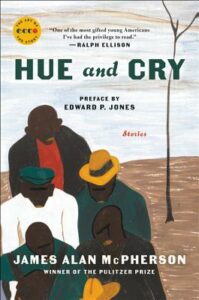 James Alan McPherson, Hue and Cry
(Ecco Press)
James Alan McPherson is another used-bookstore find. Pre-internet, when everything was word of mouth and I stumbled onto jewels by pure dumb luck, I was intrigued by this book because of its title, too. On the back of the book, its only blurb was by Ellison, praising McPherson while, some say, pitting him against other young Black writers of the time, "those talented but misguided writers of Negro American cultural background who take being black as a privilege for being obscenely second-rate…" Damn, Ralph! Tell us how you really feel. Of course, I bought the book. I'd read "Gold Coast" in an anthology by then but hadn't fully digested it. Compared to most stories, it seemed long. For some reason, cozied up in the book, it hit differently.
Now, it wasn't long enough. I wanted more. It's my favorite story to this day: a young janitor dealing with his potential, the '60s, race relations, and the old Irish super in his building. That story has as much weight and information and character crammed into it as any novel. And that's another thing: nowhere does the book say "and other stories" on the cover. Just looking at it, you might think it is a novel. Reading these stories, I realized images and narratives could be more than just entertainments. They could be statements.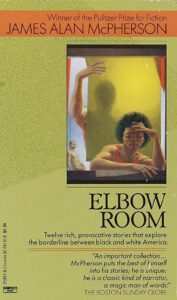 James Alan McPherson, Elbow Room
(Fawcett Books)
If Hue and Cry was the first handshake, Elbow Room was my full embrace of McPherson. I realized I'd spotted my truest influence. (Note the inclusion of "Stories by" on the original jacket cover.) If Hue and Cry seemed big to me, Elbow Room was its hulking sibling. The title said so much. The industry seems to expect Black writers to treat race and trauma in an obvious way, but McPherson goes against the grain, cutting left instead of right. "Why I Love Country Music," a story about a Black man whose love of country music goes back to a childhood romantic memory, exemplifies this. Or "The Silver Bullet," a comedy of errors about a young Black man trying to knock over a bar in order to join a gang, which ultimately says something about community, masculinity, and race. Or "I Am an American," about a Black couple traveling abroad in London. I'm not saying there weren't other Black writers writing interesting things, stretching the form, but McPherson's powers were more compatible with my sensibilities.
That being said, his work is, for better or worse, sort of locked in his time, the '60s and '70s, and he didn't publish any more fiction, though I wish he had. But compared to the work of McPherson's era, Elbow Room and Hue and Cry were new and innovative mosaics. In fact, Elbow Room won the Pulitzer Prize in 1978, McPherson being the first Black writer to receive it in the fiction category. Even more endearing to me is that, according to lore, when he was told he'd won, some reporters went to get a quote from him as he was leaving a writing workshop. At first sight of them, McPherson, a notoriously shy man, ran the other way.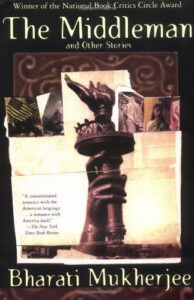 Bharati Mukherjee, The Middleman and Other Stories
(Grove Press)
Book-nerd confession: I used to carry my favorite books around with me everywhere I went. Yeah, I know. Dweebville. When I was in grad school, I just had to have this one near me at all times so some of its brilliance would rub off. These are immigrant stories, but Mukherjee doesn't fall into the expected tales of in-betweenness the industry would want from an Indian writer, at least not completely. Mukherjee turns most of those expectations on their heads or, like McPherson, runs the other way with them. She writes about a Vietnam vet who is a hitman for a Latino criminal in "Loose Ends" and an Iraqi Jew who finds himself in El Salvador and in love with the president's former lover in the title story.
This is another book of mosaics that no one expected, that some can't get into, maybe because Mukherjee refused to be the Indian writer people thought she should be. The original Publishers Weekly review said Mukherjee's most successful stories in the collection are about Indian characters, not the rest of her eclectic cast. A matter of taste. This was in 1988, though, which now seems like the racial dark ages. So, a part of me believes the reviewer was low-key segregating Mukherjee, telling her to write about her brown people and not anyone else. For me, awards don't make books more important or validate their brilliance, but it should be known that this book did win the National Book Critic's Circle Award that year. 
Matthew Klam, Sam the Cat and Other Stories
(Vintage)
This one might seem out of left field. (And notice the "and Other Stories" in the title. It was a regular thing by the early 2000s, I noticed. Maybe the story collection had a target on its back.) I know what so many people are going to say: White guys? Really? Haven't we heard enough from them? Well, that's sort of the point and why I love this collection. These seven stories examine white guys, make fun of white guys, venture deep into their minds with sly humor and caring. These still aren't cheery dudes. All but one of these stories are in the first person, true, but none of them are linked. They are not the same person. One could argue these stories are studies in first-person narration. They aren't the same voice. Similar, yes, but again, that's the point. We're talking masculinity and privilege and love and marriage and being American.
These are tight, seemingly straightforward stories, but again they veer off in interesting directions. The title story is about a single straight guy who loves being in love. He becomes infatuated with a long-haired white guy he first mistakes for a woman. He finds himself going with it, though. "The Royal Palms" is about a struggling couple who go to a Caribbean resort and encounter another couple, both of them trying to get the mojo back in their relationships. Once again, this is a mosaic collection of voices, a choir, and one with jokes.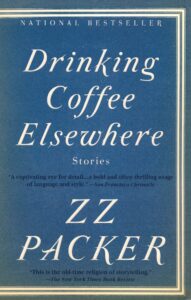 ZZ Packer, Drinking Coffee Elsewhere
(Riverhead Books)
In 2003, ZZ Packer was a sensation. It was a time when most new writers did the story collection first. That was the progression. This was before literary agents started with the "Yeah, story collections don't sell" thing. I'd caught ZZ's stories in those Best of the Workshops anthologies that used to exist in the mid and late '90s. It seemed like she was in every one of them, every damn year! I saw she attended Johns Hopkins and the Iowa Writers' Workshop, and was a Stegner fellow. I felt she was a sibling in some way, a more talented and successful one who I was certainly jealous of since she seemed to have her writing in complete order while mine was a mess. But it was kinship all the same.
I loved that she'd written a collection that jibed with what I thought story collections, especially those by Black writers, should be. (Note the new use of "Stories" in the subtitle.) These stories acknowledge some of the tropes and styles already put out there by Toni Cade Bambara, Edward P. Jones, and others. But they expand and spin out further, opening up possibilities, expanding galaxies for future writers like me. I mean, "Brownies" a story about a black Brownie troop squaring up with a white troop, is a banger. So is "The Ant of the Self," a story about a nerdy son going to the Million Man March with his estranged hustler father who wants to peddle exotic birds at the event.
Like Victor Lavalle, Dana Johnson, and Carolyn Ferrell, Packer is part of that bridge connecting '80s and '90s Black story writers with newer ones like Danielle Evans, Jamel Brinkley, Nafissa Thompson-Spires, Chanelle Benz, Nana Kwame Adjei-Brenyah, and, I can only hope, in my curmudgeonly, old-school-short-story-collection-loving heart of hearts, me.
__________________________________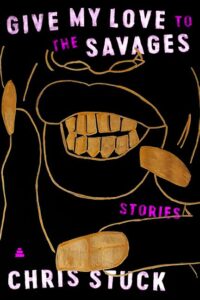 Give My Love to the Savages by Chris Stuck is available now via Amistad Press.
---