On the Feminine Urge to Murder
Heather O'Neill Considers Rage and Femininity
When I was a little girl, I was always trying to murder my father. This was no easy task. He was one of these human beings that are indestructible. He was always lifting things. When he came across a fridge, he looked at it as a challenge. He approached it as though it were a polar bear, standing on its hind legs in order to confront him. He would yell for people to gather around. I hated these displays. At home he was a brute who erupted into violent rages regularly.
He also used to make a wonderful spaghetti sauce. Everyone who ate it would beg him for the recipe. When we were having spaghetti for dinner, my dad would put a jar of it on the windowsill to defrost.
That was when I hatched my first plan to murder my father. I was going to wait until he came home, walking down the cement pathway to the building door. At that moment, I would pick up a jar and drop it on his head. The impact of its fall from the third floor would surely kill him on the spot. I would say, it had fallen by accident. It seemed like a perfect crime.
Another time, the doctor informed him he needed to go on a diet, and to specifically cut out junk food and sweets, or he would have a heart attack. He was lying in his bed, watching the small black and white television that was placed on top of his bureau. I crept into the room in my socks and my white pajamas covered in tiny yellow flowers. I glowed in the strange otherworldly glow of the television.
I had brought him a box of powdered donuts, something he could never resist. I handed him the opened box and he proceeded to eat the donuts one by one, like an ogre popping ostrich eggs into its mouth. And I stood watching. Although there was no heart attack I was satisfied knowing he was one step closer to death.
Once he collapsed onto the ground while he was yelling at me. He grabbed at his chest and his eyes closed and he fell to the ground. At this point I knew the proper action would be to call 911. But I had no intention of doing such a thing. Instead I began to pray. I did not pray that he would recover. Instead I prayed that this moment was really truly happening. But his heart had not stopped, and his eyes flew open.
I did not consider my murderous thoughts to be at all incongruous with being a little girl.
"You wanted me dead!" he yelled. "You don't look at all concerned! You have no feelings towards me whatsoever." I stared at him and shrugged. I leapt over his enormous body and hurried out onto the street, before he managed to recover his strength and come after me.
*
I did not consider my murderous thoughts to be at all incongruous with being a little girl.
I had a toy My Little Pony. It would give me great physical sensation of satisfaction when I would run the plastic brush through its hair. I played with tiny figurines in a dollhouse. I dressed and undressed Barbies. I like sparkly glitter nail polish. I loved to skip rope and play hand games. I read books about little girls who went on spectacular adventures. Oh I read a lot! I was a very good student, perfect for passing as a polite young girl, who was not dreaming of killing her father.
*
I discovered the works of Jean Genet in high school. I was assigned a scene in drama class with another girl. I adored theatre class and its potential to allow us to change roles and clothes and magically be another person, for fifty minutes anyways. But I could not get over the language and beauty and vulgarity of The Maids.
The Maids is the only of Jean Genet's works that features an all women cast. He was inspired by an actual murder case, that of the Papin sisters, Léa and Christine.
The Papin sisters were convicted of murdering their employer's abusive wife and her daughter in LeMans, France on February 2. 1933. Despite their excellent service, Madame Lancelin criticized the sisters relentlessly, and engaged in repeated verbal and physical abuse towards them. One evening, after Madame Lancelin attacked Léa and Christine, the sisters went on a two hour killing spree. They gauged the eyes out of their employer and her daughter, and mutilated their bottoms and thighs.
Police found the Papin sisters naked in bed together. No doubt they had to take off their uniforms because they were covered in blood. They were no longer maids.
In Genet's play, the sisters do not engage in such brutality. They instead play a game where they rehearse and plan to kill their Madame with poisoned tea. Historically, women have resorted to poison in order to kill. In Victorian Britain, arsenic was an ideal poison to kill your husband with. It was kept in the kitchen, looked a lot like sugar, and was both colorless and tasteless.
Take the infamous Marie LaFarge, for example. LaFarge was young orphaned Parisienne of noble descent who was married against her will in 1839. Six months later her husband was dead, allegedly from a cake she poisoned. Charming and cultured, she wrote her Mémoires in prison. Lady Macbeth famously wished to be "unsexed" in order to participate in the planning of murders. If the act of murder was considered masculine, what was anyone to make of the feminine charms of Marie LaFarge and her evident mastery of all Victorian traits considered synonymous with an ideal woman?
It is by locating an extreme femininity that these protagonists are able to rage and become murderesses.
Genet would have no trouble reconciling these traits. Genet was fascinated by gender roles and femininity. He regarded femininity as a something men, and criminal men at that, could perform and revel in, as well as women. We look at masculinity as being the locus of violence, and femininity as a passive lack of it. But it is not so in Genet's universe of inversions. He has the women in The Maids perform femininity to an absurd degree. They don Madame's clothes and jewelry and perform a high art version of femininity, akin to drag, hoping it will give them the courage to murder her. But it is an absurdist play after all, and the protagonists can never truly act.
*
Idealized femininity is often presented as a dead woman. So many murder mysteries we see on TV present us with the body of a naked virgin. Her body has been brutalized and violated. She went to her grave innocent, never having consented to sex. But femininity is not passive, nor is it gentle or kind or chaste.
In Gillian Flynn's Sharp Objects, the murderer is revealed to be a teenage girl. One who roller skates, eats candy and plays with a dollhouse. Her rage does not make her more masculine. In fact, she uses the teeth of her murder victims as tiles for the floor of her dollhouse. Similarly, the murderess in Alias Grace, is adept at quilting, and creates wild narrative patterns on them while in prison. It is by locating an extreme femininity that these protagonists are able to rage and become murderesses.
*
The characters in my novel When We Lost Our Heads are murderesses. In the opening scene two twelve-year old girls fire their pistols kill a maid. This murder is perpetrated during a game with the girls wearing their finest outfits. Of course, my little girls are murderers. That's what I know of girlhood. I wanted to create a world where a women's revolution would take place, and it would have all the charms and graces of Victorian women. It would be a world in which revolutionary slogans on a wall would be written in immaculate cursive. Where girls sing melodious songs of terror in tune. Where the sound of high heels striking the ground sound like guns being shot. Where a group of little girls playing jacks on the sidewalk would cause any man to cross the street. Where a black ribbon tied in a perfect bow meant a reckoning was coming.
*
I never did murder my father. In fact, I took care of him for years and years when he was disabled and sick. What else could I do? Society is constructed around women becoming caregivers, to their children, to their spouses, to their parents. When he died I wept and wept and wept. But I felt such a lightness of being.
One of the most difficult aspects of growing up with an abuser, is breaking out of that dynamic and not replicating it again. One does not want to be engaged in the endless cycles of an absurdist play. One had to be cautious not to mistake abuse for love or a feeling of home. I went through many absurdist dramas with men who wanted to cast me in a role, one of subservience or domesticity. But I did not want my femininity to be exploited, for it to be at the service of making a man happy and secure.
I wanted my femininity to instead be something that spurred me towards ambition and adventure and philosophy and friendship and pride and excellence and independence. One that now makes me wake up in bed, feeling like an accomplished murderess.
__________________________________________________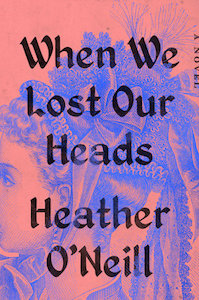 Heather O'Neill's When We Lost Our Heads is available now via Riverhead Books.
---