On the Famous Photograph of My Late Uncle That Inspired a Collection
Jake Skeets Finds Inspiration in the Images of Avedon
The afternoon I first saw my uncle was like any other summer afternoon my brothers, cousins, and I enjoyed as children. I remember looking through my aunt's living room window, through a dust-caked window screen, and catching a glimpse of aunts huddled around a book on the coffee table.
The summer was a scorcher, a direct type of heat that I tend to only feel being home. My aunt's house was a faded light-blue house with a white porch. There was a peach tree in front of her house. My mom told us stories about peach trees and having boxes of peaches during harvest. We raced back into the house to join our mothers in the living room, the colder inside-air biting at our brown skin. I looked at what everyone was fixated on: a man with shoulder-length hair on a white page staring at us staring at him. One of my cousins asked about the identity of the man. My mother told us it was our uncle, her older brother. I remember asking, "So he was famous?" Our mothers' voices were quiet but there were small smiles and jokes here and there as they continued to talk.
After some time, the boys and I decided to leave the house back out into the setting sun. That was the first time I remember seeing the portrait of Benson James, my mother's older brother, my uncle. I did not fully understand this portrait, its innate beauty and tragic story, until I did some growing up and returned home after college. This move, this spark, then, catapulted me into the construction of a book that morphed my own understanding of masculinity, violence, queerness, and beauty. The portrait of my uncle found a whisper of itself in almost every page.
In the summer of 1979, Richard Avedon was in the middle of a project taking portraits of people in the American West, under the sponsorship of the Amon Carter Museum in Fort Worth, Texas. In 1979, Richard Avedon came across my uncle, Benson James, in the streets of Gallup, New Mexico and decided to take his portrait. Of course, the details of the exchange are unknown as a year later Benson was stabbed more than 20 times in Gallup. Gallup, New Mexico is a storied town on the famous Route 66, situated near the Arizona-New Mexico border. Gallup also sits at the border of the Navajo Nation and the Zuni Pueblo. This is how it became known as the "The Indian Capital of the World."
As the town grew, it became known as "Drunktown, USA." Many have lost their lives in the streets and fields of Gallup. My uncle is just one of those stories. In 1985, Richard Avedon sent a signed copy of In the American West to Benson and it was received by my family: my mother, her sisters, and my grandmother. Shocked, they sent a letter back to Richard Avedon stating that Benson had passed away five years before. I saw the image, again, for the first time after I moved home and I saw my uncle renamed "Drifter." I saw the dollar bills folded inside his hand. I saw his brown skin against the whiteness. I saw his face. I saw his eyes, bottle dark. His eyes are my eyes, my cousins and brothers' eyes, and lovers' eyes, eyes bottle dark. I began to see myself as him and I saw all the men I('ve) love(d) become him.
I cannot separate my queerness from violence just as I cannot separate land from my queerness or tragedy from beauty.
Diné men are often drifters drifting home from a long binge in Gallup, drifting through the whiteness taped up by white men, drifting through hours on the job, or drifting to or from backrooms. I became enamored with the image and the stories the image represented. I became obsessed with the stories brown skin tell. I became obsessed with the scars, the small variations of brown, the stains, the feel of skin, and the taste of it. I thought I was initially writing about the latter two subjects; I thought I was writing my coming-out collection. However, the stories of Gallup and the fields kept finding themselves choreographed on the page. I decided, then, that I was writing two books: my coming-out collection and a collection about my uncle. I kept trying to separate my sexuality from the brutality, my masculinity from their masculinity.
However, I realized (fortunately) that I cannot separate my queerness from violence just as I cannot separate land from my queerness or tragedy from beauty. The poems began to demand more white space, more pause, and more attention to sound. The poems placed themselves in Gallup and I could hear the horn of a coming train, weeds being crushed in a field, denim rubbing on skin, and the sound of a knife piercing skin. My project became about the fields: the fields of Gallup, the fields of desire, the fields of violence, and the fields of queerness.
In the foreword, Avedon states he used an 8 x 10 view camera and did not stand behind it to photograph his subjects. His crew taped large white sheets of paper to the side of a building or some other vertical surface. He asked his subjects to stand still as required by the camera. He stood only a few feet from them and took the portraits. He worked in shade as light would give shadows and Avedon wanted the source of light to be invisible. He wanted background to be invisible. The only positionality my uncle has is the fact that his portrait is a few pages into the book. This man, a photographer of people like Ronald Reagan and Marilyn Monroe, took my uncle's portrait in 1979 and in 1980 my uncle was gone. This brings a whole new layer to the popular belief that Native people refused to be photographed out of the fear that their spirit would be taken. I thought deeply about what this meant for all Diné in relation to whiteness. I thought about how this erasure of shadow, position, and background looks like an act of conquest.
From this perspective, Diné would walk about with invisible light and no shadows so no one can tell the difference between 1979 and 2019, between a morning sky and evening one. Richard Avedon colonized the page and stole everything from it. My project became the returning of something back to the page and to the portrait of my uncle. My project became returning shadow, position, and background to the portraits of us. I want to show that though we drift through these worlds of tragedy, we do so speaking words that are inherently sacred and molded by beauty. We speak mouthfuls of flowers, of beauty. Of course, some words are dark and cause damage. Words can be used to steal worlds and lives.
This man, a photographer of people like Ronald Reagan and Marilyn Monroe, took my uncle's portrait in 1979 and in 1980 my uncle was gone.
Richard Avedon further notes in the foreword, "There is no such thing as inaccuracy in a photograph. All photographs are accurate. None of them is the truth." He continues, "The first part of the sitting is a learning process for the subject and for me. I have to decide upon the correct placement of the camera, its precise distance from the subject, the distribution of space around the figure, and the height of the lens. At the same time, I am observing how he moves, reacts, expressions that cross his face so that, in making this portrait, I can heighten through instruction what he does naturally, how he is." It seems as though poetry and photography share an awful lot. Richard Avedon approached the page much like a poet, much like me.
I approached the poems in my collection without a call for social message or truth. I simply approached each poem with an accuracy of language, space, and image. In that way, my uncle becomes a poem on the page. The fact that Avedon could strip the page of everything frightens me and guides me whenever I approach the page to start a poem. I acknowledge this ability we all have to create and destroy worlds. I approached these poems with this understanding of language.
To digress briefly, there is a Diné creation story about the creation of night and day. To summarize briefly as this may not be the appropriate time to tell the story, animals played a shoe game. One team represented eternal day and the other represented eternal night. The game went on for hours and settled as a tie so daylight and nighttime would be equally shared. The point of this digression is to offer the importance of balance. A thing cannot exist without balance much like a poem cannot exist without balance. Balance between the text and white space, between craft and desire, between metaphor and simile. So the projects of this book, and the choice of cover for this book, are meant to find something like that balance. I want to add what was made invisible. I want bring the light back so we can have our shadows again, to give us back morning so we can have the night.
As I look at the portrait now, it seems my uncle is still trying to replace what was made invisible in or stolen from his portrait with only his body. With his physical presence he is holding onto the remnants of story, beauty, and chaos in a space made to appear empty. My book is trying to do the same thing and it is only fitting that his portrait preface the book.
Everything involved in this process was too coincidental to be a coincidence: my book will be published on the 30th anniversary of the taking of this portrait. It seems fitting to return my uncle's portrait to story, beauty, and chaos. It seems fitting to try to do something. I do not want to exploit my uncle's portrait. I also do not want to attack Richard Avedon. That is not the project with this book-cover choice. I simply aim to give back what was taken, a repatriation of existence through language.
The peach tree that stood tall outside my aunt's house was cut down. Her house is still blue, though, and the porch is still white. Living on the reservation, I try my best to take in the small moments of field. If I stand on my aunt's white porch, I can look over and see the cornfield stretch for miles toward the horizon. There is a pond that comes and goes with the rains. For me, this is storytelling: the way the fields arrange themselves against the light and rains, the way dust settles after hundreds of years. The pond outside my aunt's house holds enough memory that it comes back and it holds enough of my own memory that I come back.
Poetry is like those fields and poetry has that kind of storytelling. Poetry became the best way to return the story to my uncle's portrait because poetry means not just telling a story. With poetry, I could attempt to tell a story the way a field or pond tells a story. I could attempt to tell the same story my uncle is telling with just his portrait. The fields, ponds, and streets hold stories and they tell us these stories all the time. My job as a poet became learning how to listen to them.
__________________________________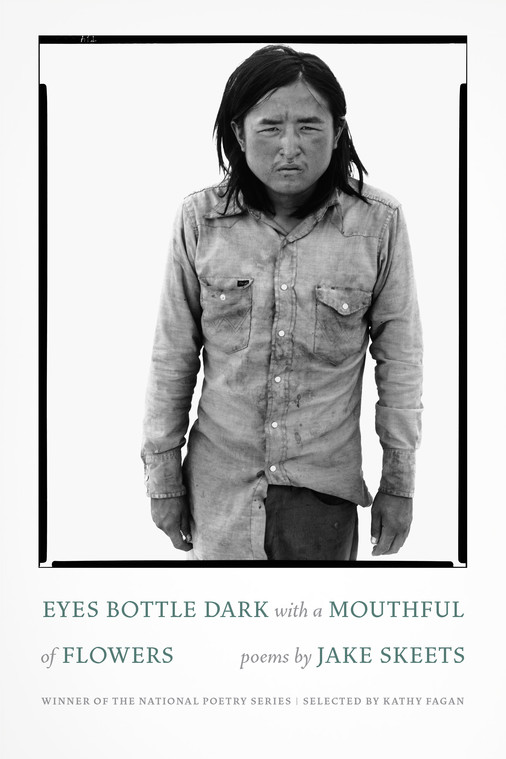 Eyes Bottle Dark with a Mouthful of Flowers is available now from Milkweed.
---