On the Enchanting, Hopelessly Beautiful Splendor and History of Venice
Orsola Casagrande, Editor of The Book of Venice, Recommends Writing About the Iconic City
American writer Truman Capote visited Venice in 1948 and said that the city was "hopelessly beautiful" and "the most enchanted thing on earth." Throughout history, Venice has almost exclusively been described through these kinds of superlatives, and with good reason. Her unique qualities are often characterized as static and immobile; yet, Venice has constantly evolved throughout history and is still changing. The coronavirus pandemic has suddenly emptied the streets and squares, restoring a balance that many residents felt had been lost and giving those living in the city time to think about what future they want for it.
The Stones of Venice, the three-volume treatise by English art historian John Ruskin, certainly allows a full immersion into the city's art and architecture, also offering a glimpse at the city's society, culture, and ideas. But it is in fiction, perhaps, where the city is reflected and explored at her best. Venice provides the best setting for often-clichéd love stories, of course——hopeless romances, sad abandonments and rejections, fairy tale loves—but also for detective tales, horror stories, and other kinds of narratives.
The short stories in The Book of Venice offer a different view of the city, accompanying the reader into another kind of Venice, the everyday city as seen and lived by its citizens—people that deal daily with the extraordinary problems of a unique place. In order to understand this version of Venice, some classics provide essential background, but there are also some lesser-known novels that open new routes to explore this city.
*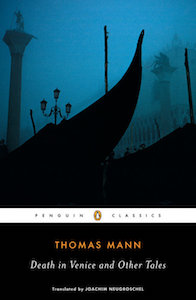 Thomas Mann, Death in Venice
Thomas Mann immortalized Lido and the Hotel Des Bains in his novella Death in Venice (1912). The city is the perfect stage for the impossible and intense passion of writer Gustav von Aschenbach for the ephebic Tadzio.
I first encountered it in secondary school in a reading group with some friends; Death in Venice sparked heated debates among us about the meaning of love, beauty, and art.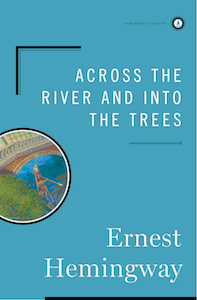 Ernest Hemingway, Across the Rivers and into the Trees
Ernest Hemingway often visited Venice, and the city features in one of his lesser-known novels Across the Rivers and into the Trees, first published in 1950. I discovered and read this book while living in Havana, Cuba; Hemingway's former house there, now a beautiful museum, was one of my favourite places to go when I needed a space of my own. One Sunday morning I went to the museum with my friend, Cuban intellectual Félix Julio Alfonso López, who told me about Across the Rivers and into the Trees. In this book, the city is the setting for Hemingway as he explores some of his classic themes: a soldier's recovery from war and the function of love in the bloody 20th century.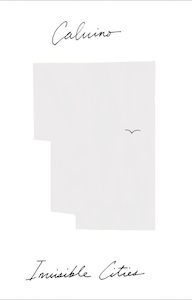 Italo Calvino, Invisible Cities
Cuban-born Italian writer Italo Calvino in Invisible Cities used Marco Polo to express what many (especially Venetians) think of the city. Marco Polo explains to emperor Kublai Khan why he never mentions his hometown directly: "Every time I describe a city I am saying something about Venice." Invisible Cities is the perfect guide to take with you in the new post-pandemic tourist era awaiting us, a book to help us reflect on which kind of cities we want and which kind of tourism.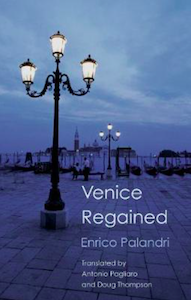 Enrico Palandri, Venice Regained
Venice-born writer Enrico Palandri, who also features in The Book of Venice, has had four novels published in English. Venice Regained (Troubadour, 2012) tells the story of Julian and Martha, the children of a broken marriage whose father is a famous, but obnoxiously self-centred, opera singer. As the story develops in Venice, the city's magic ability to invite whoever walks through her streets to reflect on their life, past and future also inspires an examination of Italy's recent turbulent political past.
This book also tackles one of Palandri's main themes, identity. As he said: "The concept of national identity, which we see crumbling today, consisted in the identification of three fundamental elements: territorial identity, identity between territory and language and identity between territory, language and culture. But in fact these three elements never go together, because language changes, culture changes."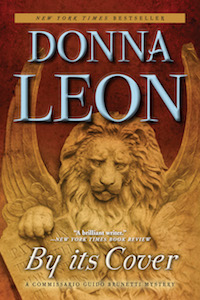 Donna Leon, By its Cover
A good way to get lost in Venice streets and campos is to read Donna Leon's Commissario Guido Brunetti series. Commissario Brunetti has accompanied readers inside Venice since 1992; as a Venetian, I have to say that reading this mystery series has inspired me, more than once, to both rediscover old places that I had not visited in years and find out that other old buildings have now been converted into one of the many hotels in the city. By its Cover sees Brunetti trying to solve the mystery of some rare books' stolen pages.
This year, Leon published Transient Desires, the 30th Brunetti book. A book inevitably marked by the Covid pandemic which, the writer said, she has decided to treat "as a kind of folk memory and show how the memory lingers in thought, habit, behavior, but not write about the way the billions from Europe will be handled. Covid is better presented, in this time of uncertainty, as an ambiance, not a subject."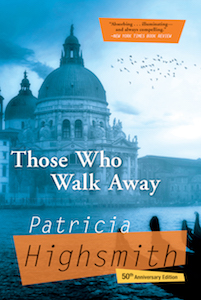 Patricia Highsmith, Those Who Walk Away
A psychological thriller by Patricia Highsmith, Those Who Walk Away is set in a silent and ghostly winter city. Venice completely changes in winter—her colors, fog, and, if you are lucky, snow makes it a different place altogether from the sunny and bright summer city.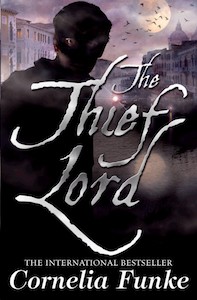 Cornelia Funke, The Thief Lord
I always liked reading fiction for children and young adults; I've been an avid reader since I was small, and now, I like finding books to offer to my son and read what he finds interesting. I discovered Cornelia Funke, and in particular The Thief Lord, when we were living in Venice and he was attending primary school. Two orphaned children are on the run, hiding among the crumbling canals and misty alleyways of the city of Venice. Befriended by a gang of street children and their mysterious leader, the Thief Lord, they shelter in an old, disused cinema.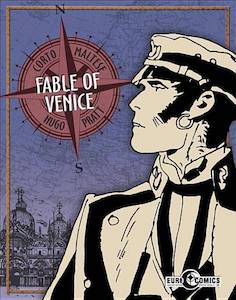 Hugo Pratt, Corto Maltese
This is a series of comics and a brilliant read. Corto Maltese is a modern Ulysses, a romantic sailor who says of himself: "I'm not a hero. I like to travel and I don't care for rules, but I respect just one: I never betray my friends. I've searched for so many treasures and I've never found a single one, but I'll keep looking, you can count on that; just a little bit further on… "Corto Maltese was created in 1967 by Hugo Pratt, who was born in Venice and who sent his character twice to the city. In his second visit to the city, Corto finds himself implicated in a mystery thriller involving Freemasons, occultists, and esotericists during the rise of Fascism in 1921.
__________________________________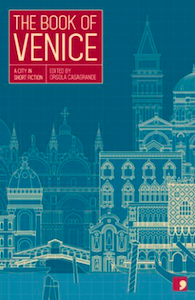 The Book of Venice is available from Comma Press. Edited by Orsola Casagrande.
---