On the Early American Art
of Getting Lost
Life in a Nation of Letter Writers, Claim Jumpers, and Mark Twain
The sun crossed the California sky. A patch of turf absorbed the passing rays. A herd of cows spied the grass, now tucked in the shade of a stand of trees, and moseyed over for a meal. The blades moved through the cows and exited in piles under the trees, so ending Samuel Nichols's journey to the West.
Or maybe his trip started that way. It's hard to tell where Samuel Nichols ceased or began. A lawyer, husband, and father from Buffalo, New York, Nichols had no intention of rushing to California until his son George, the would-be gold rush adventurer, connoisseur of wagon-wheel spokes, and daydreamer of roasted meats and delivered mail, convinced him to bankroll a family expedition. George traveled to Pittsburgh and arranged for the purchase of vehicles and supplies.
Samuel met George in May, and they loaded their wagons, groceries, and equipment on a paddlewheel bound for Independence, Missouri, the jumping-off point for the Overland Trail. George never left the boat. On May 6th, 1849, Samuel wrote his wife Sarah Ann informing her that their son had died from cholera on the river west of St. Louis: "Our lovely George is no more but is numbered with the dead."
Instead of preparing for a transcontinental journey, Samuel hired mechanics to build a large wooden casket that held a smaller tin coffin. The workers stuffed charcoal between the wood and the tin and submerged George's body in alcohol to prevent him from traveling into putrefaction.
Samuel accompanied George to Buffalo, stayed there that winter, and then booked passage to California through Panama. He arrived in San Francisco in the summer of 1850 and caught a steamboat to Sacramento to prospect mining claims. He fulfilled his son's dreams of seeing the excitement and died from the same killer.
Before cholera took him, Samuel dictated a letter to a man he had met in Sacramento named Luther Cleaves, instructing Sarah to drop a lawsuit he had pending in New Jersey, to put all their property in her name, and to keep their sons "under her control until they were old enough to manage business for themselves." Cleaves oversaw Nichols's burial in the state cemetery in Sacramento.
Samuel Nichols got terribly lost, which was no small accomplishment in an event as well mapped and thoroughly documented as the gold rush.
Months later Sarah wrote a family acquaintance in California seeking a fuller account of her husband's whereabouts. He visited the cemetery and spoke with the sexton. Nichols was gone. The body hadn't been moved, but the reference points that held it down had. With so many people out hunting treasure, the cemetery grounds lay open to wandering cows, and they "knocked down all the head boards that ever put up." Sarah kept trying to find Samuel, but unlike her son's flesh, her husband's body was taken from her.
Samuel Nichols got terribly lost, which was no small accomplishment in an event as well mapped and thoroughly documented as the gold rush. By 1849, migrants to California could follow instructions offered in letters, guidebooks, newspapers, and government reports to find their way to the diggings. If they went overland, they traversed a landscape of ruts, signposts, monuments, and military forts. Print guides located campsites, river crossings, and desert passages, and individuals could retrace the guides exactly by attaching odometers to their wagon wheels.
Ocean travelers depended on ship crews and steamboat companies to keep them oriented, but they also posted and received mail. The passengers on some ships published their own newspapers, a reassuring echo of the information networks they left behind. Just as wildfires sometimes create their own weather patterns, transcontinental movements in the 1840s generated storms of written material that lifted passengers to destinations thousands of miles away.
With loads of information came raised expectations. Sarah Nichols anticipated Samuel's return, breathing or boxed. His journey to California strained the bonds of family affection, yet the rush of news promised to keep him tethered and available for recall. No matter the calamity, arrangements could be made to bring wanderers home. When Samuel fell through the net of communications 19th-century Americans strung across the continent to keep track of one another, he pioneered a new form of getting lost.
He died, and his body fell apart, decaying into molecules that fertilized the grass and fed the cows, but the wretchedness of his biological dissolution paled next to the horror of the disruption in his data trail. Sarah expected illness and death. What she could not abide was silence.
Americans' devotion to transcontinental news could be extreme. In 1850, the Boston Daily Atlas printed two letters from ships headed to California through the Straits of Magellan. Captain Morton reported that his schooner was forced to retreat from the Straits and put into an Argentinean port after encountering "a severe gale, in which she sprung her foremast and jib-boom." The repaired ship completed its passage through the Straits in October. The second schooner, the Roanoke, had an easier time. It sailed through on October 19th and reached San Francisco in time to celebrate the New Year.
The captains kept Boston readers informed of their progress, or lack thereof, by writing reports, sealing them in bottles, and tossing them overboard. The bottles washed ashore, where they were picked up by Tierra del Fuegians. The Natives exchanged the notes for supplies at fur posts. The fur traders handed them to ship captains sailing back to Boston. Eventually, the letters reached John Tirrell Smith, Esquire, who knew the editor at the Atlas.
The hottest shipping news passed through a most improbable network crossing several cultures and covering the length of the Western Hemisphere. As a communications strategy, throwing bottles into oceans would seem as wise as paying your mortgage by scratching lottery tickets. And yet the ship captains hurled them, confident that their reports would not only reach living beings who could read but also ones with literary connections. Before they flung their missives to the waves, they scribbled, "Please publish" on them.
"Information appears to stew out of me naturally," wrote Mark Twain in the prefatory note to his 1872 travel account of the overhyped, get-rich-quick American West. "I regret this very much."
In Roughing It, Twain satirized Americans' demand for western news. Samuel Clemens journeyed west with his brother Orion in 1862. Orion had been appointed by Abraham Lincoln to serve as the secretary to the Nevada Territory. Twenty-six at the time, Samuel worked as his brother's aide and then tried his hand at prospecting, mining, and horse trading. He failed at all these ventures and gave up actively seeking his fortune in the West. He turned from doing to describing.
A reporter for newspapers in Virginia City, Sacramento, and San Francisco, Twain contributed to the industrial production of information. Roughing It was the topper on the mountain of reading material rushing from the West. In the opening pages, Twain recounts boarding a stagecoach in St. Joseph, Missouri, and finding it stuffed with mail: "A perpendicular wall of mail matter rose up to the roof. There was a great pile of it strapped to the top of the stage, and fore and aft boots were full. We had 2,700 pounds of it aboard."
Twain wrote about getting lost. One winter, a blizzard caught him and two companions on the road to Carson City, Nevada. The snow hid the trail, but one of the men, a veteran Prussian tracker named Ollendorff, "said his instinct was as sensitive as any compass, and that he could 'strike a bee-line' for Carson City and never diverge from it." Ollendorff led the party and soon shouted: "I knew I was dead certain as a compass, boys! Here we are, right in somebody's tracks."
The men spurred their horses to catch up with the party ahead of them. They trotted for an hour, the tracks looked "new and fresher," and the contingent ahead appeared to grow more numerous. It was a company of soldiers. No, it was a regiment of five hundred cavalry! At last, someone reined in his horse to deliver the punch line: "Boys, these are our own tracks, we've been circussing round and round." Ollendorff and his "mental compass" were "in disgrace from that moment."
Getting dreadfully lost would fade into the western past as it did in the stories Americans told about the eastern woodlands and the midwestern prairies.
Information stewed out of Americans, and the federal government partnered with transportation firms to haul their output across oceans, deserts, and mountains. Highly publicized events like mineral rushes attracted drifters from across the globe. An international and an intranational space, the West gathered opportunists from France, Hawaii, Sonoran Mexico, Chile, and China while sustaining hundreds of independent indigenous nations.
Many eastern Americans squelched this plurality in the letters they wrote home. They held onto their prejudices and their possessions, expecting the multicultural space to bend to them rather than them to it.
The federal government of the United States assisted by deploying its navy and army to conquer Alta California and New Mexico during the Mexican-American War. The government maintained military posts in the continent's interior and sent agents to negotiate with Indian nations for overland passage.
The government financed regional information mines: scientific explorations, map-making ventures, and resource surveys. Newspaper reporters accompanied military-style fact-finding missions. Information connected the United States to the West and began the uneven and violent process of incorporating it into the nation.
The federal government also supported Nichols's fallback mode of transportation—the steamboats. Steam propelled Nichols around the continent, against currents and up rivers, into the California interior. Treasure hunters filled the boats' decks, sharing gossip and pathogens, and the most profitable transportation companies moved information along with passengers.
A lucky few steamboat companies contracted with the federal government to carry the mail. These arrangements allowed them to operate "packet" routes. These scheduled circuits meant that boats did not have to wait in ports to fill their holds on return voyages to turn a profit. The bags of mail chugged back and forth while the human cargo and all their supplies mainly shipped west. Information kept the engines at full boil.
Amateur letter writers and professional authors papered the East with western reading material. All this news gave the impression that the region was being absorbed into the United States much like the frontiers that preceded it. Soon, local authorities would build stronger fences to the keep cows out of graveyards. The place would settle, become contiguous with the rest of the country, and the chaos of the gold rush and the spectacle of the overland trail would recede into the past.
Local histories would bury nature shock. Getting dreadfully lost would fade into the western past as it did in the stories Americans told about the eastern woodlands and the midwestern prairies. Correspondents won the region for the nation through grandiloquent and petty acts of surveillance. By spreading words across spaces to demarcate territory and survey resources, to tell stories of derring-do and righteous violence, or merely to keep tabs on neighbors and loved ones, countless authors extended the reach of Americans' social and imagined spaces while violating the sovereignty of others' homelands.
__________________________________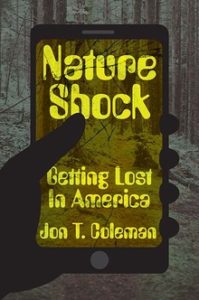 Excerpted from Nature Shock: Getting Lost in America by Jon T. Coleman, new from Yale University Press. Copyright c 2020 by Jon T. Coleman. Reprinted by permission.
---