On My Most Embarrassing Literary Encounters (So Far)
Matthew Norman Doesn't Always Play It Cool With Famous Authors
As you may recall, right around St. Patrick's Day in 2020, pretty much every bookstore on earth suspended all in-person author events indefinitely. Since then, book people like us have been cut off from meeting our favorite authors and have had to settle for watching glitchy versions of them on Zoom from our couches while we wear sweatpants and try not to dribble boxed wine onto our house cardigans.
As a lifelong book person, myself, I've been torn by this. On one hand, I love author events. They're like our versions of rock concerts. On the other hand, though, author events often feature famous authors. And, in my experience, whenever I'm anywhere near a famous author there's a really good chance I'm going to make a complete ass out of myself and then be emotionally scarred by it for up to 32 years.
The following is a brief highlight reel—lowlight reel?—of my most regrettable interactions with famous authors to date. I'd like to thank the good people at Literary Hub for giving me this opportunity to loathe myself for 1,241 words.
*
Stephen King
When I was 12, I met Stephen King at the College World Series in Omaha, Nebraska. I get that that sounds like it was written by a random sentence generator, but it's true—and it wasn't even a surprise. Shortly before the annual tournament, the Omaha World-Herald reported that the author had bought tickets, so when I spotted him some 20 rows back from where I sat with my family, I was prepared. At least I thought I was.
I'd read everything Stephen King had written, and I had a pile of notebooks in my bedroom filled with my attempts to write like he did. I planned to tell him this and to ask him to sign a baseball for me. By the time I made it up to his section, though, I was so stricken with shyness that all I could muster was, "Are you Stephen King?"
The author smiled and told me that he was. Because of course he was. Nobody looks like Stephen King except Stephen King! When he noticed the ball and pen in my hands, he said, "I'm sorry, but I only sign autographs for little kids."
In retrospect, I get it. I was a kid, but certainly not little. I was tall for my age, and I had an unreasonably deep voice. At the time, though, I was devastated. So, I told Mr. King thanks, and then I hustled away as fast as I could so he wouldn't see that my eyes were filling with tears.
*
Richard Russo
In 2008, my wife and I went to see Richard Russo read at Politics & Prose in Washington, DC. Mr. Russo is a huge influence on my writing. I discovered his novel Straight Man in college, and the book's narrator, Hank Devereaux, remains one of my all-time favorite characters. As we stood in line to get our book signed, my wife, who was visibly pregnant with our first child, sensed that I was anxious.
"You know you don't have to make a big deal, right?" she said. "You can just say hello."
As reasonable as that sounded, when it was our turn, I decided that it'd be a better idea to announce to the Pulitzer Prize winner and to everyone else within earshot that, "If our baby is a boy we're going to name him Hank."
Whenever I'm anywhere near a famous author there's a really good chance I'm going to make a complete ass out of myself.
This would've been fine, I suppose, if I'd said it in a light, friendly tone. I was nervous, though, so instead I just sort of blurted it, apropos of God knows what, and then immediately froze like a blinking, man-shaped deer.
An understandably awkward silence followed. And then, thankfully, my wife diffused the situation by saying something charming about Mr. Russo's hometown in Upstate New York while I ran outside and hurled myself into traffic.
*
Salman Rushdie
One summer day in the early aughts, I was browsing in a bookstore in New York City. I don't remember exactly which store, because it was one of those aimless Manhattan afternoons in which you're pleasantly lost and maybe you've been drinking a little. I was discreetly smelling books, as one does, when I noticed Salman Rushdie looking at biographies.
I exchanged a glance with the woman working at the register. Holy shit, right? she said with her eyes. Despite everything I knew about my tendency to skew awkward in these situations, I immediately sprang to ill-advised action.
The Satanic Verses sat aside Mr. Rushdie's other books in the fiction section. I grabbed a copy, intent on asking him to sign it for me. Immediately, though, my nerve began to crumble. Was one allowed to just walk up to a writer of his caliber? Would I once again say something asinine? Worse, would a security guard spring out from behind the Local Interests section and tackle the bejesus out of me?
I didn't realize it at the time, but as I was having this discussion with myself I was also following the author around the store from a distance of about ten feet. To his credit, Mr. Rushdie pretended not to notice me. We were the only customers there, though, I was holding The Satanic Verses, and I was literally staring at him.
When he eventually left, the woman at the register asked, again with her eyes, Seriously, though, why are you like this?
*
Emma Straub
A few months after my novel We're All Damaged was published, I attended the Association of Writers & Writing Programs (AWP) Conference in Washington, DC. I was scheduled to speak on a panel in the late afternoon, but I got there a few hours early so I could scope out the scene and maybe snag some bookstore tote bags.
I noticed several famous authors, but I managed to avoid embarrassing myself by spying on them from afar and pretending to be a potted plant. But then I saw Emma Straub standing alone at a booth nearby. She was there promoting her novel Modern Lovers, which I'd liked very much. I'd been absolutely crazy about her previous novel, The Vacationers. Book people know this feeling well: when a book just hits different, and you love every damn word of it because it's absolutely perfect.
As my author-based social anxiety disorder began triggering, I had some thoughts. I wasn't 12 anymore. This wasn't the grandstands at Rosenblatt Stadium in my hometown. I was a two-time published novelist, and I was at a book conference to which I'd been invited. I was wearing an official lanyard with my name on it, no less. I was an author and so was she. I could just go talk to her. Right?
Unfortunately, Miss Straub chose this exact moment to glance up at me. For a brief moment we looked at each other, and the answer to that question was, of course, no. Because, like Stephen King and Richard Russo and Salman Rushdie and so, so many other wonderful authors I've had the joy of reading over the years, Emma Straub had written something that I admired so much that I couldn't quite put it into words. And, frankly, it frightened me to imagine even trying. So, I did the only thing I could: I waved at her like we were old friends, and then I rushed off in the opposite direction, free tote bags flapping behind me.
__________________________________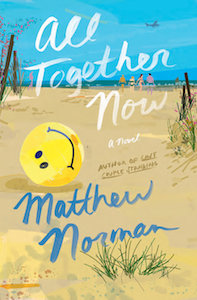 All Together Now is available from Ballantine Books, an imprint of Random House, a division of Penguin Random House LLC. Copyright © 2021 by Matthew Norman.
---