On John Berger and Rediscovering Drawing During Lockdown
David Farrier Returns to the "Edge of What He's Become"
When I was younger, I used to draw. Not particularly well; enough to gain a little praise from adults and peers, although it wasn't praise that interested me. There was a stillness in drawing that I didn't find anywhere else. Paul Klee famously called drawing, "taking a line for a walk." In a way, like walking, it gave me a sharper sense of how my own body occupied space. The close attention to shape and space was grounding. It made me feel both more distinct from my surroundings, and at the same time more a part of them. Knowing that I could draw was a talisman I carried with me, like a pebble in my pocket.
And then, without any clear sense of why, I stopped.
It's now nearly 20 years since I have drawn out of habit. When my children were small I did plenty of scribbling and doodling with them; twice, I have painted my wife a picture for her birthday. But I have rarely sat down to draw for the sake of it. On the few occasions I have picked up a pencil I retreated after a few sketches. The line was broken. I felt guilty for letting it go, and unable to pick it up again.
"Humans create lines wherever they go," writes the philosopher Tim Ingold. What is a person, he asks, if not a tying together of all the lines they make? And yet when it came the lockdown severed so many of the lines that bind us together. Edinburgh, where I live, entered a different kind of stillness. Thinking too much about the sudden disconnection from the life I knew before, or about how dramatically the future I had anticipated had changed, brought on a kind of vertigo. Lockdown left me feeling unmoored, and my mind turned often to drawing. I needed the old feeling of being grounded by the line. But still, as the weeks of lockdown went by I didn't draw.
John Berger understood that in fact each line you make walks you to the brink of yourself.
Instead, I read John Berger's essays about drawing. Drawing is as old as song, he says, and it's clear that, for Berger, drawing was also a kind of song. Just as the line of a song threads together moments in time from singer to singer, the drawn line both emerges from and creates a lineage. And like all lineages, it links us not only to times past, but also times to come. "A line," he writes, "is not really important because it records what you have seen, but because of what it will lead you on to see." I had always thought about drawing as a refuge, something that you disappear into, but Berger understood that in fact each line you make walks you to the brink of yourself; its contours define "the edge of what you have become."
One evening during the strange, in-between time when lockdown was over but we were far from back to normal life, I finally sat down to draw. I found an old sketchbook and a box of charcoal sticks, and took them out to the garden. It didn't go well to begin with. The first thing I chose to sketch, a bough on the apple tree, was dishearteningly flat, and rather that risk giving up, I immediately turned to my left and tried to draw a pillow case flapping crazily on the washing line. Unsurprisingly, this was no better. I went to the kitchen, and picked up the first thing I saw: a cluster of cherry tomatoes still attached to their vine. Back in the garden, I set them down before me on the table and flipped the page. This third drawing was as clumsy as the other two, but as I scuffed the creamy surface of the paper with rich black charcoal marks, I felt something shift.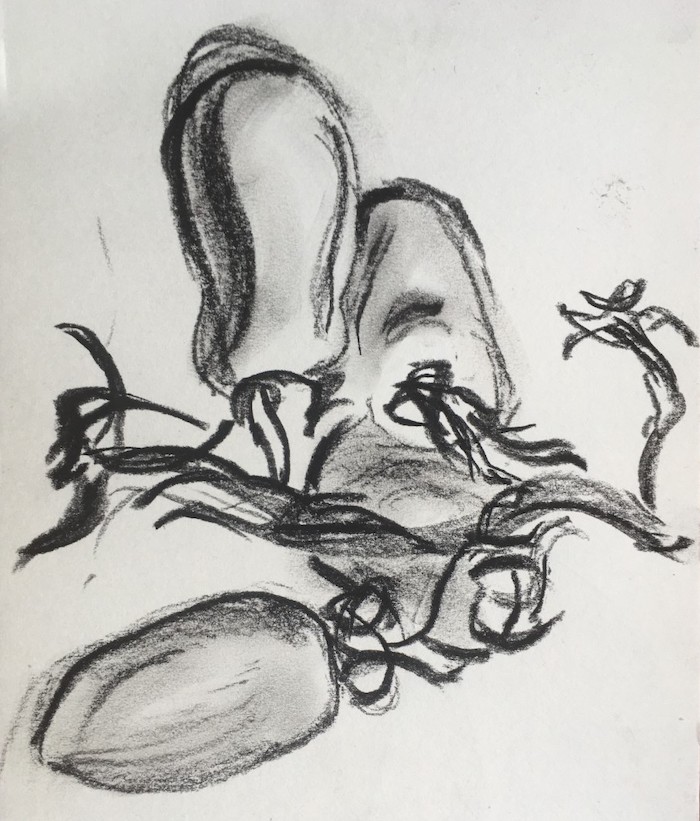 "Each mark on the paper is a stepping-stone," Berger writes, "from which you proceed to the next, until you have crossed your subject as thought it were a river." I began to appreciate how what seemed like many separate lines was really one, unfurling, the last mark in each drawing simply a step to the first mark in the next one. My third sketch was clumsy, and very little like the tomatoes in front of me. But then, as Berger wrote, real drawing is both "a clumsiness" and "a constant question." I realized that drawing is not a pause, but an entry into the complexity and open-endedness of any given moment. It involves a negotiation between what is before us, and what we carry inside us—the remembered and the imagined, the hoped for and the feared.
For years, I had shied away from drawing because I regretted breaking with it, and as more time passed the gap seemed ever more difficult to bridge. But the line was there, all the time; all I had to do to connect with it was make a single mark on the page, and follow the line where it lead.
---