On Jessie Redmon Fauset, the Harlem Renaissance Writer Long Overdue for a Resurgence
Morgan Jerkins Reads Plum Bun in the Era of "Identity Politics"
There is a scene in Plum Bun that stayed with me long after I read the novel. Angela Murray, our protagonist, is waiting at New York's Pennsylvania Station for her sister, Jinny, who's arriving from Philadelphia. Unexpectedly, Roger, Angela's white lover, is at the station as well, believing that Angela came to meet him. She has to come up with a lie quickly. You see, to Roger, Angela Murray is Angèle Mory, and she is not Black, but rather white. When Jinny waves to Angela from a distance, Angela rebuffs her so that her true racial identity will not be revealed. I often think about what must've gone through Jinny's head, with their parents having passed away, when her only sister acts if she doesn't know her. I think about the immense guilt Angela must have felt about doing that to someone who did nothing but love and support her.
Plum Bun is the sophomore novel by Jessie Redmon Fauset, a major figure of the Harlem Renaissance, whose significance is long overdue in mainstream literary culture. Despite the fact that I had personally been inspired by the Harlem Renaissance, even going so far as moving to that neighborhood for its cultural legacy, I had never heard of the name Jessie Redmon Fauset before the mid-to-late 2010s. She never came up when educators and loved ones alike exalted the works of Countee Cullen and Langston Hughes, two artists who Jessie Redmon Fauset mentored. I even asked those who studied at HBCUs if they had heard of her, believing that my predominately white institution (PWI). education might have something to do with the omission, but some reported the same problem in those spaces as well.
What many, including Hughes himself, have summarized her contribution to Harlem Renaissance is that of a midwife. She "midwifed" the Harlem Renaissance by mentoring Cullen, publishing Hughes's first poem, and shepherding other writers during her seven-year-long tenure as literary editor of The Crisis. But Fauset was not just a midwife; she was a renaissance woman in the most exemplary sense. She was an editor as well as an author, an essayist, a critic, a translator, a teacher, and, most of all, a thinker of race, class, and gender.
Fauset poses the question: How can one balance desire and ambition as a Black woman in America? What sacrifices must she make, and even when she makes them, will the end result be worth it?
The more I read about Fauset, the more I was drawn to her story because of our parallels. We were both born in South Jersey, we attended Ivy League universities, we moved to Harlem for new opportunities, and we loved to travel. Fauset was incisively aware of our standing as Black women in those circles and in America at large. Her debut novel, There Is Confusion, explores the push and pull between desire and ambition amongst young, Black people who are a part of the first generation removed from slavery. Imagine the wide-open path that these individuals envisioned for themselves. Imagine the dreams that they allowed themselves to dream.
Plum Bun takes it a step further, where a well-to-do Black woman passes for white so that she can access the same spaces and opportunities as her white counterparts. It is worthy to note that Plum Bun was published the same year as Nella Larsen's Passing, a seminal work of the Harlem Renaissance that explores similar themes. Why the latter book has been remembered and circulated for decades while Plum Bun failed to reach the same kind of recognition confounds me. Could it be the curse and fear of many Black artists, that being that there can only be one at a time? Could it be that two Black women could not dominate at the same time? I'm not sure. We may never know. But what we can be sure of is that Fauset has definitely become a hidden-figure type in our cultural zeitgeist because of her race and gender.
What's striking about Plum Bun is the ennui and loneliness that permeate the entire text. As readers, we might already guess just how isolating Angela's passing is going to be for her. But even amongst the descriptions of New York society, the city's parks, and the hoity-toity-ness of the elite, there is a hollowness that cannot be ignored. The dynamics of her new circle are about as artificial as her new identity. True love is forsaken for social mobility. Friends are as wayward and erratic as an evening breeze. Bonds are easily broken, often without much warning. I knew that Angela's passing was not going to be worth it, but the extent to which her sacrifices come back around are devastatingly profound. Again, Fauset poses the question: How can one balance desire and ambition as a Black woman in America? What sacrifices must she make, and even when she makes them, will the end result be worth it?
The timing of the republication of Plum Bun is fitting. We live in an era when "identity politics" has reached a fever pitch. Since Trump's election in 2016, professors and community leaders, such as Jessica Krug and Rachel Dolezal, have tried to pass for Black for more credibility, and Blackness as a lived experience is either flattened, massed together, or completely distorted on the Internet. It's as the late Paul Mooney once said, "Everybody wanna be Black but don't nobody wanna be Black." In other words, people salivate for our bodies, our rhythm, our talent, and our labor, but no one wants the oppression and stigma that comes along with living as us.
Angela Murray of Plum Bun observes this stigma from an early age as a child living under Jim Crow. She receives hints of a different kind of freedom whenever she and her fair-skinned mother frequent shops in Philadelphia and get mistaken for white. Rather than dismiss these occurrences, she allows them to be an entry point into an entirely new life altogether. This isn't a defense of Murray's passing. She is selfish many times throughout the story, and, without spoiling details, one wonders if her evolution would not have happened if x, y, z had not preceded it.
Ultimately, the direction of this novel is not to posit Angela Murray as a character who is as binary as the world in which she inhabits. She is, for the most part, very troubled, but she does not live in a bubble, as her relatively comfortable, middle-class lifestyle would have us believe. Her actions are demonstrative of a shamefully unequal society where oppressed people make life-changing choices in order to survive or thrive. Plum Bun is a story of the worlds that Black and white people inhabit and how they collide, but it is also a portrait of one woman's ambition that stylishly leans toward a reflection of our own drives and impulses instead of a simple, morality tale.
_______________________________________________________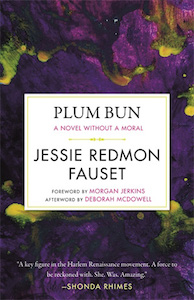 Excerpted from Plum Bun: A Novel without a Moral by Jessie Redmon Fauset. Copyright 2022. Excerpted with permission from Beacon Press
---