On Falling in Love with Your Characters
Sarah Gerard on Writing, Love, and Forgiveness
In All About Love bell hooks defines love as "the will to extend one's self for the purpose of nurturing one's own or another's spiritual growth." She continues, "Growing up is, at heart, the process of learning to take responsibility for whatever happens in your life. To choose growth is to embrace a love that heals." Growing and healing are functions of living organisms. We refer to an author's "body" of work because images and ideas recirculate as through the bloodstream, carrying oxygen and nutrients for vital functions. We nurse stories, labor to deliver them—the act of writing is physical and biological. Therefore writing supports life. Therefore writing is love.
I began writing True Love in the fall of 2016. Trump had just been elected. My marriage was ending. What I've learned about writing about love is that it can be excruciating. Each time I revised True Love, I revised myself. I did so with the intention of exposing new layers of truth and meaning in my work, my life, and my world. That's what literature is for: revealing truth, and making meaning.
I thought True Love was a short story. Then a cultural history. Then a novel in the third-person, past-tense. Then present-tense. Then first-person present, with several front-loaded chapters of backstory. Then a sub-plot involving a fringe conspiracy theory. I carried the project through three years of drafts because, if I hadn't, I might never have learned what I needed to learn from it; I might never have healed or grown. My conception of love had suffered a trauma and I'd begun writing to account for it. Healing takes time. Love is patient.
*
While revising True Love, I taught a writing class on love at a small liberal arts college in Central Florida. We talked about the heart as a metaphor. We talked about the problem of clichés. A cliché is thoughtless, whereas love is thoughtful. A cliché reproduces ideas originating in the culture, not in lived experience; it is antithetical to love because whereas love is alive, a cliché is dead. It's an empty husk. Many of our cultural ideas about love, when we examine them closely, are not true, nor do they encourage growth or healing.
In his essay "Visibility," Italo Calvino asks us to reconsider, "the genesis of the imaginary at a time when literature no longer refers back to an authority or a tradition as its origin or goal, but aims at novelty, originality, and invention." Love is transformative, ecstatic, painful, carnal, wailing, hungry. It's not a box of chocolates. It breathes and beats.
The first prompt in the love class was to write about someone they'd hurt. An exercise in compassion, I believed this would be more fruitful for the purpose of investigating love than writing about someone who'd hurt them. It forced them as writers to be active agents in their stories, to imagine another person's pain and take responsibility for it. It is much easier to be generous in writing if the subject is alive and can bleed. Some of the people they were writing about had also hurt them, but hurt feelings tend to sit at the surface. I asked them to trust that their hurt feelings would find their way into the story without their assistance. The result would be more complexity, which is also to say more honesty.
Knowing Nina's flaws, as an author, I love her—and my readers as well—through my commitment to accepting who she is, and depicting her honestly.
If love is nurturing growth, and growth entails taking responsibility, then healing comes about through an honest depiction of agency. Honesty is the foundation of true love.
*
In True Love my narrator Nina is a liar. Her lying forms the novel's central conflict. Consequences mount as a result of her inability to be honest with herself or those around her in her pursuit of love. If love is a feeling as well as an action, then so is the absence of it; Nina's lying is a kind of violence she wields in response to pain. bell hooks teaches us that violence is antithetical to love because it is used for manipulation and control. Though Nina acts from pain, she also chooses to avoid the work necessary for healing, and she hurts other people as a result. Knowing Nina's flaws, as an author, I love her—and my readers as well—through my commitment to accepting who she is, and depicting her honestly.
Love for me is seeing and holding all of Nina: her pain and humor, desire and avoidance, generosity and rationalizations, false justifications, cowardice, and shame. Novelist Marcelle Sauvageot writes in her novel Commentary that, "Nothing is more endearing than weaknesses and faults: it is through them that one penetrates the beloved's soul." A loving portrait includes flaws.
*
At one point in my writing of True Love, an editor reached out to me asking if I'd like to do a feature story for her magazine's February issue. A local lifestyle publication, she requested that the article, in addition to being about love, also touch upon the college's relationship to the surrounding area. I wrote about how several of my students were survivors of the mass shooting at Marjory Stoneman Douglas High School, in Parkland, Florida, the year before. How many of them identified as queer, and feared for their lives after the Pulse Nightclub shooting in Orlando the year before that. And yet, how voters in the surrounding area of the college continued to elect officials who voted against gun restrictions, or legal protections for LGBTQI+ people, officials who had done nothing to protect their constituents after either of these shootings.
The editor thought guns were too heavy for Valentine's Day. She requested that I instead describe how my students "define love now"—nevermind that their definition of love was intricately tied to their feelings about guns.
"What should I do?" I asked my students.
Some thought I should still write the article. "Use the magazine as a platform," they said.
Others thought it wasn't a platform if I couldn't say what I needed to say.
Could I have written an article that supported growth and healing, even if I couldn't address my reader with what I felt was the full truth? Half-truths are lies. I couldn't, in writing about love, compartmentalize the very real adjacent violence. I told my students I'd decline to revise it.
We read Audre Lorde's "Uses of the Erotic." Lorde teaches us that the erotic is a source of power, and that our power proceeds from the depth of our feeling. "For the erotic is not a question only of what we do; it is a question of how acutely and fully we can feel in the doing." The authenticity of an author's voice proceeds from the depth of feeling from which she writes. It is inextricable from her commitment to writing honestly. There's love, and then there's true love.
*
I met my true love, Patty Yumi Cottrell, soon after I began writing True Love. Lorde continues, "Once we know the extent to which we are capable of feeling that sense of satisfaction and completion, we can then observe which of our various life endeavors brings us closest to that fullness." Patty and I had read and admired each other's books. In the beginning, we lived on opposite coasts and exchanged love letters. There's no more intimate form of address than from one lover to another. Other than, perhaps, an author to her reader.
I forget while I'm writing that the end result takes place in public. For so long I labor alone with myself, groping toward honesty, and can be clumsy where I need to be sensitive. I forget that I am responsible to my reader and the world at large. Mishandle what is too personal, too real. Patty read every draft of True Love. They struggled when it was obvious I wasn't being honest enough, when I wasn't yet speaking the full truth. They loved me anyway. Helped me grow.
Writing about love is a lot like love, itself. I feel my way through on hands and knees.
Janet Malcolm says autobiography is an act of self-forgiveness, but all worthwhile writing approaches forgiveness. I forgive Nina as well as myself for our messiness, stubbornness, and circuitous paths to learning; we are doing our best. We're human. Forgiveness is the deepest expression of love. Patty has taught me this. I said so in my wedding vows last November.
*
There was an exhibit at the local children's museum when I was a child, called the Touch Tunnel. In it, you groped along a dark tunnel on your hands and knees, with only your touch to navigate. You encountered a range of textures along the way: rabbit fur, Astro Turf, sandpaper. It was this uneasiness about what you'd find next that urged you on. You knew, if you pushed through the fear of new sensations, you'd soon emerge into light. Someone would be there to find you.
Love is feeling and action. What we really want is to be held. Writing about love is a lot like love, itself. I feel my way through on hands and knees. Face the same rejection, carry resentment, dodge responsibility, hurt people without meaning to. My feelings and perspectives on my work change over time; I fall out of love and in with it again. I need it, hate it, long for it, ghost it, lie to it, beg it to forgive me. At the end of it, I find the one who holds all of me.
__________________________________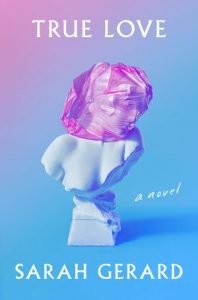 True Love by Sarah Gerard is available via Harper.
---