On Escaping the Madness of the World at Large and Finding Joy in Literature
Todd Doughty Recommends Books That Can Brighten Your Day or Lighten the Load
Whether your day needs a little pick-me-up, or you need a serious escape from the madness of the world at large, these five books are guaranteed to be a boon to the spirit. Each is unique (I like to think they're all about forward momentum) but the connection is the action within the pages, whether observing the world around you, offering friendly advice just at the right time, solving a mystery (both inside and out), or watching a legend celebrating the "song of life." There's a fine line between reminiscence and discovery—a notion highlighted in my own book, Little Pieces of Hope: Happy-Making Things in a Difficult World, which features over 3,000 items that spark joy—so if you haven't read before or visited these titles in a while, may these five brighten the day or lighten the load.
*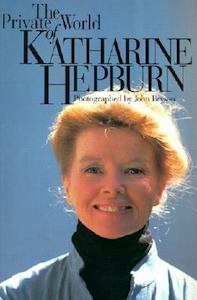 John Bryson (Photographer), The Private World of Katharine Hepburn
See her shovel snow off the roof of her brownstone. Bike through New York City. Take her daily swim in Long Island Sound in sub-zero winter, impervious to the cold. Wipe down the kitchen counter after dinner. Climb up a giant pine tree and start pruning away. Do laundry on the lawn. (Her secret? Lay the clothes on the ground to dry.) Study a script before sunrise as a heat lamp dries her hair. Buff the dining room table. Katharine Hepburn's motto was "listen to the song of life" and through John Bryson's photography, we get a glimpse of the greatest Hollywood star doing just that. Quotidian moments are what make up most of our days, months, and years. While it may sound like another (snooze) version of "celebrities really are like us!" this incredible book is quite the opposite. Bryson's thrilling photos are full of Hepburn in action—sailing, working, reading, playing tennis, arranging the flowers—and with her quotes peppered throughout, you get a true sense of the everyday person behind the larger-than-life legend.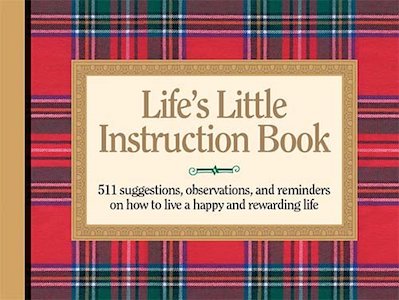 H. Jackson Brown, Jr., Life's Little Instruction Book: 511 Suggestions, Observations, and Reminders on How to Live a Happy and Rewarding Life
Thirty years ago, H. Jackson Brown compiled a list of 511 fatherly pieces of advice for his son, Adam, as he entered college. The little book with the plaid cover became a big hit and was published in over two dozen languages, subsequently spawning two additional volumes, calendars, and more. There's a very good reason for that: Brown's advice is simple ("Lend only those books you never care to see again."), true ("Never deprive someone of hope; it might be all they have."), timeless ("Send your loved one flowers. Think fo a reason later."), and practical ("Don't be afraid to say, "I don't know."). My parents gave me a copy as a stocking stuffer one Christmas long ago and I still have that little paperback (although it's in roughshod shape, loose pages torn from the binding after multiple reads) to this day. You're witnessing someone bare their love and soul on a page: a father's map to help his son chart his own course. The last four nuggets alone could be thought of as Life's North Star.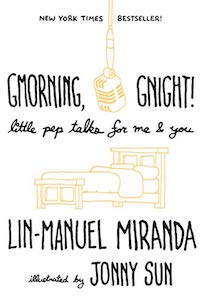 Lin-Manuel Miranda, Gmorning, Gnight!: Little Pep Talks for Me & You
A few years ago Lin-Manuel Miranda started bookending his Twitter feed with greetings of Gmorning and Gnight to his followers. These were no ordinary daily devotions: Miranda states in his introduction (complete with couplets!) that these are things he wishes someone would say to him when he's feeling nervous, "needing a reminder," or blue, yet he switched the pronoun to "you." Think of them as the equivalent of a note in your lunchbox or a "just checking in" text from a friend: Miranda has created the perfect pick-me-up before you have that first slurp of coffee or the last moment before your eyelids droop. Jonny Sun's illustrations complement these sharp, heartfelt bon mots of joy throughout, but the audio version is also a 46-minute delight. Miranda narrates with his full arsenal of charm, wit, and range; he finds joy in the messiness of life. And his humanity and cheer shine through each salutation and benediction.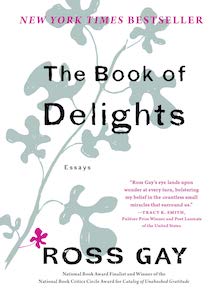 Ross Gay, The Book of Delights: Essays
Gay's 102 "essayettes" chronicle his year of embracing delight. He starts writing (mostly) daily thoughts on his birthday and ends full-circle 365 days later. Gay's essays show that he is an active noticer of and participant in the world; he writes beautifully about everything from coffee to hummingbirds to do-overs to music, hickory trees, fireflies, his mother, friends, and all sorts of strangers. And Gay does not shy from his thoughts on death, race, illness, and politics, either. He is able to connect delight (or the lack thereof) in all things, anywhere he might be: in an airport, on an airplane, having coffee at a cafe, visiting a different city, or walking past a church marquee and finding hidden meaning in the message. Gay's discipline of writing the essays quickly and in longhand highlights the immediacy and power of his view of the world. I first heard him read part of number 80, "Tomato on Board," on NPR's This American Life and the piece is a stunner. So is the entire collection. Gay's sense of humor and openness infused in each day of his year of delight will make you look at the world around you anew.
E. L. Konigsburg, From the Mixed-Up Files of Mrs. Basil E. Frankweiler
As a kid, this is the book that made me want to move to New York. Who wouldn't want to run away and live in the Metropolitan Museum of Art? With deft wit, a sharp eye for detail, and an assured sleight of hand Konigsburg delivers a novel that is part mystery (was Angel in fact carved by Michelangelo?) part adventure, and part coming-of-age (for all parties involved). Told from the perspective of the whip-smart, no-nonsense, and sassy eponymous octogenarian of the novel's title (whose first name we never learn—another secret kept) the book opens with a letter to her lawyer, Saxonberg. Mrs. Frankweiler has made some changes to her will and this detailed yet unexpected account (the original is of course kept in her voluminous files) of Claudia and Jamie Kincaid's disappearance will explain her connection to the story, and why.
Konigsburg recreates the Met in its all its massive glory as well as a bygone New York that finds Claudia and Jamie living in the Met for a week, eating at an automat, renting a post office box at Grand Central, using the typewriter in front of the Olivetti store on Fifth Avenue and bathing in the Met's restaurant fountain, now long gone. While Angel's possible authentication drives the engine of the plot upon the Kincaids' arrival at the museum, the heart of the novel is the universal notion of finding oneself and exploring the secrets within. "Often the search proved more profitable than the goal," Konigsburg writes. She's 100 percent correct and what a joy to "read and discover" (as Mrs. Frankweiler advises Saxonberg in the opening page) as an adult.
__________________________________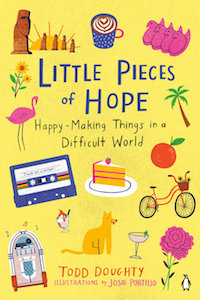 Little Pieces of Hope: Happy-Making Things in a Difficult World is available from Penguin Life, an imprint of Penguin Random House LLC. Copyright © 2021 by Todd Doughty.
---