On Bringing the World of Harry Potter to Life in… Florida
"Smellitzer—like a Howitzer, but this fires smells instead of shells..."
Just as orphaned Harry Potter found himself at Hogwarts Academy, so did the Universal Orlando Resort, forever considered an also-ran to Disney, find itself with the Wizarding World of Harry Potter. The 20-acre themed land, which re-created the magical village of Hogsmeade down to Ollivander's Wand Shop, opened in 2010, and spawned another 20-acre plot of Potter, Diagon Alley, in 2014. Compact versions of the Wizarding Worlds opened at Universal Studios Japan in 2014 and Universal Studios Hollywood in 2016.
Besides its hotels and waterparks, Universal Orlando has two theme parks, Islands of Adventure and Universal Studios. The $250 million Hogsmeade is located in the former and the $400 million Diagon Alley in the latter, with the Hogwarts Express connecting the two, requiring two separate admissions to the two separate parks. Their attractions require the visitor to spend at least one extra day at Universal, taking a big bite out of the Orlando pie, and putting a nice farthing or two into the pockets of the parties concerned. Wands at Ollivander's run from $25 for a toy version to $48 for a more advanced model, and that is only the beginning of the retail possibilities.
Even before Harry's arrival, Universal could be counted upon for a good time, though to appreciate its rides one needed an iron stomach. Smooth they were not. To be honest, despite several often-clever theming flourishes, and a lot of fire and smoke effects, refined they were not. Extreme, they usually were. The Incredible Hulk and the Hollywood Rip Ride Rockit coasters are extremely twisty and intense. The Simpsons Ride is extremely funny, but its motion simulators can also leave one extremely nauseous. Dudley Do-Right's Ripsaw Falls leaves one's clothing extremely wet.
Frankly, despite the first-rate experiences Universal offered, and in generous number, they lacked polish and detail when measured against their Disney counterparts, tame as they may be. Disney has since attempted to hop aboard the thrill-ride wagon—expect more as additional Marvel attractions develop—but the core audience is not the same as Universal's, or even that of other amusement parks.
Speaking on deep background, one overseas ride-company designer admitted that the prime target group for its attractions is the able-bodied between the ages of 13 and 30. In contrast, family-oriented Disney not only used an "Accelerometer" to gauge what impact Tower of Terror would have on the human frame, said one of its Imagineers, MIT systems-engineering graduate Kevin Parent, but the company uses a "Smellitzer—like a Howitzer, but this fires smells instead of shells—to engage every one of your senses" on its attractions.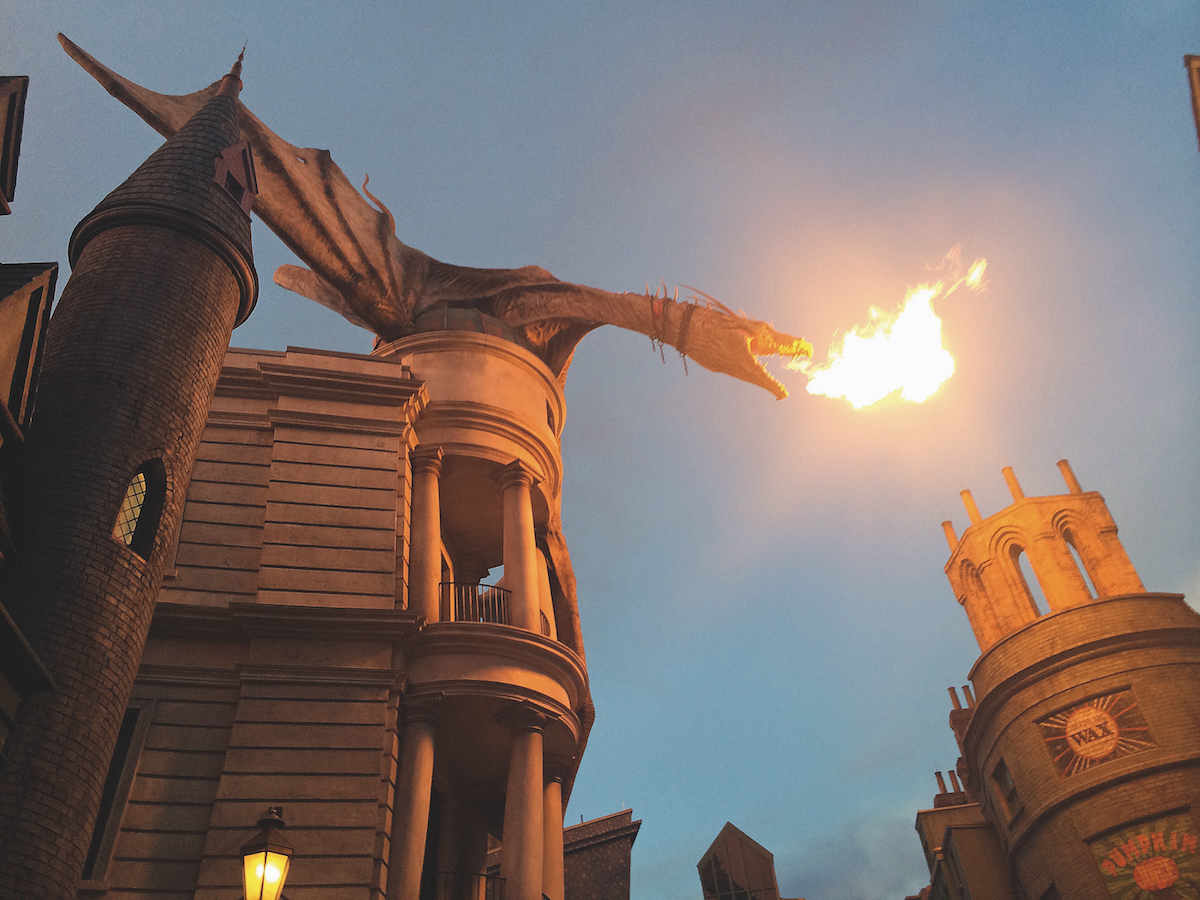 The point is, it might have seemed that Universal was not a perfect fit for the storied J. K. Rowling. Gutsy as her narratives were, they were also detailed and descriptive.
Would Harry feel comfortable being so near Jurassic Park?
J. K. Rowling and her hero, it has been pointed out, are remarkably similar: thoughtful, private, and ready for a challenge. Both were born on July 31st—Rowling, near Bristol, England, in 1965. Her name is Joanne Rowling, and she became J. K. only when her book publisher suggested boys might not read a book by a woman. (S. E. Hinton was given the same advice.) Because Rowling did not have a middle name, she took an initial from her grandmother, Kathleen.
She started writing about the boy wizard upon graduating from the University of Exeter and working for Amnesty International. Then, between teaching French and surviving with public (government) assistance in Edinburgh, she continued writing, sitting in cafés with her typewriter. Twelve publishers rejected the completed manuscript, until Bloomsbury, a small publishing house, offered a small advance, after the editor's small daughter also sat down and read Rowling's submission.
"It is impossible to live without failing at something, unless you live so cautiously that you might as well not have lived at all—in which case, you fail by default," Rowling would later say.
1997 brought out the first book in the series, Harry Potter and the Sorcerer's Stone (Philosopher's Stone in the UK). Six more books were to come over the following decade. Every one was a record-breaking best-seller, in more than 200 countries and in 80 languages. They have sold more than 500 million copies. Every one of the eight Warner Bros. movies based on the books topped the box office.
The Harry Potter theme park project had been on the boards for six years before the first Muggle—that's a person without magical powers—was allowed inside. Rumors persist that Rowling first huddled with Disney over a collaboration within one of its theme parks, but no one involved has ever been at liberty to confirm or deny.
"Her input has been direct and continual," said Alan Gilmore, art director for Universal's Wizarding World, a role he previously served on the movies. He also described Rowling as having "a very clear vision of her world."
When it came to bringing Harry's alternate universe into physical Universal, Rowling approved every last nail, the recipe for butterbeer, even the window display at Honeydukes Sweet Shop, whose sardine-flavored Pewking Pastilles are useful in inducing sickness when needing to skip classes at Hogwarts Academy.
Snowcapped Hogsmeade is entered through a gate at which stands a steaming Hogwarts Express engine. Beyond is the Main Village Square, with Honeydukes, Owl Post stationers, Filch's Emporium of Confiscated Goods for apparel, and the Three Broomsticks restaurant and Hogs Head pub. Towering above a wooded forest worthy of half-wizard gamekeeper Rubeus Hagrid is the town's centerpiece, the 15-story Hogwarts Castle. In it is housed the attraction Harry Potter and the Forbidden Journey, in which Harry and pal Ron Weasley, on Quidditch broomsticks, lead riders in special vehicles on a perilous flying chase through and around the battlements. Among the obstacles encountered en route are Aragog spiders, a Basilisk snake, Dementor phantoms, and a Hungarian Horntail dragon, whose breath should not get anywhere near a gasoline pump.
Despite its jolting turns, whose bounces reportedly were tamed for the subsequent Hollywood version, Forbidden Journey instantly became a must-ride, generating waits, when it was first unveiled, of up to seven hours.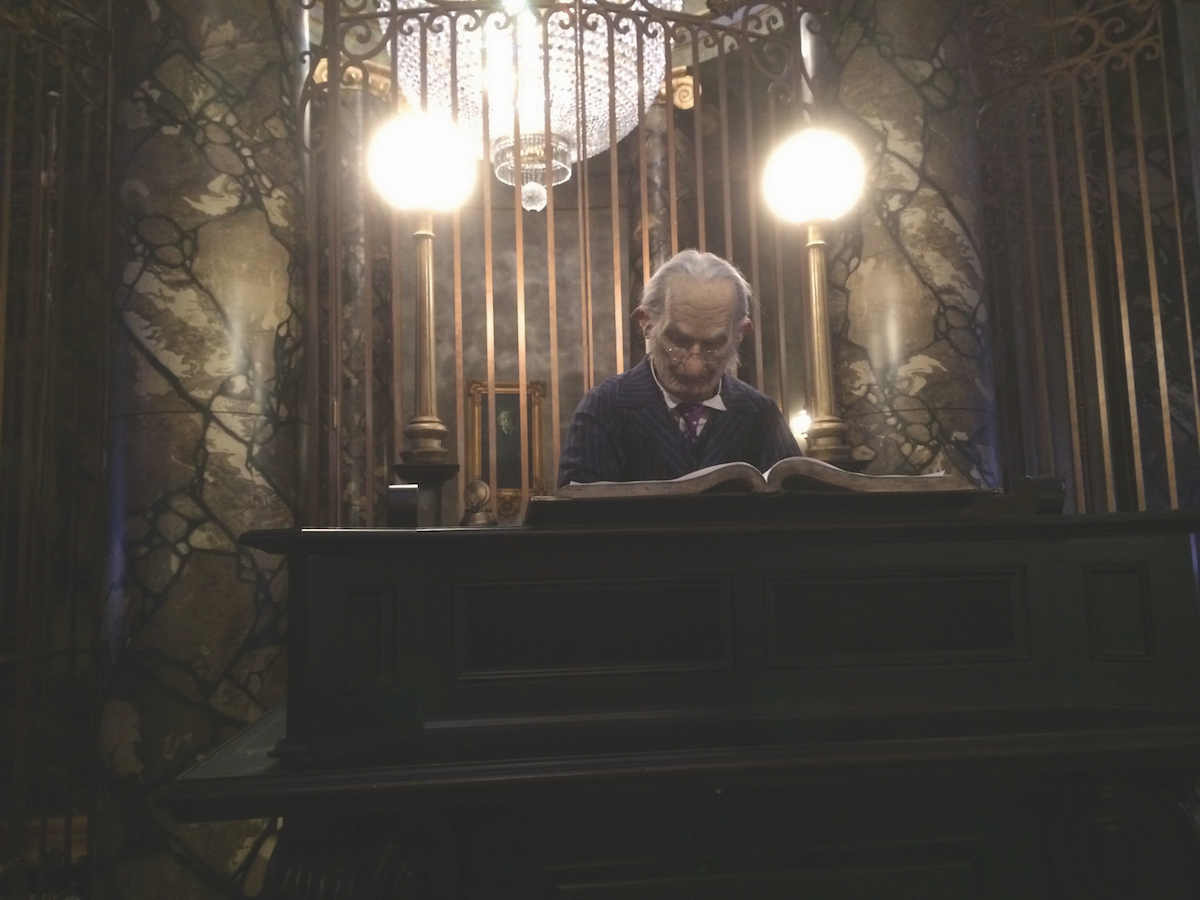 Forbidden Journey also marked a jolting turn for Universal. The company had, at long last, grasped hold of a family audience.
Being, by and large, a movie business, Universal was not about to let the success of its Wizarding World go without a sequel. "We'll bring even more Harry Potter adventures to life," Universal Creative president Mark Woodbury said in January 2014, when the company announced its Diagon Alley for the Orlando resort to open that summer. Adjacent to the Muggle world, Diagon Alley is the area in London where wizards go to buy their supplies.
At Universal Studios Orlando, where the new land replaced the long-in-the-tooth Jaws ride, the entrance was a re-creation of London's King's Cross Station, where students like Harry depart for Hogsmeade on Platform 9¾. Harry Potter and the Escape from Gringotts took riders deep within the wizards' bank vaults for another motion-based projection dark ride, with some roller coaster effects for good measure. There were another complement of shops offering a wide variety of magical merchandise, but there was also greater immersion, especially in the darkened Knockturn Alley.
It was enough to make a believer out of anyone.
As a matter of fact, stepping back into the sunlight, and spying the fire-breathing Ukrainian Ironbelly dragon from Harry Potter and the Deathly Hallows as it hovers overhead, clawing the cupola of the Gringotts Bank, you might just swear that this was the creature that seized Rahere out of his infirmary bed and left him to hang off the edge of a cliff.
Stranger things have happened.
_________________________________________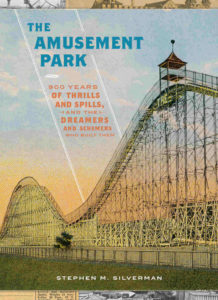 From The Amusement Park: 900 Years of Thrills and Spills, and the Dreamers and Schemers Who Built Them. Used with the permission of the publisher, Black Dog & Leventhal. Copyright © 2019 by Stephen M. Silverman.
---