On Atlanta's Essential Role in the Making of American Hip-Hop
Joe Coscarelli Considers the City's Alternating History of Oppression and Opportunity
For as long as rap music has been considered by region, artists from the South have been discounted, demeaned and overlooked, dubbed ignorant or inaccessible, overly simplistic or vulgar or simply too country, in line with broader prejudices against people—and especially Black people—from below the Mason-Dixon Line.
In 1990, when Spin magazine published an infographic detailing rap scenes around the United States, it called Atlanta's "basically the same as Miami's," with one label executive complaining about demo tapes "marred by funny sounding accents and pronunciation" and concluding: "It's just not happening yet."
Even in the two-plus decades since OutKast released its 1994 debut Southernplayalisticadillacmuzik and declared, with rightful defensiveness, "The South got something to say," for a national audience, the disrespect continued. Hip Hop Is Dead, the 2006 album by Nas, was widely assumed to be targeting the ascendant Southern rap of the time, like crunk and snap music; in a promotional skit starring Nick Cannon in blackface and bling, Nas warned of "ridiculous dances, ignorant behavior, and general buffoonery" that would lead to "hip-hop's permanent annihilation." Three years later, Jay-Z rapped, "My raps don't have melodies," on "D.O.A. (Death of Auto-Tune)," again framing the North as the arbiter of hip-hop authenticity.
But both men lost their misguided battles. Artists from Atlanta and across its neighboring states have continued to innovate, lyrically and sonically, breathing new life into the genre—often using those derided Auto-Tuned melodies, South-specific language and, yes, dances, even as "mumble rap" became a twenty-first-century pejorative for a new, outré style of Atlanta hip-hop.
Artists from Atlanta and across its neighboring states have continued to innovate, lyrically and sonically, breathing new life into the genre.
The paths of these artists, laid bare in Atlanta, represent the modern American dream—to make it out of poverty and obscurity to renown and riches—and also the American nightmare, as young Black men wrestle generational curses, crippled school systems, incarceration and racism on the way to an improbable destination atop art and commerce. And while the winners may have once seemed like unicorns who somehow reached this pinnacle, these generations (and micro-generations) of local rappers have routinely exploded the expectations of what a young Black man from little or nothing could hope to achieve in the broader American consciousness. Largely through music, the city has become a conveyor belt of exceptions.
That so much of this contradictory cultural history happened in the birthplace of Uncle Remus and Spike Lee, Gone with the Wind and Freaknik, is not a coincidence. It could only have been Atlanta. The Black defiance on display, too, can be traced to the city's beginnings and its forefathers, like the twelve-year-old R. R. Wright, who, when asked in 1868 by the commissioner of the Freedmen's Bureau what he should tell the children in the North about their Southern counterparts, replied, "Tell them we are rising."
Geographically, Atlanta is nothing if not a textbook example of urban sprawl. A collection of small towns, suburbs and "neighborhood planning units"—with endless strip malls, shopping centers, industrial parks, cul-de-sacs and tract houses—the metropolitan area pretends to be one big thing. But each section—often referred to in the city as Zones 1 through 6, in line with their respective police patrol areas—comes with its own customs, lingo and issues, many of which overlap, but all of which originated somewhere specific.
It's largely thanks to Atlanta's alternating history of oppression and opportunity that the city has been carved up into its current shape and form. In literal terms, it is a wobbly oval of juxtaposed worlds outlined by a man-made border—Interstate 285, known as the Perimeter or the Beltway. ITP (inside the Perimeter) represents everything within the asphalt circle, mostly Fulton and a little bit of DeKalb, two of the five core counties of the expansive metropolitan area. OTP (outside the Perimeter) sit the infinite suburbs—Marietta, Jonesboro, Lawrenceville, etc.—in the counties of Cobb, Clayton and Gwinnett, plus the remainder of the other two.
To arrive at Hartsfield-Jackson Atlanta International Airport and start driving, which most do—because public transit, too, has been strangled by the invisible boundaries and dividing lines of racism—is to be smacked in the face with the full extent of that sprawl: some eight thousand square miles (about the size of New Jersey), including three separate business districts (downtown, Midtown, Buckhead), where every third street is called Peachtree and you may never learn if they ever connect.
Largely through music, [Atlanta] has become a conveyor belt of exceptions.
The highways are so wide, crowded and plentiful that they can't help but feel like landmarks, with I-285 swelling from eight to twelve lanes at its widest, most chaotic junction. From Exit 1 (East Point) near the airport, one can follow the Perimeter clockwise around income brackets and ways of life, from the majority-Black southwest through Smyrna, Sandy Springs and so on, and end up edging against the whiter suburbs to the north and east, then back down around to Decatur and College Park.
Like Miami, Houston and Los Angeles, Atlanta doesn't feel much like a big city in most places. Its downtown skyline hardly matters. Instead, because there was no water or mountains hemming it in, the town bulged outward, always with a careful eye on which areas were getting too Black or not white enough, with adjustments made accordingly by the elite.
Off the highways, the defining visual feature of Atlanta is its foliage. Known as the City in a Forest, the place includes vast blankets of green overgrown kudzu that fills in the gaps between an encyclopedia's worth of trees, creating a canopy that makes the word "urban"—with its connotations of grit and gray and glass—feel entirely inapt.
The dogwoods bloom thick and plump, the towering maples go screaming orange, the pines sit on stilts and the oaks have seen it all. It's not getting more plentiful, but the greenery still feels infinite—magnolias, cedars, crape myrtles, sweetgums, elms, crabapples, river birches, hickories—and it's this ocean of trees that makes every Atlanta neighborhood feel apart from every other one, and also kind of sleepy and quaint.
[Atlanta's] residents have exploited the city's societal and geographic idiosyncrasies to build an affordable and close-knit hip-hop infrastructure that rivals that of New York or LA.
Yet rap music comes out of every crevice. In the neighborhoods more likely to come up in songs than in guidebooks—places often referred to using street names as synecdoche, like Bouldercrest, Cascade, Candler, Cleveland and Jonesboro—the living is low-density, with loose residential subdivisions creating self-contained villages with hyperlocal hierarchies on quiet streets, in backyards, empty lots, gas stations and corner stores. Single-family homes sit low to the ground and back beyond long driveways, with porches or pillars behind wild shrubbery.
Like "OTP or ITP," "house or apartment" is another consequential Atlanta divide. Off the interstate, squat clusters of low-income, cheaply paneled concrete or brick apartment buildings represent a quintessential local vista. Usually two or three floors each, tucked back away from a wooded road, these apartments tend to have plentiful parking, concrete staircases with a gap between every step and a seen-better-days basketball hoop that functions as a gathering point for kids and their bikes and the older guys who just want to put up a shot or two.
Once meant to replace the demolished Atlanta housing projects, the apartments have been imbued with elements of those projects' mythologies, and also their risks. Today, these little worlds of potential are blanketed in security cameras that are purposefully prominent instead of hidden, requiring groups of weed smokers or other mischief-makers to slip around corners into darkened zones, which are never that hard to find. These complexes have names that feel machine-generated for maximum suburban banality: Avalon Ridge, Heritage Station, Auburn Glenn, Trestletree Village or any similar innocuous Mad Lib—Something Courts, Pines, Towers, Estates or Commons. The reality is often far bleaker.
But those who grew up in these spaces, away from Atlanta's shiny side—its Fortune 500 companies, like Delta, Coca-Cola and the Home Depot—are the ones who carry the history and traditions of the city's disenfranchised and its cast-offs, mostly over beats. In the decades since Atlanta first put itself on the cultural map with homegrown music, its residents have exploited the city's societal and geographic idiosyncrasies to build an affordable and close-knit hip-hop infrastructure that rivals that of New York or LA in impact—and with maybe more originality.
_____________________________________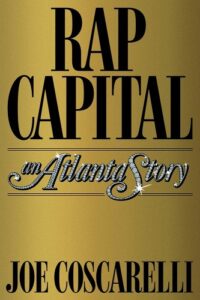 Excerpted from Rap Capital: An Atlanta Story by Joe Coscarelli. Copyright © 2022. Available from Simon & Schuster.
---