On America's First Openly Gay Reporter at a Major Newspaper
The Rise of Randy Shilts, Among the First to Write About
the AIDS Epidemic
The 1980s opened with Randy Shilts in search of full-time employment and struggling with nagging personal issues related to his alcohol and marijuana use. Hope was on the horizon, however, with an opportunity to take an even bigger step up in journalism. Shilts, often hailed as one of the nation's first openly gay reporters for a major daily newspaper, was not the first choice on the list. As the editors at the San Francisco Chronicle began to understand that they could no longer ignore—or deny—that gay people were a major political, economic, and social force in the community, the stoic Chronicle took a bold step and sought out an openly gay reporter to cover gay-related stories in the city.
The Chronicle already had an unofficial "gay beat" via the work of city-side reporter Ron Moscowitz, a writer who moved over to journalism in 1967 after working as an aide to California governor Edmund G. "Pat" Brown, who had been retired from Sacramento by Ronald Reagan. Moscowitz had begun quietly covering gay news as early as 1977 and wrote a noteworthy series of articles in 1979 about a policy of the US Immigration and Naturalization Service that prohibited openly gay tourists from entering the country. By 1980 Chronicle editor Jerry Burns wanted a more permanent arrangement and approached Moscowitz about the job. A recent heart attack and pending early retirement took Moscowitz out of the running, however, and Burns put out the word that he was interested in hiring from outside.
The unemployed Shilts got wind of Burns's interest, promptly called the editor, and landed the job. As a result, his title as "the first openly gay reporter on a major daily newspaper" actually needs an asterisk. Burns counted on Shilts's ability as a reporter but not on the iconic figure he would become. Burns said, "Little did I know I was creating this media star when I hired Randy. I knew he was, in the first place, an outstanding reporter. In the second place, I knew he was one who deeply cared about the community and all the parts that go into it. I also knew he was ambitious and had stars in his eyes, and boy, has that turned out to be true!"
Shilts made the transition to work as a journalist at a major US daily newspaper rather seamlessly, it seems. His arrival at the Chronicle did not produce headlines or stories as had his hiring a few years earlier at KQED, but his addition to the news staff didn't come without some questions. Editor Alan Mutter recalled that some questions of objectivity persisted for some, but he and other editors were consistent in their statements to the newspaper's editorial staff (and to readers) that they saw no conflict of interest in having a gay man report on gay issues, including AIDS, a disease epidemic primarily impacting gay men. Mutter said, "The bottom line is professionalism."
"You weren't supposed to be excited about things. . . . Randy violated that rule and he didn't care what people said to him about it, he was going to care."
During his first days at the Chronicle, Shilts said that he kept a small notebook in his pocket in which he planned to record the slights, indifference, or open intolerance he expected he might have to face among his journalistic peers. He never wrote anything down, he said. "Everybody went out of their way to be nice and supportive of me, and there had been somebody else in the newsroom before me who was gay, so the editors and reporters were friendly," Shilts said. Originally assigned to cover general assignment stories, including some stories from the gay community, as a new reporter Shilts took whatever an editor sent his way. "That was fine with me, because I didn't want to cover just gay stuff, even though that was part of what I wanted to do," he said.
Shilts eventually moved from general assignment reporter, to assistant city editor, to national correspondent. Embracing his role as assistant city editor allowed him to continue work on his idea for a second book (what would become 1987's And the Band Played On). It wasn't an unprecedented idea—Chronicle reporter Paul Avery had taken time off to write books about the Patty Hearst–SLA kidnapping scandal and the Zodiac serial killer, while Tim Reiterman at the rival San Francisco Examiner had used his reporting on the Reverend Jim Jones and the Peoples Temple to produce an authoritative book on that deadly cult. Shilts said, "The Chronicle was a very gentlemanly place, and people went out of the way to be very supportive," and his fellow journalists seemed to make a special effort to show that "they weren't going to be biased, which surprised me," given the paper's consistently Republican inclinations on its editorial and opinion pages.
Shilts may not have felt any trepidation from his colleagues, but some existed, according to fellow Chronicle reporter Susan Sward: "The men in the City Room were nervous" about Shilts's arrival. "Randy wore wildly flowered ties, he had suspenders, and initially, you could just feel a nervousness when many people in the City Room dealt with him," Sward said. She also revealed that Shilts's enthusiasm about his stories could create problems: "You weren't supposed to be excited about things. If you came up to the [city] desk all in a lather about something you were covering, they would look at you like you had some kind of problem. Randy violated that rule and he didn't care what people said to him about it, he was going to care."
Any nervousness or reservations about Shilts's approach in the newsroom didn't last long, however, as Sward believed his wide-open personality quickly won over any doubters: "He had an infectious personality. . . . He could laugh at himself. He [also] had an enormous ego. . . . [He] was an enormously engaging person, and at the same time, he was a tremendous journalist. Bit by bit, those who were nervous about him came to admire his talent." Sward recalled that it was nearly impossible not to notice Shilts in the otherwise buttoned-down newsroom. "The curly mop-top of blond-brown hair, the boyish grin, the happy laugh," she recalled. "He had ego, a lot of it, and he made no effort to hide it. In fact, he would throw back his head and laugh with great gusto when someone called him on his latest exhibition of self-love."
Wes Haley, who worked for 20 years as a newsroom manager and staff assistant for the Chronicle, said the first call that would come to his desk almost every weekday morning was from Shilts—just after 4 am. "I was never sure if he was just going to bed, or just getting up," Haley said, but Shilts's daily calls to check in on "what was going on" were like clockwork. Haley took it upon himself to help keep Shilts organized. "Randy was a slob, but he liked things neat, if that makes any sense," Haley said, admitting that he frequently organized papers piled on Shilts's desk as a way of helping. "Randy liked anything that was about Randy," Haley said. "That's the thing, Randy loved Randy. If people were paying attention to him and someone was cleaning up his desk, that pleased him just fine."
Shilts "was the first reporter that I know of who could see that this was not simply going to be a gay disease."
The story that would define Shilts's legacy as a journalist and author came in via overheard conversations and discussions throughout the gay community during his very first days in the Chronicle newsroom. Rumors about a "gay cancer" or serious illness affecting the gay community quickly reached Shilts, who was always tapped into the latest news in the gay community. Dr. Marcus Conant, a local dermatologist, was among the local health professionals sounding early alarms of a problem as he began to treat more gay men showing symptoms of a rare skin cancer, Kaposi's sarcoma. Conant first made contact with Shilts in August 1981, sharing clinical information about Kaposi's sarcoma. Shilts led a story on the subject (later picked up by the Associated Press) but cautioned Conant that he was not sure if his editors at the Chronicle would do a local story on it: "I've held back from doing a local angle on [KS]—which would see much more prescient play in favor of doing a story when it will be constructive when you have your plan ready." Shilts said he wanted to avoid writing a story that would cause worried readers to bombard the health department "with questions that can't be answered." He advised, "The Chronicle wants me to keep generally on top of gay community issues" and invited Conant to share story ideas with him.
David Perlman, the Chronicle's science reporter, followed up and was truly in the foreground of coverage of this new health threat. He actually beat Shilts to the story by writing as early as June 1981 on a troubling report in the federal government's Morbidity and Mortality Weekly Report about an alarming increase in diagnosed cases of a rare form of pneumonia caused by a parasite known as Pneumocystis carinii. The report indicated that this sometimes-fatal version of pneumonia was showing up among gay men in San Francisco and other major cities, especially Los Angeles and New York. The report from the Centers for Disease Control and Prevention indicated, "The fact that these patients were all homosexuals suggests a connection between some aspect of a homosexual lifestyle or disease acquired through sexual contact." The same page of the Chronicle that day carried the happy news that the 155 men of the San Francisco Gay Men's Chorus were about to embark on their first national tour—a group eventually decimated by the ravages of what was to become the AIDS epidemic.
Perlman said Shilts indicated an interest in reporting on the emerging story during his first days on the job: "I think he was interested almost as soon as he got here because he already knew that many of his friends in the Castro were coming down with very strange and very rare forms of pneumonia, and what even he himself and his friends would refer to at the time as 'the gay cancer.'" Perlman noted that while he may have been the first to write about what became known as AIDS in June 1981, Shilts "was the first reporter that I know of who could see that this was not simply going to be a gay disease. . . . He made it noticed here on the Chronicle and in the news, and you can remember how hard he fought to get his stories on page one." Perlman, a fatherly newsroom figure with an open personality, often took new reporters, including Shilts, under his wing and offered helpful feedback. The two men came to an informal but lasting agreement that Perlman would cover most of the scientific and clinical issues surrounding the still-unnamed AIDS story, and Shilts would cover the social and political aspects of the issue.
__________________________________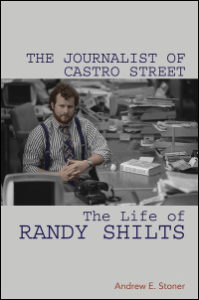 From The Journalist of Castro Street: The Life of Randy Shilts by Andrew Stoner. Used with permission of the University of Illinois Press. Copyright © 2019 by the Board of Trustees of the University of Illinois.
---