On Albert Camus's Legendary Postwar Speech at Columbia University
"The years we have gone through have killed something in us."
NEW YORK, 1946
On Monday, March 25, 1946, Albert Camus, aboard the freighter Oregon, sailed into New York Harbor. The first sight he took in and noted in his journal was Coney Island. It reminded him of the Porte d'Orléans, and he found it depressing. The sky was a grim grey, and the air raw. The distant, mist-laden skyscrapers of Manhattan left him cold and unmoved. Then again, he arrived in America with the flu and a fever and a mission. He was 32 years old (though A.J. Liebling later remarked that he looked barely twenty) and already a legend in the making, the Conscience of Europe.
A fierce conscience that was, like his flu, contagious.
The first to greet Camus were the Immigration inspectors, who interrogated him at length, detaining him until the French Cultural Services intervened. Well before his arrival, Camus (alias P.F. Corus) had been under surveillance by the FBI for his former membership in the Communist Party, his service in the French Resistance, and the fact that he was both French and a philosopher, two categories J. Edgar Hoover considered suspect. Hoover was, as it happened, on to something. The radical message that Camus (whose name Hoover misspelled as Canus) would deliver three days later would call for revolt and resistance. Camus brought word of a plague that everyone knew had devastated Europe but few recognized as having already infected America. Camus had been invited as a cultural ambassador from a broken France to a victorious United States. 
Heralded as the boldest young writer of his generation, the expectation was that he would share with New Yorkers his own engaged, insider's précis of current French philosophy, literature, and theater. This was not what they got. They didn't know the man they had invited. Those who had read The Stranger found themselves confronted with a stranger. Camus later explained that what he most admired about Meursault was that he refused to lie. The same was true of Meursault's creator. New York had invited an existentialist and found themselves confronted by a moralist. Instead of a French Hemingway, they got an Algerian Jeremiah.
On Thursday evening, March 28, every seat and open space in Columbia University's McMillin Theater was taken. Those who still stood in line and hoped for entry were out of luck. The scene was without precedent. No lecture delivered in French at Columbia had ever drawn more than two or three hundred listeners, and yet four or five times that many had come to hear Albert Camus read his prepared remarks entitled "La Crise de l'Homme" ("The Human Crisis"). What they heard was not the cultural excursion they had come for. Instead, it was arguably the most prophetic and unsettling speech Camus ever gave. 
On that night, in less than thirty minutes, he somehow managed to distill and convey his deepest fears and steepest challenges in words that have lost none of their urgency or relevance in the 75 years since he spoke them. Before we move on to what he had to say that evening, the chosen title of his brief talk calls for careful scrutiny. We know from his published Carnets, or Notebooks, in which Camus chronicled his memories and musings from 1935 to 1959, that he took titles seriously, laboring over them, trying them on until he got the right fit. "The Human Crisis" was likely no exception. "Crisis" could have pointed to any one of many possible or current emergencies: economic, political, medical, climatic, etc.; and "Human" suggested that this emergency was global rather than regional or national. If this was what Camus meant, however, then he had chosen his title rather carelessly, because it just didn't fit what followed. As is so often the case with Camus, we have to dig deeper, well beyond the obvious, to get his meaning.
"The years we have gone through have killed something in us."
What every close reader of Camus knows is that he was steeped in myth, both Greek and Christian. His writings are, as it were, marinated in the classics and in the Bible. At the time when Camus wrote "The Human Crisis," the myth that preoccupied him was Hesiod's Prometheus, whose multiple incarnate avatars people the pages of such works as The Misunderstanding, The Plague, The Just, and The Rebel. In Hesiod, the character of Prometheus is defined by an episode described as not merely a crisis but the crisis that defines humanity and sets it on its own unique, irreversible course.
It is the Greek counterpart to the story of Adamah, the mortal earthling, in the Garden of Eden. It is a crucial moment of decision from which there is no going back. A moment of "crisis" in this sense is one in which a line has been drawn, what we might today call a "red line" or a "line in the sand." A moment of crisis is, put simply, a critical turning point, a time of reckoning. The question, then, is, What did Camus see as the line that humanity was about to cross or had already crossed; and what was at stake in doing so?
As for what was at stake, the answer was clear: humanity, the common bond that defines us as a species and, less abstractly, as a community beyond borders. The "Good War," as it came to be called, was over and had been won. But the "crisis" had not passed. What Camus called "the struggle for life and for humanity" was immediate and ongoing. The "Good War" had released a pestilence, and the world remained in a state of plague. Camus made the point that Europeans knew this, while most Americans as yet did not.
The French people sense that mankind is still under threat. And they also sense that to continue living they must rescue a certain idea of mankind from the crisis that grips the whole world.
Camus's task that night in McMillin Theater was to convince an enthusiastic, overflow Francophile crowd come to see a cultural celebrity that "Yes. There is a human crisis." Is, not was. To accomplish this, Camus summoned his superpower. He told stories, in this case four terse stories, in an attempt to bridge the awareness gap between the people he was there to represent and the people he was there to instruct. For Camus and his French compatriots, these stories were all too familiar, "about a time the world is beginning to forget, but which still burns in our hearts."
Narrative fragments of everyday life in occupied Europe, embedded memories, that like shrapnel defied extraction. Camus's audience, on the other hand, were mostly American students, callow and hopeful. They could not forget what they had never known, nor were they haunted by it. These were the stories, best described as parables, that Camus shared with them that evening:
I.
In an apartment building occupied by the Gestapo in a European capital, two accused men, still bleeding, find themselves tied up after a night of investigation. The concierge of the building begins her careful household chores in good spirit, since she probably just finished breakfast. Reproached by one of the tortured men, she replies indignantly, "I never interfere with my tenants' business."
II.
In Leon, one of my comrades is dragged from his cell for a third round of questioning. Since his ears have been badly torn during a previous session, he is wearing a bandage around his head. The German officer who interrogates him is the same man who conducted the previous sessions. And yet he asks him, with an air of affectionate concern, "How are your ears doing?"
III.
In Greece, after an underground resistance operation, a German officer prepares the executions of three brothers he has taken as hostages. Their old mother throws herself at his feet and he agrees to save one of them. But only at the condition that she designate which one. She chooses the oldest because he has a family, but her choice condemns the two others. Just as the German officer intended.
IV.
A group of deported women, including one of our comrades, is repatriated to France by way of Switzerland. As soon as they enter Swiss territory, they notice a funeral taking place. And the mere sight of this spectacle sets off their hysterical laughter. "That's how the dead are treated here!" they say.
In prefacing the body of his talk with these four parables, Camus must have known that if they failed to convince his audience of the human crisis—the moral bacillus that infected them and their world—then there would be no point in his going on to say anything more. He and they might just as well exit the auditorium, in silent despair.
"The civilization of the machine has just achieved its ultimate degree of savagery."
In each related episode, something formerly alive lay dead on the floor, like the proverbial canary in the tunnel. Upon inspection, what lay dead, or missing, was humanity. If anyone then or now were to comment that these were war stories, aberrant accounts from a dark time long gone, they would miss the point, Camus's point. Camus knew that what was nowhere to be found in these stories was still missing, and quite possibly gone forever.
He made this very point clearly several months later when he wrote, "The years we have gone through have killed something in us. And that something is simply the old confidence man had in himself, which led him to believe that he could always elicit human reactions from another man if he spoke to him in the language of a common humanity." We may describe, explain, or make excuses for the death or demise of humanity in otherwise seemingly intact, healthy, successful people in any number of ways; but the fact remains that "in today's world we can contemplate the death or the torture of a human being with a feeling of indifference, friendly concern, scientific interest, or simple passivity." "Yes," Camus continues:
There is a human crisis. Since putting a person to death can be regarded with something other than the horror and scandal it ought to provoke. Since human suffering is accepted as a somewhat boring obligation, on a par with getting supply or having to stand in line for an ounce of butter.
Camus warned against the common postwar complacency that took false comfort in the fact that Hitler was dead and the Third Reich had fallen. Yes, the serpentine beast was dead, but "we know perfectly well," he argued, "that the venom is not gone, that each of us carries it in our own hearts."
All around him in the postwar world, Camus saw disheartening evidence of global community transmission of a murderous indifference many imagined to be contained and controlled. "Look around you," urged Camus,
and see if it isn't still the case. Violence has a stranglehold on us. Inside every nation, and the world at large, mistrust, resentment, greed, and the race for power are manufacturing a dark, desperate universe in which each man is condemned to live within the limit of the present . . . Perhaps you who dwell in this still happy America do not see this or cannot see it clearly. But the men I am talking about had been seeing it for years, and had felt this evil in their flesh, read it on the faces of those they love, and deep in their ailing hearts . . . 
It may be that Camus was too polite a guest to have referenced the act that, more than any other, disrobed the human crisis and demonstrated how perilously near humanity was to moral extinction. "We can sum it all up in a sentence," wrote Camus on August 8, 1945, two days after the thermonuclear holocaust of Hiroshima: "The civilization of the machine has just achieved its ultimate degree of savagery."
He went on to note the spontaneous, indecent celebration of the event in which much of the world had indulged and thus "shown itself incapable of exerting any control while remaining indifferent to injustice or even mere human happiness." Camus expressed how hard it was to breathe in this world, and he was not referring to his collapsed lung. He was living with moral, not just tubercular, pain. He put it simply: "Mankind has probably been given its last chance."
_______________________________________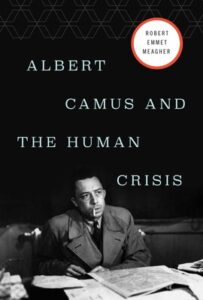 Excerpted from Albert Camus and the Human Crisis: A Discovery and Exploration by Robert Meagher (Pegasus Books).
---