Olaf Olafsson Knows When to Stop Writing: Before Depletion
The Author of Touch Takes the Lit Hub Questionnaire
Touch: A Novel by Olaf Olafsson is now available.
*
What time of day do you write?
I write in the morning after a light breakfast and a quick look at the papers. My routine is the same whether I'm in Iceland or New York: I'm at my desk between 7 and 8 with a cup of coffee and a little slice of the oatmeal cake my wife bakes, an old family recipe, appropriately named Happy Marriage Cake. (We Icelanders tend to look for simple remedies.)
When I'm in the middle of a novel, I aim to write every day for three or four hours, five at the most. My mind is freshest in the morning, I long ago gave up trying to write later in the day. I stop before I have depleted myself, leaving a little something for the following morning to help me get going.
What's the best or worst writing advice you've ever received?
Whether advice is good or bad often depends on its interpretation. "Write what you know" aspiring writers are told, often without much elaboration. Taken literally, it's a bad advice, resulting in navel-gazing, which is rarely interesting. Broadly interpreted, however, it encourages writers to do proper research and know their settings and characters intimately, and to discriminately use stuff from their own lives or the lives of others, but not to make themselves center of attention. For most good writers, the product of their imagination is normally more interesting than what they themselves do on a daily basis.
How do you tackle writer's block?
I guess there are several categories of writers block. For me, the time between books is the most challenging. With one book barely out of the system and no capacity yet for anything new, doubt tends to pay a visit. That's when I think back to the times when I've been in the same situation, hoping to find a way forward. But there are no recipes to rely on, no easy tricks, only time and effort.
When I have an idea for a book, I give it time to come together in my mind before I put pen to paper. It may take quite a while for the characters to come fully alive, for the structure to take shape, but I deliberately hold back as long as I can. It can be quite torturous but it's worth it. It's like baking bread—the dough needs time to rise.
"Writing is not a bohemian exercise but reasonably hard work for which you are eventually rewarded."
Once I've started a book, the daily grind takes over, my beloved routine. Of course, there can be days when things don't flow that easily, when after half a page you decide to take a break. I find that that type of block can only ben taken care of by continuing the following morning or the morning after that until something breaks. In the meantime, it's good to play soccer. Or climb a mountain. There is nothing like proper physical exhaustion to clear the mind.
Which of your characters is your favorite?
Your characters are like your children—your affection is equally distributed. But since your latest book is freshest in your mind, so are its protagonists. Kristofer in my new novel Touch is still in my head, not least since I've had to revisit him when writing the screenplay which Baltasar Kormakur who will start production of the homonymous film this fall. Having Kristofer back in my head has been a pleasure. Despite our flaws we get along well and spare one another unnecessary criticism, happily leaving that to others.
Who is the person, or what is the place or practice that had the most significant impact on your writing education?
I grew up in Iceland. Despite having lived primarily in the States since college, Iceland is where my roots are. My father was a well-known writer in Iceland, and I learned a lot from him, not least that writing is not a bohemian exercise but reasonably hard work for which you are eventually rewarded. It really isn't more complicated than that.
I wrote Touch in Iceland when we "got stuck" there during Covid for over a year. It wasn't a bad place to be, it never is. In the winter, the sun eventually rose, but got bored quickly and disappeared. In summer, it didn't set. The book wrote itself. I tended to the birds in the garden.
__________________________________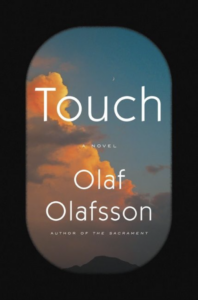 Touch: A Novel by Olaf Olafsson is available via Ecco Press.
---