Off the Clock: What the Lit Hub Staff is Doing This Weekend
Featuring Murderous Teens, March Madness, the Erin Express, and more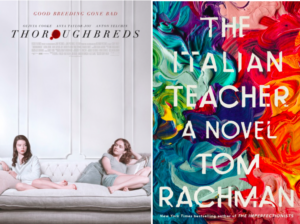 Being, as a rule, quite fond of amoral teens on screen, I am plotting with a girlfriend to go see Thoroughbreds this weekend, despite its admittedly middling reviews. Otherwise, I plan to be hiding from St. Patrick's Day with the new Tom Rachman novel, The Italian Teacher, (and its deeply appealing cover) close at hand. This all besides my usual creature comforts of RuPaul and The Challenge, of course. You can rest assured that I am always watching those.
–Emily Temple, Senior Editor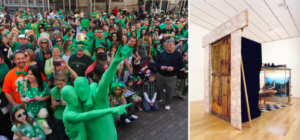 Earlier this week it came to my attention that I had made a catastrophic error: despite having lived in Philadelphia for five years, as well as growing up close enough to the city to know better, I mistakenly scheduled a visit that coincides with St. Patrick's Day. If you think that St. Patrick's day in Manhattan is something to behold, respectfully: you have seen nothing. This is all to say that I will be occupied primarily with ducking the vomiting, public-urinating hordes transported throughout the city on a hellish fleet of free buses known as the Erin Express. For some much-need quiet, I plan to visit two of my favorite Philly sights, different and yet alike in beauty: Marcel Duchamp's final masterpiece Étant donnés at the Philadelphia Museum of Art, and the 40-pound colon in a glass vitrine at the Mütter Museum.
–Jess Bergman, Features Editor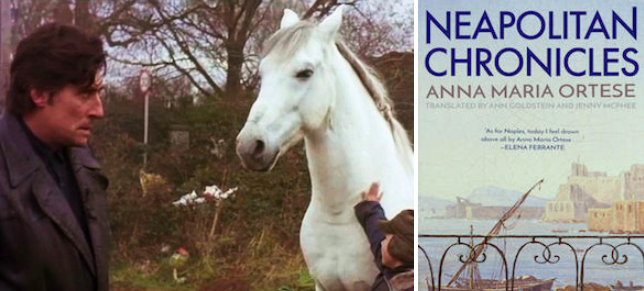 I will be in the relative peace of the Hudson Valley on St. Patrick's Day and will maybe drink one of those fancy cans of Guinness while watching John Sayles' deeply charming The Secret of Roan Inish with my seven-year-old son, followed by Into the West (which features peak Gabriel Byrne). Once the child is in bed, dreaming of selkies and magical horses, I'll try to finish Richard Powers' sprawling doorstopper, The Overstory, so I can finally begin Anna Maria Ortese's ur-Ferrante, The Neapolitan Chronicles.
–Jonny Diamond, Editor in Chief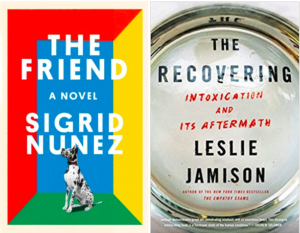 Lauren van den Berg's tweet reminded me I wanted to read Sigrid Nunez's The Friend, which I'll finish up this weekend (I also hope to see a couple on the street walking a Great Dane, but I hope to do that every weekend.) It is an utterly remarkable novel (or maybe not a novel, as Vivan Gornick says in Bookforum). The New York Times excerpt of Leslie Jaimson's forthcoming The Recovering has pushed that book up in my queue, so looking forward to reading that next.
–Emily Firetog, Managing Editor

This weekend I'll be watching the NCAA tournament and in between games reading about a slightly less corrupt organization, the gambling outfit that ran the 1930s Shanghai underworld, as described in Paul French's new true crime book, City of Devils, coming out this summer and full of exactly the kinds of stories I like.
–Dwyer Murphy, Crime Reads Senior Editor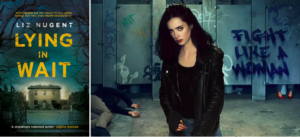 This weekend I'll be diving in to Liz Nugent's upcoming thriller, Lying in Wait, which from the first page has me hooked with its blueblood murderess and her icy sang-froid. Nugent's been on my radar as a wicked and knowing new voice in crime fiction since her book Unraveling Oliver made a splash. While Unraveling Oliver used domestic suspense as a taking off point to explore gender dynamics and the performance of middle-class normality, Lying in Wait promises to use the form to explore extreme class divides and the relationship between city and hinterland. I'll also be finishing up Jessica Jones: Season 2, probably while knitting, and I'll read a few pages of the enormous new history of turn-of-the-century New York City, Greater Gotham: A History of New York City from 1898-1919, in my quest to learn more about my newly adopted city.
–Molly Odintz, Crime Reads Associate Editor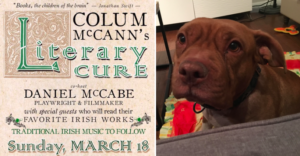 I'm dogsitting an excellent Staffordshire terrier/Pitbull mix named Olive this week and will be spending my country's national feast day hanging out with her in Morningside Park. She enjoys rassling, eating radishes, and barking loudly at other dogs, so that's what we'll do. On Sunday, I'll head to Swift Hibernian Lounge in the Bowery, where every year around St. Patrick's Day my New York-based countrymen and women (and their friends) gather to drink pints, sing exile ballads, and recite passages of literature from the old country. I'm also greatly looking forward to checking out this year's Irish Arts Center Book Day, where tens of thousands of books by Irish, Caribbean and American authors will be handed out for free at pop-up stands across the five boroughs.
–Dan Sheehan, Book Marks Editor
My older brother has been an actor for 25 years, and in all the years I lived in New York I haven't been able to see him perform. But he has a movie on in town Friday night so that is the only thing I'm thinking of this weekend, everything else is an also.
–John Freeman, Contributing Editor
---