"Notice to Appear," a Poem by Leslie Sainz
From the Collection Have You Been Long Enough at Table
It goes doorbell
(two beats)
then knocking
(three or more beats)
or knocking
(five beats)
then doorbell (three times,
two beats each).
The very first beat disappears
the front door.
We abrupt.
We.
Any way possible, silence.
Beat beat
then beat beat beat beat.
We crawl to Mother
and Father's closet
staying close
to the grout.
Together we have
four pairs of legs.
I am short and young
enough already
not to be seen
and Brother is taller and
growing. Beat beat beat
beat beat beat beat
beat beat beat beat.
Our hearts (four)
are summoned into this
beating, so the sound of
heavy listening
(Mother heavy listens best).
Our hearts (four)
are so impressionable, our ears
(eight) are so airless
and impressionable.
Beat beat.
In the closet we crouch
on top of each other
(Father's disappearance
that close) and look
like more legs.
Beat beat
beat beat
beat.
The house black and whites.
Brother and I heavy
listen to Mother looking at Father
as though he is
her husband only.
Our impressionable hearts
(two),
our airless ears
(four).
Beat
beat
beat
beat
beat
beat
beat
beat
beat
beat
beat.
On the property's
perimeter,
legs
(two)
with large feet in boots
on the patio.
That sound.
That close.
_____________________________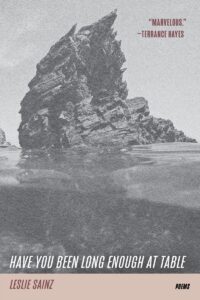 Excerpted from Have You Been Long Enough at Table by Leslie Sainz. Published with permission from Tin House. Copyright © 2023 by Leslie Sainz.
---