New England Noir: A Brief, Idiosyncratic History of a Literary Region
Dwyer Murphy Recommends Ten Modern Classics and Wonders, More Importantly: What's Your Dunkin' Order?
Growing up in New England, you learn to worry that you're not sufficiently of the region. That your roots aren't deep enough, your attitudes aren't pure, your accent has been watered down. It has to do with the Puritans, or maybe the Red Sox. Or it comes out of the rocky soil, the rugged coastline. All that doubt and dread and self-interrogation, it yields a proud kind of art, too.
The region is known for its literary output: six states, a few hundred years of history, and a disproportionate number of American classics. But it's not immediately the place that comes to mind when you think about "noir." For that, we often go to California, New York, or Florida. But almost from the beginning, New England and noir have been bound together in a dark, elegant dance. Nathaniel Hawthorne's House of the Seven Gables (1851) was there to kickstart the American gothic tradition; later, Edith Wharton added her own tragic notes in Ethan Frome (1911).
More recently you have the sprawling, unsettling world of Stephen King, whose novels are so distinct and overpowering I won't include them on this list, though obviously almost any installment would qualify as a defining "New England" novel. Instead, I want to focus on a few strands, which together make up a complex tradition worthy of considering together: modern novels of suspense and strangeness, contemporary gothics, and a few more or less hardboiled crime stories from the region's big city.
These were some of the books I looked to when I was writing my own New England story: The Stolen Coast, about a village in southeastern Massachusetts full of fugitives, hustlers, and strivers. I wasn't sure—I'm still not sure, in truth—whether my New England bona fides are strong enough. Over the years, my accent has faded, my morals have wilted, and yes, I wear a weathered Red Sox hat and have my order ready for the Dunkin' drive-through (coffee roll, light no sugar), but is it enough? These authors give me comfort that the tradition is always evolving.
*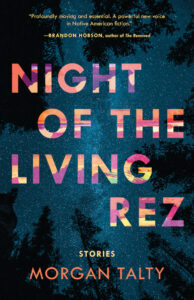 Morgan Talty, Night of the Living Rez 
(Tin House Books)
Talty's story collection, set around the Penobscot community in Maine, is full of hustles, robberies, and curses—just enough to fit it under the "noir" label. Really, it's a kaleidoscopic portrait of the many and varied lives being led in one isolated pocket of Native land in modern America. Talty brings inventive style and deep empathy to his unforgettable characters' journeys. He also brings out a side of New England life few have access to and more ought to know.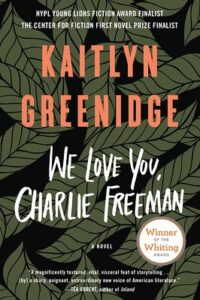 Kaitlyn Greenidge, We Love You, Charlie Freeman
(Algonquin Books)
Greenidge's debut follows the Freeman family as they uproot from life in Dorchester for the Toneybee Institute in the Berkshires, where they've been chosen to participate in a peculiar study. The family is supposedly going to live with a chimpanzee and attempt to communicate with the animal in sign language. Once they've arrived at their new home, the experiment appears more sinister. Greenidge plays with elements of gothic and manor house fiction as readers (and characters) try to figure out what is going on at this Institute, and who exactly is being experimented on. The result is deeply disturbing and calls to mind an American tradition of racism and evil lurking behind pseudo-science.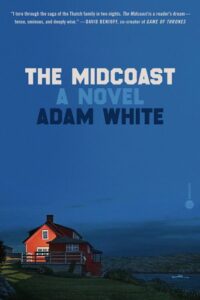 Adam White, The Midcoast
(Hogarth)
White's debut novel was one of last year's breakout hits. With elegant, searching prose and a commitment to understanding, White charts out a compelling story that feels intensely contemporary and, in its own way, timelessly New England. It's a story of clashing privileges, tight-knit community, and the rise and fall of families. A high school English teacher pays a weekend visit to a pair of old friends who have suddenly and surprisingly come up in the world. That idyll soon comes undone, and we're brought along for a painful exploration of the family's sins. White's rendering of Maine, with its blue collar ethos and mix of old, new, and no money makes for an intoxicating read.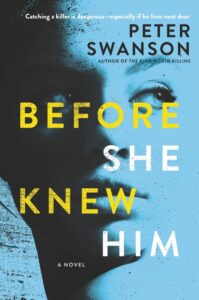 Peter Swanson, Before She Knew Him 
(William Morrow)
Swanson brings consummate craftmanship to the modern psychological thriller. His best well might be Before She Knew Him, about a woman living in a quiet suburb outside Boston who struggles with her mental health while delving into the real possibility that her neighbor might be linked to a killing. We're on uncertain footing here, with pressure coming from all sides and the tranquility of an affluent Massachusetts sleeper town showing cracks along the seams.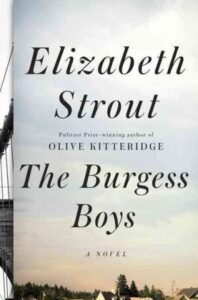 Elizabeth Strout, The Burgess Boys 
(Random House)
Strout is the ultimate observer of small-town New England life, bringing its subtleties and tragedies out with a hardened poetry. In The Burgess Boys, likely her most 'noir' work, we're in a Maine town, where two brothers have been called home. They left years before, after their father's death, and both went to New York to practice law. Now their sister needs them: her son has been implicated in a devastating crime. The complex family and community dynamics play out against a backdrop of the tough northern life and the people who carve out a living there.
Dennis Lehane, Mystic River
(William Morrow)

Any number of Lehane novels might well claim a place on this list: Shutter Island (2003) is a perfect gothic thriller, A Drink Before the War (1994) launched the Kenzie and Gennaro series, a defining private eye series that would run over the course of six novels. But for my money, Mystic River is Lehane's masterpiece, a slow-burn investigation into the depths of human suffering, bottled up over time and memory in the confines of an isolated Boston neighborhood.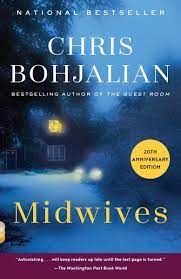 Chris Bohjalian, Midwives
(Vintage)
New England loves a good moral crisis that emanates from an intimate predicament and soon becomes the obsession of an increasingly fervent small-town mob of moralizers. In Bohjalian's rendering, a midwife in a small Vermont village is forced to perform an emergency procedure on a dead mother in a last-ditch attempt to save a baby: only later, it's called into question whether the mother was really dead in the critical moment. The aftermath turns into public bloodsport, as the midwife herself wrestles with memory and conscience. Bohjalian's novels are hugely popular, with good reason: he has a deft touch with the nuances of human frailty and quiet pain.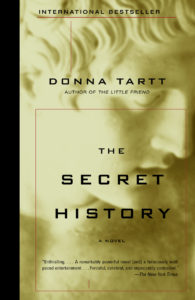 Donna Tartt, The Secret History
(Vintage)
No list of New England Noir could be complete with Tartt's twisted vision of cloistered university life and privileged students experimenting with some very dangerous games. Many writers have tried to recapture the magic of The Secret History, but it's impossible to beat Tartt's strange, heady memorial of those wildly impressionable days and the unexpected cruelties of that hothouse atmosphere. Maybe the story would have worked at a university just about anywhere, but somehow this one feels distinctly of the region.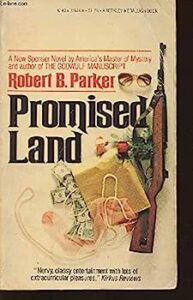 Robert B. Parker, Promised Land
(Dell)
In an era when the crime novel was spreading outside traditional locales (for several decades, the genre mostly orbited around L.A. and New York), Robert B. Parker's Boston-based Spenser series was a notable success and put Boston firmly on the map. The novels now read as period pieces, and Promised Land is no exception, with its militant feminists and digressions on Massachusetts race politics, but it's also a vivid snapshot of the era and a highly engaging private eye novel, with side trips to the cocktail lounges of 1970's Cape Cod and the introduction of Hawk, a series mainstay who would go onto become one of the genre's most beloved characters.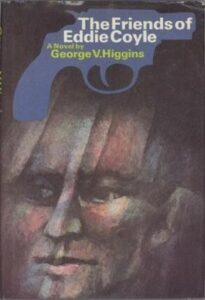 George V. Higgins, The Friends of Eddie Coyle
(Picador)
Although Higgins was never particularly enamored of crime fiction, or of being included in the category, he wrote what is, in all likelihood, New England's best entry in the genre, a tough and dizzying story about a small-time arms dealer trying to navigate conscience and strategy as he hopes to evade an upcoming jail term by cooperating with an ATF agent and informing on a local gang of bank robbers. Higgins delivers the story mostly through a series of conversations. It was an aesthetic decision, but one that also makes the story somehow hypnotic, as we get brought deeper and deeper into this odyssey through the region's underworld, in its own terms.
___________________________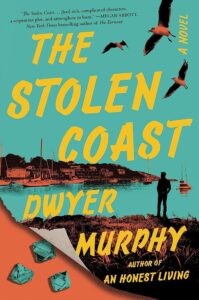 Dwyer Murphy's The Stolen Coast is available now from Viking Books.
---