My Name is Fritz Mayer: An Account of Buchenwald
"These were terrible hours, when we waited for our names to be called."
Eighty years ago last November, on Kristallnacht, my grandfather was taken from his home in Frankfurt and interned at Buchenwald. He had been active in the underground resistance against Hitler, but when he wasn't immediately executed, he realized the Nazis did not know of his involvement. They'd arrested him for being a Jew working for a Jewish welfare organization. Before the Holocaust he studied literature and wrote poetry—against the wishes of his family, which ran a grocery store in a small village and had sent him to an orthodox Jewish school from the age of six in hopes of his becoming a rabbi. In 1945, he wrote the following account of his time at Buchenwald.
I visited Buchenwald this December, 80 years after these events. A few German high schoolers on a field trip took pictures together under the Big Gate. Then the field emptied and I had the giant yard to myself. It was only 3:30 and the sun was going down. A wet, gray snow was blowing, but standing in the Big Gate I could see across the rows where the 26,000 had stood listening.
–Mark Mayer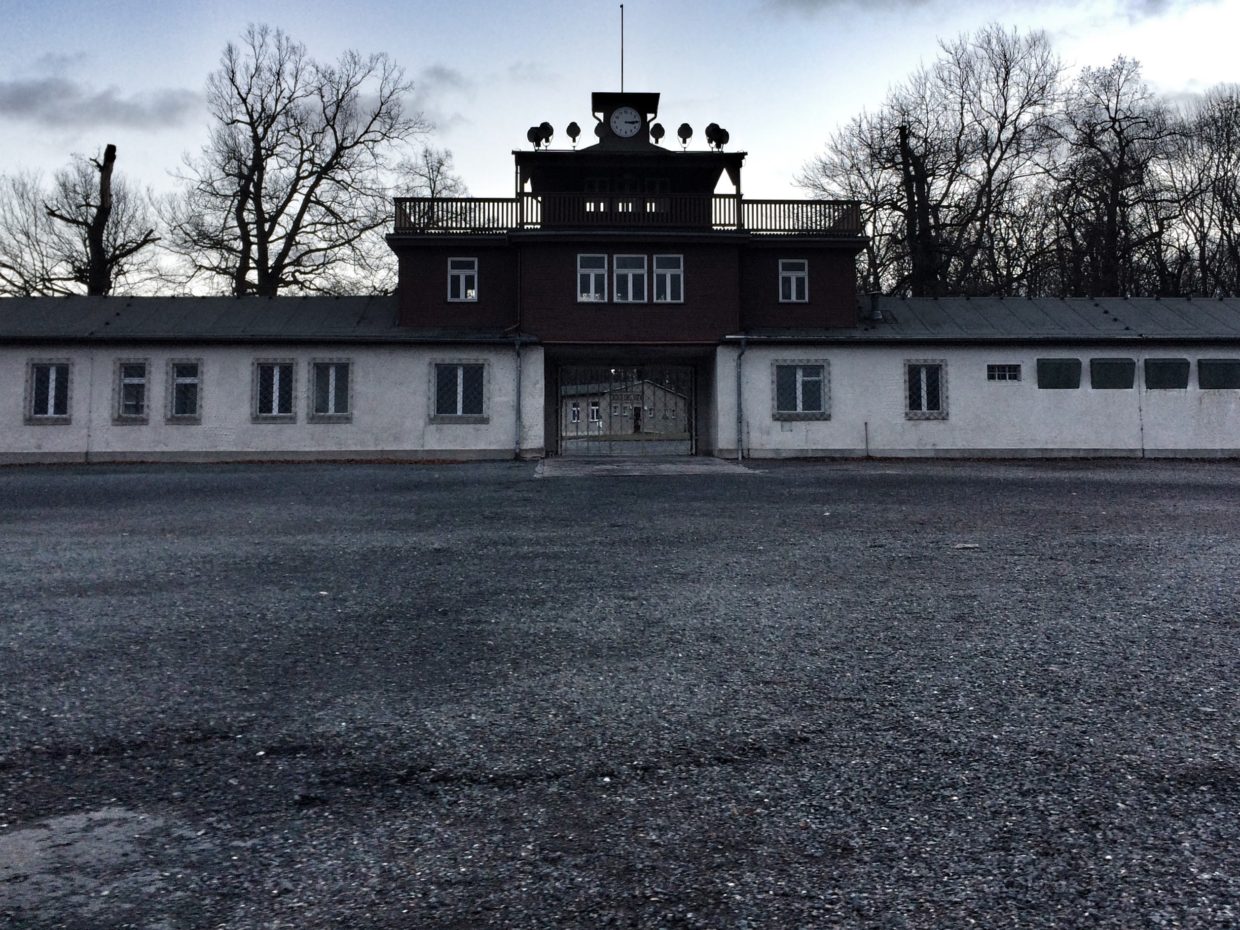 *
My name is Fritz Mayer. This was always something that belonged to me and only me, like my hands, and my nose, and my eyes, and my soul. And even when I spoke of myself in the third person, of a so-to-speak objective Fritz Mayer, it was myself that I spoke of, and only me. But one day I gave my name away—somebody else was Fritz Mayer, and we passed each other and glanced at each other and that was all. To this other Fritz Mayer I should like to talk—I should like to tell him all about me, and I'd like to know all about him. But this is not possible: this other Fritz Mayer died, and I saw him going to his death. But I am alive, thank God. I am alive.
Most of the time we recognize only the horrible and terrifying events of our lives, or else only the most beautiful ones, after they have passed. And then we suddenly are aware of the fact that we have been either heroes or cowards.
This was not so in December, 1938, in the Buchenwald concentration camp. Twenty-six thousand of us were standing every morning between 5 and 9 in the cold yard in front of the Big Gate. Twenty-six thousand of us were working, doing bestial work, all day long, and twenty-six thousand of us were tortured, degraded, and in the evening between 5 and 7 we again stood in the big yard in front of the Big Gate. And there it was where we anticipated our heroism or our cowardice when we waited, frightened, to hear whether our names were called.
Whose name was called, he was a child of Death.
He would walk to the Big Gate and a group of the Beasts there would work at him in their sadistic hate with firearms, or with whips, or with stones—and he would not come back. They had a bear there, too, which had to be fed sometimes with human flesh. We, however, the twenty-six thousand, had to stand in straight rows, in very straight rows indeed, and had to wait until somebody over a microphone said: "Achtung! Augen links! Augen grade aus!" And then the names were called, and if the name was called, there was a gap in the row and we had to hasten to fill it up. And this was the only movement that we were allowed to perform. We always had to stand at attention so that we could not miss the names.
These were terrible hours, when we saw them die. Some cried, and some were calm. Some pled with the Beasts, and some were defiant. A few of them even tried to make speeches, and when we heard the whips going down on the bloody bodies, we asked ourselves: "How will you take it? How will you take it?"
These were terrible hours, when we waited for our names to be called, and our numbers. My name is Fritz Mayer, and my number was 7636. Sometimes, in an unobserved moment we threw a glance at a neighbor and wondered, "How will he take it?" and when his name was called and we saw him go, we looked at his hands and his face; everything was there yet—even the nose wasn't broken yet. But it would be. Once a man in my row was called. He wore glasses. While he was running up to the Big Gate, he took his glasses carefully from his nose and put them in his pocket.
They all had to run, because on the way to the gate were those minor officials of the bestial hierarchy who had to whip them into speed so that those higher up at the Big Gate did not have to wait too long to satisfy their orgiastic lust.
These were horrible hours. And when the last one was killed for the day and the last whimpering had drawn itself out, they gave the signal: "Abtreten!" And we could go to our barracks and we looked at each other strangely and spoke nonsense—sometimes even cruel nonsense. For instance, my friend Karl, who was a mathematician, and I might meet on the way back and might ask each other silly questions like whether there was alcohol in wine or whether you could tie a shoe with a shoelace. But what we really wanted to say was, "Karl, I am glad that you were not among them" and "Fritz, I am glad that your name was not called."
These were horrible hours.
And then one day, my name was called.
The loudspeaker roared. First three names, numbers, which I have forgotten, and then "Fritz Mayer, 7636!" I had been so afraid all this time, but now when they called my name I only knew I had to run up to the Big Gate. I knew I had to be there in time. I had never been there. I didn't know how long the way was. I think I murmured to my neighbor, "Give my love to my wife and to my child," but I don't even remember who my neighbor was—he may not even have known me, Fritz Mayer, Number 7636. I remember distinctly, however, how much I wished that I could run fast—that I could be there in time. I said to myself constantly, "You've got to be there in time! You've got to be there in time!"
The way was slightly uphill, and the guards stood there with their whips. They called us birds—they shouted: "Hurry up, Bird, they are waiting for you! You are the last one!" This was a lenient day apparently, I thought; they called only four. And I ran for almost three minutes, I suppose, but it seemed to me as if it were three hours, or three days, or three years. Finally I arrived at the Big Gate.
Three corpses were lying there. All full of blood.
There were about twenty S.S. men looking at me like beasts of prey. One of them whipped me while I passed—over the shoulder. It was almost as if he were doing it as a joke. He told me that I had to go to the whipping stocks. I said to myself, "I made it in time at least." And then I thought, "They seem only to be using whips today. That is painful. I would have preferred to be shot. It goes quicker."
"What's your name, Bird, and your number?" I was asked.
And I answer, "Fritz Mayer, 7636."
The guard looked up my name on his list, and then he shouted at me furiously: "Who told you to come here, you bastard, you bird! You're the wrong one!"
I almost lost control of myself. I told him that I was not the wrong one, and that the loudspeaker had called my name and my number. But he hit me over the head and told me to shut up. The others were highly amused by this incident and they encouraged the stockade guard to take me along anyway. My legs began to tremble, I felt that I would faint. But I knew that whether or not I fainted they would beat me to death anyway. Then there was a commotion and the lieutenant came over, and they all whispered together, and then laughed uproariously, and they whispered again. Then the loudspeaker sounded again. "Fritz Mayer, Number 3241."
Why don't they tell me what I should do? I thought. Should I go one to the stocks? If they only would tell me before I faint. I bit my lips until they were bloody. Then one of the beasts came to me and shouted, "Didn't you hear, you crazy bird? You are the wrong one! Go back to your row! But quick! Or else we'll get you anyway!"
I ran back and heard the laughter of the S.S.
I do not know how I ever came back to my row. I must have run, but it seems to me that I had fainted. But apparently I did not faint. Could I have fainted and run at the same time?
Only one thing do I remember. When I was half way back to the field, a little man came running up to the Big Gate. A little prisoner. He had a reddish face, and reddish hair—it must have been a smiling face once. He was about forty-three. The guards shouted at him, "Hurry up, you crazy bird, you are the last one!" And we passed each other, both running. He looked at me a moment. There was no hostility in his face. There was nothing in it but pain.
And then I came back to my row, but they had already filled the gap, so they pushed me into another row. Then I heard the whips going down on a human body, and I heard the agonized whimpering of Fritz Mayer, Number 3241, becoming weaker and weaker, until it stopped altogether. And I stood there, without realizing what I was doing, until one of my comrades gave me a friendly kick in the ribs, and said, "Fritz, didn't you hear them call 'Abtreten'?"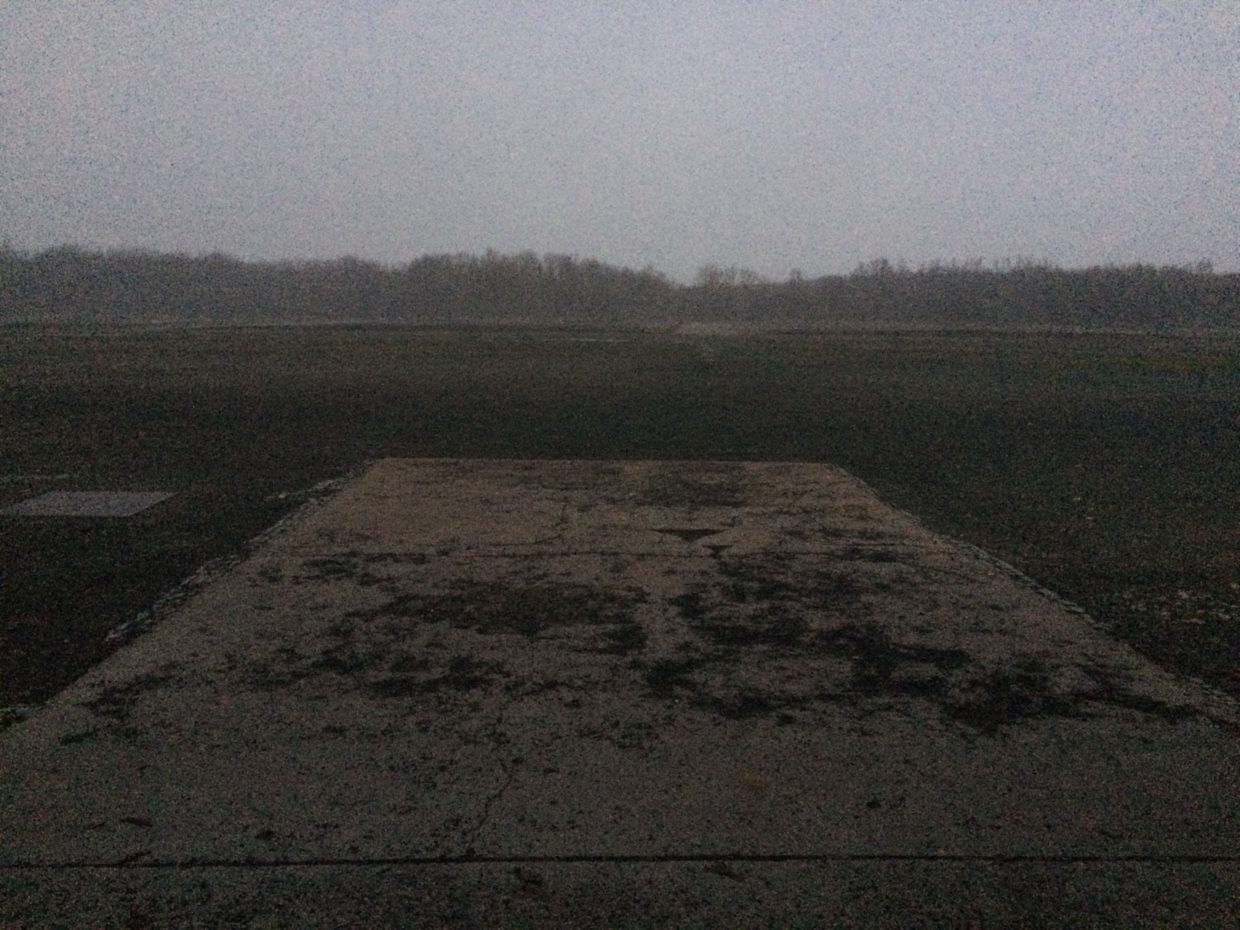 *
Fritz Mayer's story, the story of the two Fritz Mayers, isn't worth much as a tale of weird, cruel luck, I don't believe. My grandfather would have been summoned to another death before long except that his wife and his sister could arrange for his emigration. The UK and the United States were willing to admit him and sent paperwork, though the UK visa made it clear he was not welcome to stay or to work. In 1939, the Nazis were still willing to let Jews with immigration papers go.
My grandfather's account is not the story of his survival, which was far more complex and lucky than this. For me, it's a story about names. It says we all have the same name, really, those called to the whipping stocks and those who are not. In eras of murder, disaster, and abuse, we are all summoned to die every death and then, except for one of us, we are permitted to live. We are sent running back to our row. But we can look at the little prisoner who shares our name or might as well. We can say, "To this other I should like to talk—I should like to tell him all about myself, and I'd like to know all about him."
We know it is not possible: he died, we saw him going to his death. But we, who share his name, are alive. Thank God, we are alive.
---