Murder Mysteries, Malfunctioning Robots, and Camelot Remixed: November's Best Sci-Fi and Fantasy Books
Thrilling and cozy new novels from Nnedi Okorafor, Naomi Alderman, Martha Wells, and More
It's hard to believe that we're hitting the end of the year, and especially that hyperspeed span of time where you blink and it's Thanksgiving, and again for Christmas. Whether you've got plane/train/automobile rides to pass with some catch-up reading, or if you need a handy excuse to duck out of family functions for a break, you'll have plenty of November TBR options. This month's list alone is chock full of prequels, sequels, and series finales, of the duology and trilogy kind. Enjoy cozy fantasy set in bookshops, cozy sci-fi featuring everyone's favorite Murderbot, and riveting epics set in distant fantasy pasts or speculative near-futures.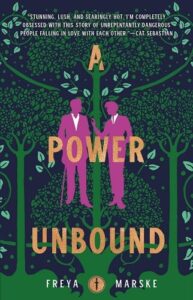 Freya Marske, A Power Unbound
(Tordotcom Publishing, November 7)
Reader, when I realized that the final installment of Freya Marske's Edwardian-era fantasy romance series The Last Binding would pair up cranky bisexual Lord Jack Hawthorn (introduced in A Marvellous Light) with smart-mouthed journalist and thief Alan Ross (from A Restless Truth)… I am not ashamed to say that I squealed with delight. Marske delivers a prickly love story while adeptly tying up all the loose ends of her series, involving a long-ago bargain between human magicians and ancient fae, and how the magic that resulted has been twisted by mortal greed.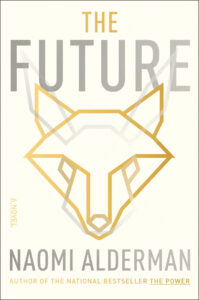 Naomi Alderman, The Future
(Simon & Schuster, November 7)
A new near-future thriller from the author of The Power yet set on a different potential path for humanity, this is a fable about how knowing the world will end will only get you so far, unless you also have the resources to survive. The timeline-hopping narrative follows two sets of characters: tech billionaires who get early warning about a pandemic worse than covid; and their various beleaguered assistants, ousted ex-partners, and rebellious children, who are radicalized to activism in order to save the rest of the world, or at least warn them when the billionaires would not. Naomi Alderman has more to say about the novel's many dualities, reflected in the fox-and-rabbit cover, which was revealed on Lit Hub.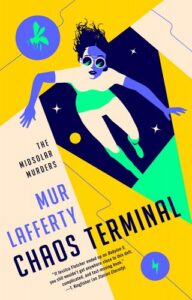 Mur Lafferty, Chaos Terminal
(Ace, November 7)
In the second installment of Mur Lafferty's Midsolar Murders series, amateur detective Mallory Viridian has reluctantly accepted that she'll continue to solve crimes up in space; having fled Earth because people kept dying around her, she still encounters victims and murderers, now of the human and alien variety. Mallory's home, sentient space station Eternity, has become her Cabot Cove (if we're talking in Murder, She Wrote-speak), and it keeps getting human visitors—this time her teenage crush, her former best friend, and the law enforcement agent wondering why she was in the middle of so many deaths back on Earth. When someone on their shuttle winds up dead, it's up to Mallory to solve the crime again.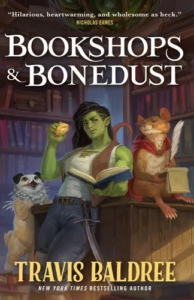 Travis Baldree, Bookshops & Bonedust
(Tor Books, November 7)
Travis Baldree, who just won the Astounding Award for Best New Writer, returns with a prequel to his cozy fantasy Legends & Lattes. Twenty years before battle-scarred orc Viv hung up her blade to open a coffee shop, she was a mercenary recuperating from a wound and terrified that her fighting days were over. Waylaid in a small town called Murk, Viv reluctantly passes her summer in a crumbling bookshop where the owner, rat-human Fern, has a knack for picking the perfect read for each customer. As Viv finds herself potentially falling in love with the book, the shop, and maybe even Fern, she considers whether she's come to the end of her story or if she's about to turn the page on a new chapter.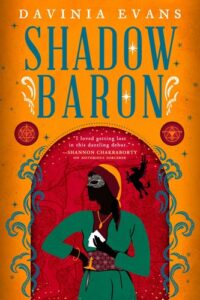 Davinia Evans, Shadow Baron
(Orbit Books, November 14)
I love a second book in an SFF series in which the protagonist has solved the high stakes of the first adventure but now has to figure out what comes next. In her sequel to Notorious Sorcerer, Davinia Evans delves into the new challenges facing Siyon Velo: Despite being named the Alchemist of Bezim, the only one who can keep the city from shaking into the sea, he may be no match for the new problems plaguing the streets. Namely, mythical creatures like djinn and naga popping into existence from other planes. Siyon stabilized the planes in Bezim once, but can he restore balance for a second time?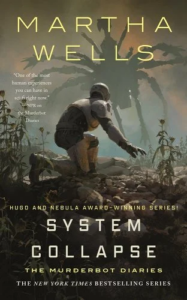 Martha Wells, System Collapse
(Tordotcom Publishing, November 14)
The seventh book in Martha Well's Murderbot series is only the second full-length novel, picking up immediately after the events of previous adventure Network Effect. Stranded on a newly-colonized planet in danger, Murderbot must deter the colonists from jumping on the incoming rescue ships from the Barish-Estranza corporation—knowing that the company wants only to scoop up some free human slave labor. What's the best way to convince a group of colonists to listen to a malfunctioning killer robot? By creating a propaganda video based on everything Murderbot knows about humans from beloved soap opera Sanctuary Moon, of course!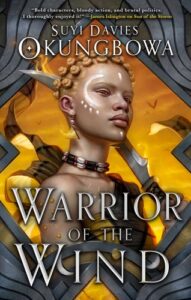 Suyi Davies Okungbowa, Warrior of the Wind
(Orbit Books, November 21)
Son of the Storm, the first book in Suyi Davies Okungbowa's West African-inspired trilogy The Nameless Republic, pitted its trio of protagonists at literal and metaphorical crossroads. In the sequel, each must face the consequences of which road they chose: Lower-caste biracial scholar Danso and skin-changing warrior Lilong have escaped Bassa and the reach of the Red Emperor—for now—but Lilong wants to return the magical heirloom Diwi to her people. But Esheme, Danso's ambitious former betrothed, wants the Diwi for her own caste-climbing desires.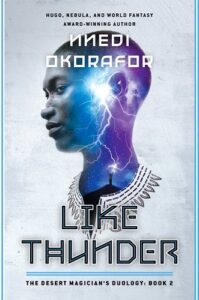 Nnedi Okorafor, Like Thunder
(DAW, November 28)
Earlier this year, DAW released an expanded edition of Shadow Speaker, Nnedi Okorafor's previously out-of-print Africanfuturist fantasy about two teenagers in the post-apocalyptic Sahara of 2074 following a power-bestowing nuclear catastrophe. While the first volume of the Desert Magician's Duology was told from the perspective of Ejii, the eponymous shadow speaker tracking down her father's executioner, Okorafor concludes the series through the eyes of Ejii's former best friend, Dikéogu Obidimkpa. A rainmaker, enslaved because of his Changed One powers, Dikéogu seeks revenge on his parents but also seeks answers to what happened to him in the three years since Shadow Speaker and why he and Ejii have become estranged.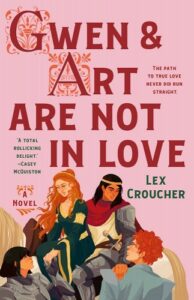 Lex Croucher, Gwen & Art Are Not in Love
(Wednesday Books, November 28)
Every time I think about this book, which has the royals-in-love (though not with each other!) vibes of Red, White & Royal Blue yet set in a distinctly A Knight's Tale-esque setting, I just grin. It's a fun riff on tropes throughout, starting with the arranged marriage at its heart: Gwendoline, princess of Camelot, betrothed to Arthur Delacey, a distant descendent of Mordred. Though the two resent their shared obligation to secure a political alliance, their mutual discovery that they're both gay leads at first to blackmail, and eventually to conspiratorial commiserating: Art will help Gwen offer her favor to Lady Bridget Leclair, the realm's sole lady knight, while exploring his own romance with Gwen's older brother Gabriel, the heir to the throne. Every autumn should have at least one queer remixed SFF romp like this.
---