Mr. Self-Destruct: MLB All-Star C.C. Sabathia on the Twin Demons of Fame and Alcoholism
The Hidden Toll of Baseball's Say-Nothing Culture
I'm a weird alcoholic. I don't fit the stereotypes. There was no single "trigger" that would set me off on a binge. Not a sad anniversary, not a time of the day, not going to a party. It was all of those things, and none of them. I didn't ever drink more if I pitched bad; I would drink just as much if I pitched good. There was always a reason to drink. I just really liked to drink, and drink, and drink, many times until I blacked out. For a long time it was mostly fun—like when I got my first major league win and five of my Cleveland Indians teammates took me out to a Baltimore bar and stuffed every pocket of my suit with cash. The next morning I woke up wearing $10,000 in crumpled bills, as if I was the world's largest fully clothed stripper. And there was never any trouble finding guys to go drinking with. There's a lot of alcoholics in baseball. A lot. Many of them great players.
But here's the truly weird part: I could turn it on and off. For three days I would get absolutely ripped—starting fights, pissing in the bed, that kind of ripped. And then I wouldn't touch a drop for two days leading up to my next start. Say I pitched on Monday. That night, Tuesday night, Wednesday night, I was hammered. Thursday, Friday—detox, nothing but water and Gatorade. Saturday, when I came out of the game, I needed a Crown and Sprite at my locker. From the last pitch, I threw the cycle started all over again.
I was a disciplined drunk for 15 years, so good at timing my benders that I'd won a Cy Young Award and a world championship and been paid $260 million. My career numbers looked as if they might someday give me a shot at being elected to baseball's Hall of Fame. And maybe what meant the most of all to me was that my teammates—in Cleveland, in Milwaukee, in New York—regularly said that they loved having me on their side and looked to me as a leader in the clubhouse.
It was as if my arm wasn't connected to the rest of my body. No, not just to the rest of my body—to the rest of my life. My mind, my bloodstream, probably my liver, they were addled by alcohol. My left arm, the one that carried me from the streets of Vallejo, California to the mound at Yankee Stadium, that helped me hoist a World Series trophy, that built a secure life for my wife and our four kids—that arm somehow stayed untainted. Yeah, over the years it required ice and heat and surgeons and rehab, but those were tune-ups. My arm endured. It lifted me from being broke to being rich and famous; it lifted three teams to greatness. My baseball head got wiser, and it made my arm clever and adaptable, but that was my baseball head.
As my arm got treated and pampered, so it could continue being an asset to billion-dollar corporations and to my family, the rest of me was increasingly a mess. Sure, I was getting old in major league terms, but that wasn't the main thing dragging me down. Mistreating everything that wasn't my left arm was putting my gift at greater risk than any elbow injury. I had to find a way to reconcile my physical talent with the weirdness and weakness and rage and love inside—to lift myself, all of myself, this time.
So now I'm standing in a damp cinder-block storage room under Camden Yards, the home of the Baltimore Orioles, wearing my Yankees T-shirt and my gray uniform pants, at ten o'clock on a Sunday morning, searching for another bottle of Hennessy. Ever since I got to the ballpark I'd been going back and forth from the clubhouse to the storage room, pouring myself drinks. In half an hour I was scheduled to throw a bullpen, my workout between starts. And I was so blasted I couldn't walk straight. I'd come back from three surgeries and fought through hundreds of hangovers; the one thing I could always do was throw when I was supposed to throw. But now the room was spinning. There was no way I could take the ball and throw it without embarrassing myself. Man, what am I doing?
I had to find a way to reconcile my physical talent with the weirdness and weakness and rage and love inside—to lift myself, all of myself, this time.
This drinking spree hadn't started for the reasons you might expect. Three days earlier, on Thursday night, I had gotten the start with a whole lot on the line, after a tough regular season. The team had been in first place, or close to it, in the American League East for most of the season; in early August we stretched our lead to six games and had visions of winning another World Series title after a six-year drought. I know that six years between championships doesn't sound like a long time if you're a fan of the Cubs or the Mariners or a whole bunch of other teams. But in the Bronx, six years is an eternity; worse, we hadn't even made the playoffs in two years.
In 2015, for the first time in two decades, we were playing without Derek Jeter, the all-time-great shortstop and Yankees icon, who had retired at the end of the previous season. But we still had Carlos Beltrán and Brian McCann and Alex Rodriguez and Masahiro Tanaka, and we felt like we had a real shot. Then, in late August, we started to fade. In September the slide accelerated. Mark Teixeira, our first baseman and one of our best hitters, fouled a ball off his shin and somehow it never healed. Our best starting pitcher, Nathan Eovaldi, went down with a sore elbow. Suddenly we were scratching for just a wild-card playoff spot.
Until that point I hadn't done much to help the Yankees' cause. I was 0–5 before getting my first win in mid-May. My right knee, the one that absorbed my 300 pounds every time I threw a pitch, had been deteriorating for years, and now it was down to bone on bone. In 2014 I'd made only eight starts, the last of them on May 10th, before shutting it down completely in early July and getting arthroscopic surgery to try to patch my knee back together, at least temporarily. It was looking like a sure thing that I would need a knee replacement when my playing career ended. I spent nine months rebuilding enough strength in the knee to play, and in 2015, with the addition of a big, bulky brace, I'd managed to survive and pitch until late August.
Then the end seemed to be coming up fast again: the knee pain got so severe it felt like someone driving a railroad spike into my leg over and over again. I had to go on the disabled list for two weeks. But cortisone is an amazing drug, and on October 1st I was back on the mound in the Bronx, facing the Boston Red Sox, who were having a terrible year but were still our classic rivals. A win would clinch a playoff slot. The meds dulled the pain long enough for me to come through, allowing one run in five innings. We won, 4–1, and in the locker room the champagne started flying. My knee went back to hurting like shit, but I didn't care.
Guys made sure to pour champagne over my head, just like they did with everybody else in the room. But I didn't drink anything during the celebration. Like I said, I'm a weird alcoholic. I waited until we got on the bus to go to the airport to fly to Baltimore for the final, meaningless series of the regular season. Started downing Henny and kept it flowing on the plane, then on the bus to the Baltimore Four Seasons. The first thing I did when I got to my hotel room that night was open the door to the minibar. Beer, wine, whiskey, tequila, it didn't matter. I'd been mixing liquors since I was a teenager going to Cutty Bang parties in my hometown, Vallejo, California. When the hotel minibar was empty, I called room service.
On Friday, the weather helped me keep rolling: It rained all morning, and by midafternoon our game against the Orioles was cancelled, so I sat in the hotel room throwing down drinks and flipping through movies on my laptop. At some point Jomar Connors, my close friend and running buddy since we were five years old, called, worried about me. I was supposed to go over to the house of Adam Jones, an Orioles outfielder and one of my best friends in the game. I hadn't shown up. I told Jomar I would be heading over to Adam's place soon. But I never left the room. I'd fall asleep for a couple of hours, wake up, see it was 2 A.M., down some Red Bull, and have another drink. Or sometimes I'd mix the Red Bull with Grey Goose.
I had internalized that logic, that willingness to split a person in two.
My cousin Darnell Jones was in town for the games and was staying in the hotel, and I ordered him to order me more booze. Later Darnell would tell me he was really scared: He had never seen me this bad and he wasn't sure what to do. He tried to get me to go out and eat, but I refused. Darnell is ten years younger than me. I love him like a little brother, and after everything we have been through together, he is probably my closest family member. But even Darnell didn't feel like he could tell me to stop drinking without sending me into a rage, so he tried slowing me down. When I demanded a bottle of Hennessy, Darnell ordered two doubles instead. I feel terrible now for putting Darnell—and so many other friends and family, for so many years—in that position. But at the time I was having some kind of nervous breakdown, and the only way I knew to kill the anxiety was to keep drinking.
They scheduled a doubleheader for Saturday to make up the rainout, and somehow I found my way to the stadium that morning, staggered into the locker room, and pulled on my Yankees uniform. I'm not even trying to be funny, but I don't remember Saturday at all. Guys must have noticed that I was a mess, but they'd seen me this way plenty of times before, and drinking—at night or, hell, during the game—is such a part of baseball culture that no one paid me much attention. In baseball, if you're getting the job done on the field, your teammates and the organization look the other way when it comes to what you're doing off the field. And I had internalized that logic, that willingness to split a person in two: the leader with his words and his arm could also be a self-destructive human the rest of the time. They tell me I parked myself on the dugout bench and tried to stay awake while my teammates were losing two games to Baltimore. Probably what I was thinking about was getting back to the Four Seasons and pounding a few more drinks.
On Sunday morning I was partly drunk and partly hung over when I got into the hotel elevator with Darnell. I was going back and forth, blubbering and then belligerent, my mind racing and my thoughts slurred, my words not making much sense: "Man, you think I need rehab? I've been talking to Amber, I think I need rehab." Couple floors down: "I don't need that shit, man, I don't need to go to no damn rehab." By the time we hit the lobby I was crying: "I'm going to get this shit together, I'm going to get this shit together, I'm going to be all right. I love you, cuz, I'll see you when I get back to Jersey."
When I reached the stadium Jason Zillo, the Yankees' head of communications, found me in the clubhouse and told me to get out before the reporters came in and saw what a mess I was. There wasn't enough time to sober up before throwing my bullpen, so I figured that another drink was what I needed to get through the workout. Every player knows where they keep the alcohol in every stadium. So I headed to the storage room and cracked open another bottle. And that's when it hit me: I am about to go do my job drunk. I had never done that before. I couldn't do that. I needed help. I had fought my way through a lot of things in 35 years: Having childhood friends shot to death in my neighborhood. My father disappearing when I was 13. Being the youngest player in the major leagues. Frequently being the only Black player on a team. Losing the ability to throw a 95-mile-an-hour fastball. The guilt of becoming rich and famous when many of my buddies back home were still hustling. I had learned and adapted and succeeded at the very highest level of my profession, under enormous pressure, and I loved competing and winning. But all of that survival was wrapped up in protecting and exploiting my arm, and deadening the rest of me.
Pain killers could numb my knee, but eventually they wear off. This was the mental equivalent. The drinking and the evasions couldn't cover up the hurt and confusion in the rest of my life anymore. This wasn't figuring out how to throw a cutter and fool hitters when I couldn't blow the ball past them. This was about honestly confronting who I was, digging deep into the roots of emotions and finding out if I could be one person. Standing there in the Camden Yards storage room, more than 48 hours into an epic drinking marathon, loaded and crying, I had no idea whether I could win that game.
__________________________________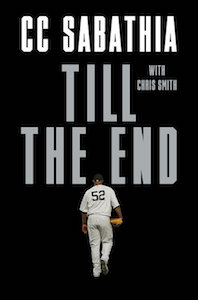 From the book TILL THE END by CC Sabathia with Chris Smith. Copyright © 2021 by Carsten Charles Sabathia Jr. Published by Roc Lit 101, a joint venture between Roc Nation LLC and One World, an imprint of Random House, a division of Penguin Random House LLC.
Audio excerpted courtesy Penguin Random House Audio from Till the End by CC Sabathia and Chris Smith, read by Guy Lockard and CC Sabathia.
---