Morgan Talty on Capturing the Uniqueness of Tribal Settings and Finding the Logic of a Story
The Author of Night of the Living Rez Talks to Jane Ciabattari
Morgan Talty's first collection has drawn comparisons to Denis Johnson's Jesus' Son, and yes,  he captures moments of strange hilarity in stories like "Burn" in which one buddy helps another who has passed out in a winter swamp, his hair frozen to the ground by snow: "I opened the pocketknife, grabbed his hair in a fistful, and cut."  Talty writes of the daily interactions of the close-knit community on the Penobscot reservation—kids, mothers, fathers, siblings, friends—in ways that bring to mind Colin Barrett's Young Skins, also influenced by Johnson.
Talty's stories also remind me of Alice Munro's, with explosions of powerful emotion embedded in family scenes like this one from "Earth, Speak:" "For days coming off that methadone I fought with Mom and I cried to her and she shushed me each time I sat up and tried to get up and at some point Mom spoke to me—not to my body—and she said, 'You'll be back soon…"
"The inspiration behind this book really comes from my desire to tell stories," Talty told me. "It's what I always loved. That's what sparked the project, and then the love I saw in such painful narratives was what sustained my efforts and kept me going."  In the course of our email exchanges, Talty accepted a new position on the faculty at the IAIA (Institute of American Indian Arts), but he won't be leaving Maine. "I won't be moving—I'll work remotely with students during the semester but travel once a year to teach at a ten-day residency."
*
Jane Ciabattari: How has your life been going during these tumultuous years? And your preparations for this book launch?
Morgan Talty: Life has had its ups and downs, as it so unfortunately should. Emotionally, it's been a difficult time. My mom passed away unexpectedly at the age of sixty-one in February of 2021, and I can't express how much I miss her. I was happy she got to learn of my book coming out before she moved on, and I imagine she's happy and proud of the way things have been going for the book and for myself. I wish she were here though.
JC: When did you start writing the stories in Night of the Living Rez, and what inspired you?
MT: I wrote the first story, which is actually the title story "Night of the Living Rez," in 2015 when I was an undergraduate at Dartmouth College. It wasn't until I entered my MFA program [at Stonecoast] that I decided to write an actual collection, and that was in 2017. I wrote a couple more stories from David's point of view before then, but they were not very good.
JC: Which writers, if any, have influenced your work?
MT: Oh, jeeze—tons! Every Native writer who has come before has influenced my work—Louise Erdrich, James Welch, Leslie Marmon Silko, Joy Harjo, Richard Van Camp, Louis Owens, Stephen Graham Jones, N. Scott Momaday, and I could keep going. Nonnative writers have also shaped my work too: Denis Johnson, Karen Russell, Alice Munro.
JC: These are linked short stories. Have you considered/are you also writing a novel? And how do you experience writing a short story versus a longer form?
MT: I have written longer works (keep reading until the last question to find out!). To me, I see the short story has something drawing power from what's not on the page, whereas the novel gets its strength from the sheer length of it. They each have their own specificity, and they each have to have the principles of fiction—characterization, setting, point of view, and so on. But to me, my experience writing in either form is pretty similar since my mission is to tell a story that, when the reader is done, feels like it had happened to them. Each story—regardless of genre—requires its own set of rules, its own logic, and part of my job is finding that logic and listening to it so I can see the story to the end.
JC: How long did it take you to write this first collection?
MT: As I said, the first story was written in 2015, and I sold the book in 2020 (I think…?) I would say about three years, since I didn't quite write the collection between 2015 and 2017. I wasn't working every single day for three years, but most of the years were dedicated to this book.
JC:  How did you figure out how best to order the stories?
MT: It was tough but fun! The David stories were all chronological, and so there was little room for movement. What I literally did was print off all the stories, and then I put the David stories on the floor in my living room, each story with space for another between it. The Dee stories didn't really have time markers, since they were written outside the original scope of the collection (which was to just write a collection solely from David's point of view and move from his youngest year to his adult year, "Night of the Living Rez").
Because of that, I was able to manipulate them a bit more. I tried different variations, but in the end, I paid close attention to Dee's emotional arc in those stories and ordered them in what felt like actual movement beyond the individual story. Then I put them in between the David stories. (I have a picture, I think, of this process that I can send if that's of interest!)
JC: Placing the title story and "The Name Means Thunder" as the last two in the collection created an incredible resonance, like a  gong echoing sections in all the stories that preceded them. At what point did you make this choice?
MT: Not until very late, actually! I actually never really intended for "The Name Means Thunder" to be in the collection. I mean, an early draft of it was intended for that, because the distance between narrator and character was so small (as it is in all the David stories). As I was revising this story, I could not get it right, until one day I thought to set the narrator way into the future and looking back. The voice is much more mature, I think, than the others, and it felt out of place at first. But the more I thought about it, the more it felt like it belonged to this book. The structure plays with time so much that I said to myself, so what if it's set that far in the future. I feel like I got lucky.
Each story—regardless of genre—requires its own set of rules, its own logic, and part of my job is finding that logic and listening to it so I can see the story to the end.
JC:  Every tribal culture among the 570+ federally recognized tribes is unique. I've known tribal members who live in Northern California, including along the Northern California coast, on the Shinnecock reservation on Long Island, on my brother-in-law's Menomonee reservation. All very different experiences, depending upon culture, location, urban setting or not, surroundings. Does your depiction of David/Dee's surroundings in Maine—the river, the woods, the swamp, the bridge to Overtown off the reservation, the cemetery, the house with the sweat lodge in underground, Mom's house, Grammy's house, Fellis's place—reflect life on the Penobscot reservation in Maine?  Is that where you were raised? Do you live there now?
MT: I was born in Bridgeport, CT, and moved to Maine with just my mom when I was six, and then I grew up on the Penobscot Nation until I was eighteen and my mom moved off reservation. So it was where I was raised, and it's the place I feel most comfortable saying is "home." While I don't live there now, I still visit and feel like I'm there, if that makes sense. The place in the book is definitely inspired by my surroundings growing up. It was so important to capture those places, because like you say, each tribal setting is unique and they need to be shown (not for the curious colonial eye, but instead to create a broader picture of Indian Country).
JC: Your narrator's relationships with his mom, her boyfriend, his sister, grandmother, his friends, are at the center of his life.  How were you able to write about these connections while maintaining the reality of the complicated emotional ties they have?
MT: Maybe it's from experience. Growing up, I was very aware of how complicated relationships were—especially when addiction and violence were involved. I think it all comes down to the idea of hope and forgiveness. Anybody who experiences loved ones suffering from addiction or other afflictions know that forgiveness is both necessary and at times impossible. And so drawing on that experience, I think I was able to maintain that reality, to maintain the love these characters have for each other even when there is so much pain and unhappiness. What do we have if not each other?
JC: David and his closest friends battle with life-threatening external circumstances—bitter winter cold, overdoses, withdrawal. What sustains them?
MT: Their connections to one another, their desire to live—to really live, even when things seem so unfair—and their absolute drive to keep going.
JC: What are you working on now/next?
MT: I'm currently sitting on a revised novel called Fire, Exit. It deals with themes of fractured families and blood quantum. I'm also working on an essay collection. Think David Sedaris, but darker. I'm also working on a new novel—it's a first draft—tentatively titled The Year of the Frog Clan, which focuses on a contemporary Penobscot mother trying to regain custody of her three daughters.
____________________________________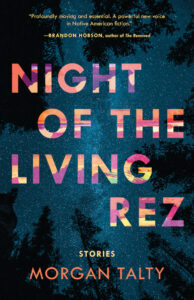 Morgan Talty's Night of the Living Rez is available now via Tin House. 
---