Morgan Jerkins on Leo Tolstoy, Pachinko, and the sex scene in Sula
Rapid-fire Book Recs from the Author of Caul Baby

Welcome to the Book Marks Questionnaire, where we ask authors questions about the books that have shaped them.
This week, we spoke to the author of Caul Baby, Morgan Jerkins.
*
Book Marks: First book you remember loving? 
Morgan Jerkins: The Royal Diaries: Cleopatra
BM: A book that blew your mind? 
MJ: Pachinko
BM: Last book you read? 
MJ: Son of Elsewhere by Elamin Abdelmahmoud (out May 17th!)
BM: A book that actually made you laugh out loud? 
MJ: Grace Jones's memoir: I'll Never Write My Memoirs
BM: Classic book you hate? 
BM: Classic book on your To Be Read pile?
MJ: Anna Karenina
BM: What's a book with a really great sex scene?
MJ: Sula
BM: Favorite book no one has heard of? 
BM: Favorite children's book? 
MJ: Goodnight Moon
BM: Book you wish would be adapted for a film/tv show? 
MJ: Startup by Doree Shafrir
*
Morgan Jerkins is the author of Wandering in Strange Lands and Caul Baby and the New York Times bestseller This Will Be My Undoing. The former Senior Culture Editor at ESPN's The Undefeated and ZORA Magazine, Jerkins is a 2021 ASME Next Award winner and Forbes 30 Under 30 leader in media. Her short-form work has been featured in the New Yorker, the New York Times, the Atlantic, Rolling Stone, Elle, Esquire, and the Guardian, among many other outlets.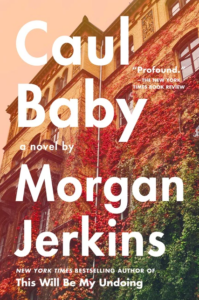 Morgan Jerkins' Caul Baby is out now in paperback from Harper Perennial
*
---