More Than Tutus and Pointe Shoes: A Reading List of Ballet Books
Martha Anne Toll Recommends Sigrid Nunez, Julie Orringer, Alexandra Danilova, and More
Ballet is present tense, a fleeting partnership between dancer and audience; once performed, lost forever. Ballet's transience distinguishes it from writing and presents challenges for getting it on the page. As I breathed life into my protagonist, Katya, in Three Muses, I would have predicted I'd scout the dance literature to learn how other writers do it. I did, but with this caveat: I read lots of ballet novels along the way but avoided memoir, to keep my mental real estate clear as I was creating my own prima ballerina. Once my book was slated for publication, I dove into ballet memoirs. I felt unleashed, free to discover the many hidden gems in the literature. In some cases, I loved the way the writer embedded ballet into their story; in others, I admired the dancer's story for its own sake; in still others, I was in awe of the writer's ability to capture this evanescent artform on the not-so-evanescent page.  Here are a list of the best fiction and memoirs about ballet.
*
FICTION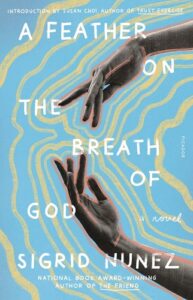 A Feather on the Breath of God by Sigrid Nunez 
The travails of an immigrant family with a Chinese-Panamanian father and a German mother frame this novel. Their daughter finds refuge from her sad and chaotic household by taking ballet. While the ballet studio provides rigor, order, and predictability, it also makes clear her physical failings and other shortcomings. The ballet sections of this book are touching and real and Nunez's craft is already on full display in her elegantly rendered debut.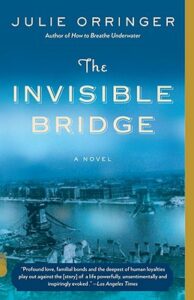 The Invisible Bridge by Julie Orringer 
This epic tale, set between 1937 and 1941, features Andras Lévi, a Hungarian Jewish student, who arrives in Paris to study architecture and falls in love with 31-year-old Klara Morgenstern, who runs a ballet school. Their complex love story propels the novel as they and their far-flung families are upended and shattered by the Nazis. This is a book in which to lose yourself, rife with lush descriptions that demand a slow read. Klara's ballet school may not buttress the novel, but it is germane to who she is as a character.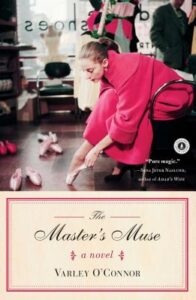 The Master's Muse by Varley O'Connor
In spare lyrical prose, Varley O'Connor fictionalizes the story of Tanaquil Le Clercq, choreographer George Balanchine's muse and fifth wife. "Tanny" was one of the first ballerinas Balanchine fully trained. Completely smitten, he made her a principal dancer in the New York City Ballet when she was 19. In 1956, while on tour with the company in Copenhagen, Tanny was stricken with polio and spent the rest of her life paralyzed from the waist down. O'Connor does a wonderful job of getting inside Tanny's head to plumb the emotional fallout from her tragically foreshortened career.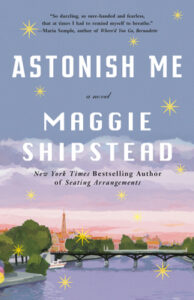 Astonish Me by Maggie Shipstead 
In her hallmark snappy prose, Shipstead unfurls a family secret that comes to light when Joan, who had an unremarkable career in ballet, realizes her son is a ballet prodigy. This book is all ballet, exploring the physically brutal training and professional politics that occur behind the scenes. With her gift for creating a page turner while spinning beautiful sentences, Shipstead's ballet writing is pitch perfect.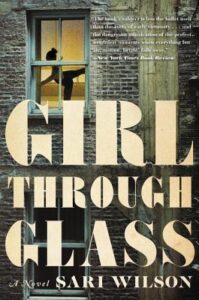 Girl Through Glass by Sari Wilson
Girl Through Glass is ballet-immersive, delving into an older dancer's past while focusing on the life of a young ballerina in training. Much of this book is spent in the ballet studio, with realistic accounts of the excruciatingly demanding work it takes to become a ballerina. Wilson fixes a realistic eye on the uncomfortable, fraught, and often damaging relationships between ballet student and teacher. Her prose is lovely.
_______________________________
MEMOIR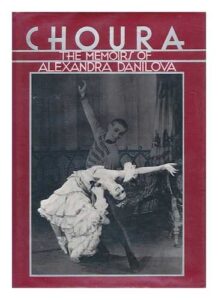 Choura by Alexandra Danilova 
Choura is a classic, titled after Alexandra Danilova's nickname. Danilova (1902-1997) met George Balanchine when they were students in Russia and he was still called Georgiy Melitonovich Balanchivadze. They trained together at the imperial ballet school and emigrated together after their hair-raising teenaged years trying to survive on the streets of St. Petersburg during the revolution. The two made history in Europe and the United States, but Danilova views their impact as just trying to dance and live life to the fullest. Although she joined a trail of women whom Balanchine left behind, she retained a lifelong friendship with him. Because the arc of their lives traced the arc of 20th-century ballet in America, the book serves as a terrific window into ballet's American roots.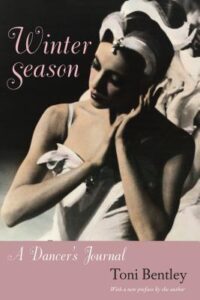 Winter Season: A Dancer's Journal by Toni Bentley
I would read anything Toni Bentley wrote and eagerly anticipate the pleasure of finishing a couple more of her books. Bentley was among the last class of George Balanchine's ballerinas and was forced into early retirement at age 28 from a hip injury. Bentley's writing is exquisite, imaginative, and precise. She has helped me understand more about this medium than almost anyone else. Her Winter Season is also a classic in this genre, a real-time diary of a winter season (1980-1981) dancing in the ranks of the New York City Ballet. The book is fascinating for its granular detail about how ballets are put together and the work-a-day side of a ballerina's life. I am gaga over Bentley's most recent book, Serenade, part memoir and part history lesson about Balanchine's most iconic ballet, told from the standpoint of a ballerina onstage. I can't do it justice here, just please read it.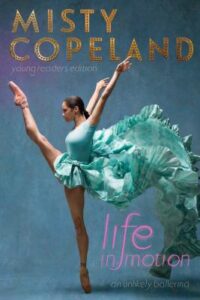 Life in Motion: An Unlikely Ballerina by Misty Copeland
Misty Copeland is an extraordinarily gifted Black ballerina whose dancing transmits grace and strength in equal measure. As a principal at the America Ballet Theatre, Copeland is an icon for dancers of color and for children of color coming up in ballet school. She's also a wicked good dancer. I love that she has vastly expanded her audience through her books. This memoir is notable for the raw honesty about what she had to overcome to reach ballet's stratosphere. A hard scrabble childhood mixed with racism from the ballet establishment required grit as well as talent. Copeland's humility and fortitude extends her influence far beyond her electric presence on stage.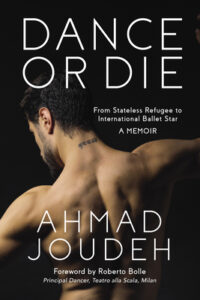 Dance or Die: From Stateless Refugee to International Ballet Star by Ahmad Joudeh
Ahmad Joudeh was a little boy who adored dancing, who happened to grow up in Yarmouk, a Palestinian refugee camp in Damascus, Syria. He also happens to be gay. The son of a Palestinian father and a Syrian mother, against his father's will, Joudeh insisted on ballet lessons and made his way into a performing troupe. Although it is impossible absorb the relentless terror and destruction wreaked on Syrian civilians, Joudeh brings it home to readers as everything around him is destroyed. Through a series of connections that started with a YouTube video he posted, Joudeh ends up in Amsterdam as a stateless citizen sponsored by the Nederlands Dans Theater. Bombs may speak louder than art, but in this book, art and perseverance triumph.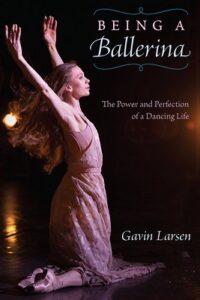 Being a Ballerina: The Power and Perfection of a Dancing Life by Gavin Larsen
This insightful and beautifully written memoir was inspired by Toni Bentley's. Larsen, now a teacher and writer, worked as a professional ballerina on both coasts and in Canada. Her book is a seamless weaving back and forth between her life as a dancer and her reflections on dance, which are meaningful and smart. I had the pleasure of both reviewing the book and interviewing Larsen about her writing journey.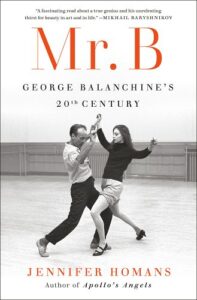 Mr. B. by Jennifer Homans
This book is so fascinating and gorgeously written that I have to include it, even though it is not out until November 2022. It is an extraordinary biography by one of America's most prominent dance writers and I'm thrilled that I was able to get an early copy. The level of detail and depth of research are mind boggling, but most compelling are Homans's insights into Balanchine's emotional and spiritual life. He remained a mysterious genius until his death, but Homans decodes how his early separation from his family, harrowing years during the Russian Revolution, and permanent deracination affected his character and work. Homans writes with the care and lyricism of a poet and every page is a joy.
_____________________________________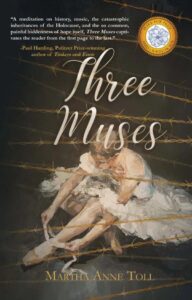 Three Muses by Martha Anne Toll is available from Regal House Publishing.
---