Meet National Book Award Finalist Min Jin Lee
The author of Pachinko on the long road to her latest novel
The 2017 National Book Awards (also known as the Oscars of the literary world), will be held on November 15th in New York City. In preparation for the ceremony, and to celebrate all of the wonderful books and authors nominated for the awards this year, Literary Hub will be sharing short interviews with each of the finalists in all four categories: Young People's Literature, Poetry, Nonfiction, and Fiction.
Min Jin Lee's Pachinko (Grand Central Publishing / Hachette Book Group)is a finalist for the 2017 National Book Award in Fiction. The novel is a multi-generational epic about a Korean family living an uneasy life in Japan. Literary Hub asked Min a few questions about her book, her process, and her life as a writer.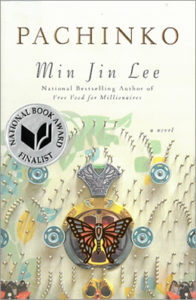 Who was the first person you told about making this list?
My husband.
What time of day do you write (and why)?
I write during the day mostly, but I'm flexible. I write whenever I can.
How do you tackle writer's block?
I don't believe in writer's block. This is not necessarily a happy theory because it means that as long as I have the ability and the correct project, I have to keep working. I find writing fiction difficult.
Which book(s) do you return to again and again?
The Bible and Middlemarch.
What's the best writing advice you've ever received?
Choose the important over the urgent.
I read that you almost abandoned this novel. How did you find it again, and how do you feel about it now?
I abandoned the novel in its first version (Motherland, 1996-2003) in 2003 because it was lousy. A few years later in 2007, my husband got a job in Tokyo, and my family moved there, so I resolved to start it again. Once I was on the ground, I interviewed many Korean-Japanese people and did a lot of field research, which forced me to throw out that first manuscript and start again. During the years when I was working on the new version, which eventually became Pachinko, I was disheartened about my work, and it was tough to keep going. Even now, I am surprised by the fact that I started it twice then ultimately finished it. I'm relieved that the book is done.
---