Meet National Book Award Finalist Frances FitzGerald
The author of The Evangelicals on how things have changed in America
The 2017 National Book Awards (also known as the Oscars of the literary world), will be held on November 15th in New York City. In preparation for the ceremony, and to celebrate all of the wonderful books and authors nominated for the awards this year, Literary Hub will be sharing short interviews with each of the finalists in all four categories: Young People's Literature, Poetry, Nonfiction, and Fiction.
Frances FitzGerald's The Evangelicals: The Struggle to Shape America (Simon & Schuster) is a finalist for the 2017 National Book Award in Nonfiction. The book traces the American Evangelical movement from the time of the Puritans to the time of Donald Trump, with plenty of insight along the way. Literary Hub asked Frances a few questions about her book, her favorite things, and her life as a writer.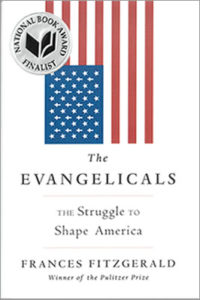 What's the best book you've read this year?
The best book I've read this year is Behind the Scenes at the Museum by Kate Atkinson.
What time of day do you write (and why)?
I write from twelve to five in the afternoon. I hate to get up early, and I like to get my chores and exercises done before sitting down to work. It's important to me to have five straight hours to write, no matter how much I get done.
How do you tackle writers block?
I don't have writer's block unless I stop writing for some weeks and lose my writer's muscles.
Which book(s) do you return to again and again?
I return again and again to War and Peace.
Which non-literary piece of culture—film, tv show, painting, song—could you not imagine your life without?
I couldn't do without many pieces of music, but if forced to chose, I would say Bach's Magnificat.
How has the influence of white Evangelicals in America changed over the last three decades?
The influence of white evangelicals has greatly increased over the last three decades in the sense that more and more of them have come to vote Republican. In the last presidential election 81% of white evangelicals voted for Trump, and because evangelicals make up a fifth to a quarter of the population, that makes them a huge voting bloc. Every Republican president since George H.W. Bush has had to defer to them.
On the other hand, they have splintered in a way that is not yet appreciable in the elections. In the 1980s and '90s they were dominated by the Christian right, who reacted to the social disruptions of the sixties, such as feminism, the gay rights movement and the Supreme Court decisions banning prayer and Bible reading in the public schools, and later Roe v. Wade. But since George W. Bush's unfortunate second term, a progressive movement has emerged and is growing larger and more vocal. The younger generations have taken up their causes, such poverty, climate change, immigration reform and social justice. In addition white evangelicals, like all white Americans, are diminishing as a proportion of the population. In many evangelical churches their places are being taken by Latinos, who are socially conservative but economically liberal and tend to vote Democratic. However, Latinos and the young tend to vote less than whites and their elders.
In the meantime the authority of Christian right leaders has diminished as the generation of Jerry Falwell, Pat Robertson and others who went through the sixties have died or retired. In 2010 many right-wing evangelicals joined the Tea Party, putting the economy before abortion and gay rights. Last year 50 Christian right leaders, after much deliberation, decided to back Ted Cruz in the primaries, but a plurality of evangelicals voted for Trump on the grounds that he was a strong leader, allied with white supremacists, who promised to make America great again. At base right-wing evangelicals are afraid that Americans of color will overwhelm the country, and that they will lose their place in American society. They are also afraid that evangelical Christianity will die away, making them a small minority in an increasingly pluralistic and secular society. To them a country without God will have no morals and will be total chaos until the end comes.
---