Maybe You're Allergic to GMO Corn?
Caitlin Shetterly on the Creep of Altered Corn in Our Daily Lives
The blue Nebraska sky stretched above my car like a tight rubber band; the wind held its My Ántonia constancy and the sun beat down. All around, as far as the eye could see, were dusty brown fields of dried soybeans and golden fields of dried corn. There were no trees. Just that huge, open expanse of soy and corn crop after soy and corn crop, alternating gold and brown and open to the big blue sky. Tractors glinted in the sunlight like ships at a distance sailing up and down, methodically cutting ribbons out of a sepia ocean while dust billowed like a thick and impenetrable storm behind them. Harvest time.
The day before, I had landed in Denver, Colorado, in the late afternoon. When I deplaned and exited the airport, standing for a moment on the hot, dry concrete sidewalk outside the baggage claim, my rolly suitcase gripped in my right hand and my black L.L. Bean backpack on my shoulder, I was suddenly and immensely thirsty. I looked up and saw the Rocky Mountains rising, snowcapped and gleaming, before me; they seemed so close. I wondered if I could just reach my arm through that horizontal and relentless sun, if I'd be able to dip my hand into that snow, bring a handful to my mouth, and cool off. As I turned away from the mountains toward the rental‑car lots, the land before me stretched as flat as paper across the Great Plains of eastern Colorado and into Nebraska, where I was headed.
I had come to Denver to start somewhere—to start telling a story, a story that I'd stumbled upon in that life-becomes-art-and-art-becomes-life kind of way. Two months earlier, I'd published an article in Elle magazine about a long and tedious illness that had plagued me for nearly four years, until I met Dr. Paris Mansmann, an allergist and immunologist. Mansmann is based in the suburban town of Yarmouth, Maine—a short distance outside Portland, our state's biggest city and cultural center, where I lived. Mansmann had asserted that, in his opinion, I had developed a sensitivity to the proteins that are created from the DNA inserted into GMO corn to make it herbicide‑resistant and, also, to carry its own pesticide; these genetic aberrances, he posited, had caused my immune system to go haywire.
Although his theory seemed unorthodox, perhaps crazy—and, it turned out, also majorly controversial—I decided to trust in it. I was too desperate not to. I'd been sick for so long—during the first year of my marriage and for the entire first two years of my son Marsden's life. And by "sick," I don't mean that I was just "not feeling great" or that I was a little queasy. I mean that I was so sick that I was often unable to get out of bed because arthritic pain radiated throughout my body, making my thighs and ankles weak and causing me to hobble around like a ninety-year-old. (My ankles, I'd joke to Dan, my husband, felt like they'd been "Kathy Batesed," a reference to the movie Misery.) I was exhausted—yet my body was in such a state that I felt like I'd been plugged into an electrical outlet and couldn't relax enough to sleep. I had horrible headaches; a constant head cold; tingling and numbness in my feet, legs, and arms; and rashes splattered like pizza sauce across my face. During this time, I had tried every diagnosis—or theory—that came my way, including hormone treatments, vitamin injections, iodine pills, elimination diets, and a long and debilitating course of powerful antibiotics aimed at curing me of chronic Lyme disease. Everything seemed to make me sicker, not better. I felt like Christina in the famous Andrew Wyeth painting; the world was just out of reach. My life was passing me by while we spent thousands and thousands of dollars we really did not have to consult with anyone who would see me—from Harvard-educated MDs to shamans. All the while, we were just hoping someone would find a key to unlock this puzzle and make me well.
But desperation wasn't the only reason I was game to trust Mansmann's theory. In 2010, long before I was even thinking about genetically modified organisms, known in common parlance as GMOs, and before I had any inkling about what might be wrong with me, Marsden, then one year old, started to have episodes at bedtime when he would cry so hard that he would stop breathing and turn blue. The first time it happened, Dan and I raced to the car and then to the ER where they hooked our baby up to an EKG. The diagnosis: "He has a behavioral problem called 'breath-holding syndrome.'" We looked blankly at the doctor. "It's like a tantrum," she continued. "Kids do it to get their way sometimes. You need to be more sure in your parental decisions—if it's bedtime, it's really bedtime." A nurse piped up then: "I knew a kid who had these until she was five! The family would say, 'Oh here she goes again. . .  '" The ER doctor suggested distractions, which might help him "forget" to hold his breath. In a bizarre twist of this-must-be-dark-theater-not-my-life, I found myself following the ER doctor's advice and for the next three nights I was singing "If you're happy and you know it, clap your hands!" as Marsy screamed inconsolably and turned blue and then white in my arms.
Call it a mother's instinct, but after three nights of this stop-breathing routine—the surest way to turn a new mother into a grayhaired one-hundred-and-fifty-year-old is to scare her shitless—I was convinced that something else was at play, bigger than my son having "behavioral problems." Here's what I know: When he was born, he radiated goodwill; he took one look around and gave Dan and me an expression that seemed to say, "What's all the fuss, guys?" He rarely cried; he was fascinated by our big, complicated world. At two months old, when the recession flattened us, we drove him across the country from our apartment in Los Angeles to move in with my mother in Maine. That whole trip he'd been cool as a cucumber. Up until now, he had been a good sleeper and a happy, mild-mannered baby.
Thankfully, our pediatrician also wasn't convinced that these symptoms were a behavioral problem or some defect in Marsy's character that we needed to eradicate. Sometimes, she told us, breathholding syndrome, or "spells," can be the result of iron deficiency, fear, trauma, or pain a toddler can't express. She said she wanted to revisit his perennial eczema, which he'd had since he was a tiny baby. The eczema had progressed like California wildfire since the introduction of solid foods, going from little sore patches behind his knees and elbows to covering his trunk and legs and climbing up his cheeks. At night, I slathered him in organic oils and rubbed zinc oxide on the worst bits, to little avail. She suggested an elimination diet because food allergies, she said, can also affect behavior.
Over the next few months of winter and into the spring, we put our son on an austere diet that avoided—all at once—wheat, eggs, dairy, corn, soy, nightshades, fish, shellfish, peanuts, and nuts. We ate a lot of turkey, brown rice, and broccoli, as I remember it. Interestingly, corn, at that time, like nightshades, was not on most elimination diet programs (though the baby guru Dr. William Sears recommends including it). But our pediatrician said it was possible—however, like nightshades, unlikely—so we added it to the list just to be thorough. In a matter of days, the death-imitating tantrums stopped and the eczema began to abate.
Eventually, when we thought that Marsy seemed much better, we started to reintroduce foods. First up: corn, our most American and wholesome of foods, the one food I assumed would be the safest, because who in the world could have a problem with corn? I loved corn. I loved the way it looked growing green and leafy and innocent and all-American in fields across our landscape. I loved to eat it: corn chips, sprouted tortillas, popcorn, nachos, soft polenta with Parmigiano and butter thrown in at the very last second of cooking and topped with baked crispy kale (this was the first meal I'd ever made for Dan), creamed corn. . .  And I'd put pureed frozen sweet corn into most of my homemade veggie baby food mixtures, thinking I was adding extra fiber and goodness. Being a person who loved to cook and eat—a self-professed foodie—I didn't like to think that anything was off‑limits. Instead, I liked to think in terms of textures and flavors, colors and bounty. And corn—and corn products—were included in my food landscape.
My dad, who is a Fritos nut, even has a family story that he liked to share, when I was growing up, in late August when local corn on the cob was ready. He'd tell us about the gadget we had in our kitchen that my great-grandfather Orton Galloway invented in order to scrape a corncob free of fresh, juicy kernels to make creamed corn. The gadget looked like a little wooden bench with some nails sticking up in the center, and there was a little narrow opening just after the nails for the kernels to fall through. When my great-granddad Orton got to the US patent office to register his invention, the story goes that he found a room full of people all waiting to register variations on the exact same corn-scraping device. Apparently, Orton took in his competition and decided it was pointless to wait to patent his invention. He left the office deflated and trudged home to Wyoming, Ohio. Nonetheless, in our family, my dad used his grandpop's invention faithfully every summer, cooking the fresh, juicy kernels in a double boiler so the corn didn't burn and adding butter, salt, and pepper. Sometimes we'd have this as a kind of porridge for breakfast and sometimes we'd eat it alongside fish or hamburgers.
In recent years, these creamed-corn devices seem to have gone the way of the dinosaurs. One summer, my dad was on a business trip down in Kentucky and was out walking on a Sunday morning when he walked by the window of an old junk shop. In the window was a corn scraper just like the one his grandfather had made, and underneath it was a small, cardboard sign with the words "What is this?" written in black Sharpie. When Dad got back to Maine the next day, he called up the shop and told the proprietor what it was. Then he bought the scraper and had it sent to my brother as a gift.
Coming off the elimination diet, our pediatrician had told us that we should deluge our fasting patient—every meal should contain the food specimen we were scrutinizing for three full days, as this was the best way to really get it into his system. Lo and behold, over the test period for corn, eczema splotched and then raged, red and painful, over Marsy's limbs and cheeks. His nose ran like a faucet and the mucus made him gag and choke. He was crankier, slept fitfully and had runny bowel movements, and his breathing sounded raspy at night. Again, he cried inconsolably at bedtime. At that point Mars was only fifteen months old, so he couldn't tell us much—if his belly or head hurt or if he itched all over. However, Dan and I could see with our own eyes that something was happening and that he was miserable.
With our pediatrician's guidance, we took corn back out of Marsden's diet—or at least we thought we did. The FDA, it turns out, doesn't require that corn be labeled as an allergen on any packaging. And 80 percent of packaged food contains ingredients made from GMO corn or soy. In fact, there are more than 250 nonorganic substances—often chemicals—that are legally allowed as additives in "organic foods," many of which are made from industrial, or GMO, corn. GMOs, as of this writing, still require no labeling in the United States (and there is a huge Washington push from the chemical companies to make it impossible for the states to regulate labeling on their own). But, oddly, even so, in the face of the increasing cacophony around GMOs and our industrial food system, more and more manufacturers are starting to label corn or omit GMOs altogether. (Just yesterday I looked at a label for Whole Foods brand "Organic Black Pepper & Sea Salt Potato Chips" and I almost fell over. There, in huge print, under the ingredient list, which included the words "organic dextrose" and "organic maltodextrin," it said "DERIVED FROM CORN" in reference to the maltodextrin [although dextrose is often made from corn, this one is, apparently, not]. This is new.)
As time marched on, Dan and I discovered with dizzying helplessness that corn is in everything—it was our Waldo, popping up everywhere we least expected it: in baking powder, cheese, vitamins, medications, tea bags, juice, dish soap, preservatives, the lining of paper coffee cups, the waxy coating on the outside of store-bought fruit. You name it, almost everything my family used, no matter how piously natural and organic it was, could be traced back to some cornfield in Iowa. It came disguised as dozens of names, such as "xanthan gum," "vegetable starch," "modified food starch," "citric acid," "natural flavors," and "vitamin C." Almost daily, we'd turn a corner and realize, "This toothpaste is full of corn!" And then, the next day, "Wait, our dish soap is made from corn!" A week later, "Oh my God, iodized salt has dextrose in it!" And, "This kiddie ibuprofen is full of corn!" Even baby food labeled as "100 percent organic" and "non‑GMO" often has citric and ascorbic acids added as preservatives, both of which are made from GMO corn.
One night, overwhelmed, I said to Dan, "This is impossible." We somehow agreed—though viewed through the lens of time this seems crazy, if not irresponsible—to accept defeat. We were exhausted, we were confused, we couldn't stand it anymore. If providing our son with food, clothing, and shelter were our three most important jobs, it felt like we were failing at the first one. We decided finally that we'd make our son "well enough." Corn was too formidable an opponent to truly eradicate.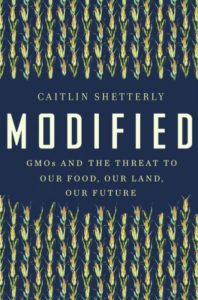 Adapted from MODIFIED: GMOs and the Threat to Our Food, Our Land, and Our Future by Caitlin Shetterly, to be published on September 20, 2016 by G.P. Putnam's Sons, an imprint of Penguin Publishing Group, a division of Penguin Random House, LLC. Copyright © 2016 by Caitlin Shetterly.
---