Maybe All Bankers' Mansions Should Become Libraries?
A Look Inside the Historic Morgan Library & Museum
Built for one of the most prominent figures
 of the Gilded Age by the leading architectural firm of its time, the Morgan Library is a superb work of architecture, and a harmonious blend of exterior and interiors. The Renaissance Revival building contains an extraordinary ensemble of rooms that have been in continuous use, meticulously cared for, since its conversion from private facility to public museum nine decades ago.
John Pierpont Morgan was one of the most influential figures of the late 19th and early 20th centuries. A banker, railroad financier, and organizer of U.S. Steel, Morgan was also a voracious collector. Beginning with early printed books and manuscripts, he expanded his interest to amass major collections of old master drawings and ancient Near Eastern seals that are among the treasures now housed in the library he built. He was also a benefactor of the Metropolitan Museum of Art, serving as trustee and later president.
The patrician white marble library was built alongside Morgan's New York residence, an unpretentious brownstone at the corner of Madison Avenue and 36th Street, to accommodate the growing collections that had been divided between his residences in New York and London, and in storage. He hired the celebrated firm of McKim, Mead & White for the project.
The result, considered by many to be Charles McKim's finest work, is a majestic repository for Morgan's collections. Part library and part museum, its 14,700-square-foot interior interprets Renaissance Revival design in four different but aesthetically related rooms: an entrance hall, a study, a gallery, and the library proper. The entrance hall is an opulent vaulted rotunda with freestanding lapis lazuli columns, mosaic panels, and a varicolored marble floor in a pattern based on one in the Villa Pia in the Vatican gardens, executed by sculptor Thomas Waldo Story. American muralist H. Siddons Mowbray painted the lunettes and the domed ceiling in a style inspired by Raphael's ceiling in the Stanza della Segnatura in the Vatican. The lunettes depict figures from ancient, medieval, and Renaissance poetry, reflecting one of the subjects in the library collections.
Mr. Morgan's study was designed by the French-born American decorator and muralist James Wall Finn, featuring red silk damask walls and upholstery, a carved marble fireplace, low bookcases, and an Italian wood ceiling, painted by Finn with Renaissance coats of arms. A portrait of Morgan hangs over the fireplace. At the opposite side of the Rotunda is the magnificent East Room, whose walls are lined with three tiers of bookcases, fronted with brass-grilled doors and densely packed with richly bound volumes. The vaulted ceiling and upper wall panels are painted with images of philosophers, Roman deities, artists, scientists, representations of the arts and sciences, and astrological signs. The paintings were done off-site; Mowbray worked for three years in his Greenwich Village studio, painting them on canvas, and finishing just in time for them to be installed in the completed building. The North Room, originally the librarian's office, is a gallery, lined with cases for Morgan's collection of ancient Near Eastern engraved seals and tablets.
In 1924, J. P. Morgan Jr. made the library a public institution, and it has since become an important addition to the city's roster of museums, housing treasures such as Gutenberg Bibles, illuminated manuscripts, original scores by celebrated classical composers like Beethoven and Verdi, and drawings by such artists as Leonardo da Vinci and Michelangelo. New acquisitions have required expansions, including a 1928 annex built on the site of Morgan's residence and the 1988 purchase of Morgan Jr.'s 37th Street brownstone. In 1991 Voorsanger & Mills connected the three buildings with an enclosed garden court, which was replaced in 2006 in a major expansion by Renzo Piano that included a three-story glass pavilion as well as new event and exhibition areas. Though controversial as an addition to the historic complex, the expansion left the original McKim building intact. A complete interior restoration by Beyer Blinder Belle Architects & Planners and new lighting by Renfro Design Group has renewed the luster of the original materials.
The original bronze entrance doors have long been closed, and the designated interiors are now accessed from the new wing through modern glass doors, but their impact on visitors has not been reduced. Now the Morgan Library and Museum, the building and its exceptional interiors are a reminder of the lavishness of Gilded Age style, of Morgan's obsessive collecting and his commitment to provide a showcase for his treasures for future generations to enjoy.
__________________________________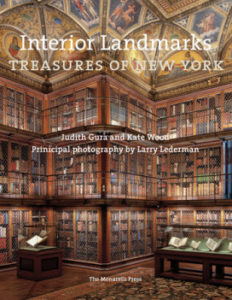 ---