Matthew Binder on Making Sense of an Absurd World
D. Foy Talks to the Author of Pure Cosmos Club
I met Matthew Binder back in late 2016, when he came to me for guidance with his novel-in-progress, The Absolved, which he then went on to publish, as I expected, to critical acclaim. I loved the book from the start and felt honored to have been something of a guide for Matthew as he polished the work into the fine thing that's now on the bookstore shelves.
By the time he showed me his manuscript for Pure Cosmos Club, we'd become fast friends, though that had nothing to do with the amazement I felt reading it. Clancy Martin has already hailed him as "our American Murakami," and Sam Lipsyte says that in this "inventive, antic picaresque with a satirical eye trained on spiritual and aesthetic hucksterism, Matthew "sets them up and knocks them down." I couldn't have said it better. Matthew and I did this interview both by phone and email.
*
D. Foy: The only fictional character I can think of who is as ingeniously loony as the story's narrator, Paul, is Don Quixote himself. He's at once funny, pathetic, compassionate, heroic, maddening, inscrutable, mendacious, and absurd. It's not surprising. The man is fraught with nearly any existential dilemma you can think of, the sorts that plague us all to one degree or the next, albeit at an intensity that would crush the average person.
But, somehow, whatever the circumstances Paul finds himself navigating, we always end up wondering what the heck just happened, and how did that guy manage to walk away more or less unscathed? What motivated you to create such a character?
Matthew Binder: With Pure Cosmos Club, I was interested to explore a changeable or divided mind, a character whose fundamental trait is inconsistency—someone unyielding to any abiding life philosophy. Paul doesn't believe in a universal account of truth. He refuses even to obey the simple rules of arithmetic because they limit what is possible.
The realm of spiritual hucksterism is a natural progression from making art.
It bothers him not one bit if what he says is objectively true or consistent with his previous statements or actions. In a sense, he's a pragmatist, ready to adopt, or at least to try on, any moral code that may serve his immediate needs. That said, the chaos of his mind does have an internal logic.
DF: I believe that most thinking, feeling people would agree that we can characterize the general state of the world today as absurd. At any moment we can expect behaviors, trends, political policies, and the like to flip on us not merely day to day but sometimes even by the hour. I could label Pure Cosmos Club any number of things, but if I had to choose one, I'd call it a novel of the absurd. What happens in the novel reflects, hilariously, what's happening in the world. Would you say this is a fair comparison, or is there something that I'm missing?
MB: Almost everything that truly matters is decided by the most ridiculous factors. Life never turns out as we expect, yet we're helpless to keep from speculating. A thousand outlandish thoughts are always racing through our minds. It's enough to make anyone lose their psychic bearing. I worked hard to make Pure Cosmos Club reflect the reality of the modern condition. So, yes, the book is absurd, exactly in the way that the world is absurd.
DF: There's a general cultural obsession today with new-age spirituality, cults, and gurus. The recent documentary about NXIVM and its leader Keith Raniere, for instance, was huge. Most cults are found to be destructive, and typically their so-called gurus turn out to be egomaniacal charlatans obsessed with controlling just about every aspect of other peoples' lives, from the way they behave, the people they see, the information they're exposed to, and so on. None of this is funny, but somehow your book makes it so. What's your secret?
MB: Contemporary society is full of poison: processed foods full of sugar that make us fat, smartphones that zap our attention spans, 24-hour news cycles that fill us with outrage, prescription medications to keep us pacified, and etc. None of us are fit to withstand this barrage of awfulness. And with the decline of traditional religion, people are desperate to find new ways to make themselves feel whole.
You can hardly blame someone for jumping from one New Age-y fad to the next or adopting radically transformative yet half-baked political notions. It's tragic what nonsense people will accept so as not to feel alone in this world. But the makeup of this tragedy can be extremely funny when looked at with a cold discerning eye.
DF: The book doesn't merely lampoon cults. It goes after the worlds of art and fashion haute couture, as well. It's easy enough to see why you would—all too often they're pretentious, covetous, self-aggrandizing, and bombastic. What gets me is how you manage with a single character to weave these worlds into a narrative that's at once cohesive and comically tragic.
MB: People in art and fashion are no different than other people. Everyone wants to make good work and be recognized for it. The baker wakes up unnaturally early to prepare fresh treats so they can hear their customers make vaguely sexual groaning noises as they chew. The teacher teaches so she can witness her students' progression, and then feel wondrous for her contribution to the betterment of our children's future. Even the bank teller wants a nice pat on the head from their manager. The art world is the same, only on steroids. It's filled with people who want to be celebrated for having imposed their precious individualism on the world (I'm no exception). The realm of spiritual hucksterism is a natural progression from making art.
DF: Contradiction and paradox are central to the novel, as is self-destructive behavior. It's as if none of the characters in this book know how to cope with the circumstances that they find themselves in, which is why they typically end up flailing to one degree or the next. Is it really any wonder that so many of us are searching for something—anything—to fill the inner void?
MB: Many readers and critics will call this book satire, but I'm not sure that's exactly right. I'm not using humor or irony to criticize anyone. I'm showing my characters as they are, and it happens to be funny. And while they may be self-absorbed and badly behaved, I try to treat all my characters with compassion and sympathy.
At the end of the day what people want is to make sense of what seems overwhelmingly insensible.
Something I try to show is just how lonely and spiritually adrift people are. In today's culture, especially in a place like New York City, tradition and faith, anything, really, that historically may have provided a person with bearings, is considered retrograde or backwards, anathema to progress. And where has all this "progress" led us? As far as I can tell, the things most prized today are status and money. It's no wonder everyone is so mixed up.
DF: Another of the things I love about the novel is how it's filled with animals. Paul, of course, has a nutty companion dog, Blanche, but he's also constantly making art that features animals—a painting of a horse jumping a fence, a still life with three birds, a sculpture of a fishing pole with a tiny dolphin dangling from its line. And then there's the dying chipmunk, the seagull Paul saves, the venomous snake that bites him. We see cats (and satchels made of dead cats), golden eagles, salamanders, swans, and pot-bellied pigs eating hamburgers. Is the theme of the natural world one that you worked with intentionally?
MB: I wasn't conscious of it while I was writing the book, though it's obvious now that these characters are drawn to animals because the human world is failing them. Certainly, Paul has little success navigating human relationships. They have a terrible tendency to disappoint. But the natural world has more order, and at the end of the day what people want is to make sense of what seems overwhelmingly insensible.
DF: In a business dominated by works of commercial fiction, the truly literary novel seems to hold less and less cultural cache. To apply the word "experimental" to a novel, for instance, is basically the kiss of death—few but the devout are going to touch it. Care to venture a stab at the future of the novel-as-art?
MB: The financial stakes are quite low in publishing. Even so, publishers, at least the big houses, are businesses, and therefore need to make a profit, so we'll continue to see the artform increasingly commodified.
So long as there are rich parents who'll pay for their kids' MFAs, there will be no shortage of books with blurbs from Jonathan Safran Foer prominently displayed at your local bookstore to keep the masses sated.
DF: Whose books compel you, and how do you see them as informing your own writing?
MB: Every review of my work has mentioned Vonnegut. I'm sure he's great, but I haven't spent much time with his work. I like Jane Bowles for her irreverence. I've tried to make Romain Gary's playfulness my own. But the writer who's made the biggest mark on me is probably Knut Hamsun. From him, I learned how to write a psychological novel.
DF: I happen to know that your life as a writer is constantly giving way to your need to make a living. You work jobs for different lengths of time, then disappear to write a book. And plus you're a musician, too! I could never function the way you do, so I'm curious to know how you make it all work.
MB: Nothing makes me happier than writing my novels, but they don't earn me any money, and I like money. It lets me to travel broadly, eat and drink well, and keep a decent apartment. The thing is, though, I'm a lousy multitasker. I can't simultaneously work and write. I simply have no ability to serve two masters at the same time.
Over the past decade a pattern has formed. I spend two or three years working in the energy business, squirreling away as much money as I can while the intractable urge to write continues to mount, and then I unceremoniously quit my job and move somewhere foreign and remote to work on a novel. When the book is finished and my savings are spent, I return to the corporate world and begin the cycle anew. But as I get older, I'm afraid this way of living won't be sustainable. Something will have to give. I'm just not sure if it's the money or the art. Time will tell.
__________________________________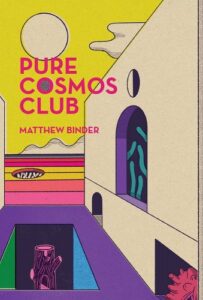 Pure Cosmos Club by Matthew Binder is available from Stalking Horse Press.
---