Matt Bell on the Importance of Joy in Nature Stories
"Go big with wonder."
The following first appeared in Lit Hub's Craft of Writing newsletter—sign up here.
By the time I completed my second novel Scrapper, back in 2014, I was utterly depleted. As I wrote, it had, against my best intentions, become an angry and perhaps bleak book, and as I finished it, I remember thinking, If this is how writing novels is going to make me feel, I'm not going to write many more.
Afterward, I worried that might actually be the case. I've always had false starts between books—I wrote several early novels before I published one, then 200-plus-page attempts at a second before writing Scrapper—but this time was the worst yet: one novel fell apart because the research it required was too daunting, another was abandoned after I decided it wasn't my story to tell. I flinched away from a third start after convincing myself it was the "wrong book" to write (whatever that meant); a promising fourth failed when I simply couldn't figure out how to fix its plot.
When I started Appleseed, I knew the same problems might repeat: it quickly became a weird book, a speculative environmental novel spanning a thousand years, a project which demanded oftentimes-daunting research, with three distinct storylines that crossed genre lines and needed to somehow come together satisfyingly. I also knew writing about climate change threatened to be at least as despairing as any other topic I had explored, if not more. But despite this novel's challenges, my desire to keep writing it never flagged—and in truth, the more I wrote, the better I felt. What had changed?
One answer is that early in my drafting, I wrote the command GO BIG WITH WONDER on a sticky note and affixed it to the bottom edge of my monitor, as a daily reminder of what I now saw as my task. By then I had decided I wanted this novel to reinforce and recharge the reader's capacity for wonder, in part because I believe wonder is one of the emotions that makes us want to do our part to save the world: wonder at the nonhuman life around us, especially, but also at the complex potential of humanity.
For me, going big with wonder meant looking for new ways to introduce playfulness and invention, as well as joy and beauty and surprise, at the level of story and of language—but I soon learned that consistently generating wonder on the page required first cultivating it in my life. Some of what I needed I found in books and films, especially in imaginative works like those I'd loved as a child and teenager. The rest I pursued by paying more deliberate attention while out in the world, by trying to remain intently open to the phenomenal beauty of the everyday, and of the natural world both in the city where I live and outside it, in other wilder places I love.
Across the five years I spent writing Appleseed, it was this attention to wonder that propelled me through the book's challenges. The novel is done and on its way out into the world, but for me its primary craft lesson remains: as I move into new projects, I'm continuing to do my best to grow wonder on and off the page, trying to hold onto what Jack Gilbert once called "the stubbornness to accept our gladness in the ruthless furnace of the world." Hopefully creating opportunities for wonder in my stories might one day sustain my readers as powerfully as it continues to sustained me—and perhaps doing the same in your own fiction might do the same for you.
*
Read more on writing nature stories:
Helen Macdonald on authenticity in nature writing.
Robert Macfarlane on exploring the depths of the wilderness.
Tobias Carroll on optimistic environmental narratives.
Phoebe Hamilton Jones on the literature of rewilding.
*
5 Books for Inspiring Wonder
RECOMMENDED BY MATT BELL
Aimee Bender, The Butterfly Lampshade
Sofia Samatar, Tender
Karen Russell, Orange World
Nnedi Okorafor, Lagoon
Karin Tidbeck, The Memory Theater
__________________________________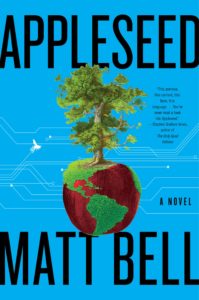 Appleseed by Matt Bell is available via Custom House.
---