Mateo Askaripour on Sorry to Bother You and Giving Up the Scarcity Mindset
This Week on So Many Damn Books
The guys get caffeinated, distantly, with Mateo Askaripour to talk about his fantastic debut novel, Black Buck. They chat about telling your own story even if someone else is telling a similar one, about weaving life into art, and about how fiction is more fun. Plus, an out-of-print classic for Book Club that deserves to be brought back: Sam Greenlee's The Spook Who Sat by the Door.
From the episode:
Christopher: Mateo, your book also had a really good this-meets-that on the back of it: "For fans of Sorry to Bother You and The Wolf of Wall Street." Two movies. I'm curious how you feel. Does that capture your book?
Mateo Askaripour: I try to keep it as real as possible in all these interviews—I've never compared my book to Sorry to Bother You. Everyone else does, and that's cool. I actually have a Boots Riley story, where I met him at McNally-Jackson just randomly, a couple days before a pre-screening that one of my brothers got me into for Sorry to Bother You. And this was me a few months into Black Buck. I'd heard about Sorry to Bother You, and I watch movie trailers and music videos for a couple hours before every writing session. So when one of my brothers had passed me the trailer for Sorry to Bother You, I intentionally didn't watch it. Because it was already starting to get me in a mood of, like, I'm writing this story about a Black salesman but they're coming out with this movie. And that is a mindset which is ridiculous, and sometimes apparent in many Black and brown creators. It's the scarcity mindset. Crabs in a barrel. I have to be the only one, because many of us have been conditioned that you can't have multiple stories related to Black or brown people doing sales, right?
So when I ran into Boots Riley, I was just going off. I was like, hey, man, I wrote this book and then I heard about your movie, and I didn't want to watch the trailer because it's a Black man and I'm writing this book, but then I realized that's just conditioning. And this is what they want us to think. And he looks at me, and he gives me a look of like, yo, are you okay? And then he's like, hey, man, this is really random. He's like, we're all set up in hotels around here. I could get you maybe into the pre-screening. It was really random what he was saying, but I could tell he was taken aback, because I ran up on him. And I was like, listen, man, I actually got like a ticket, but thank you, and I look forward to watching your movie. And he's like, cool.
So I watch the movie, and I thought that it was great. I thought that it was boundary pushing. But Black Buck is not that. Cassius Green, the character of Sorry to Bother You, aside from the fact that there are no horse limbs in my book—that's a euphemism, horse members—Cassius Green is just a Black man who happens to do sales, right? It's not a core part of his identity. It's the same thing with The Pursuit of Happiness, if we're going with this superficial comparison of a Black man picking up a phone. Chris Gardner, all praises due and much respect to that man, but he was a man who happened to become a stockbroker to better his life. Whereas I look at Black Buck closer in kind to Wolf of Wall Street, where Jordan Belfort was a salesman. It was embedded into his DNA. … I wanted to redefine the narrative of what it meant to be an American salesperson. And I wanted there to be a Black man, a Black salesman no less, for America to root for and at times hate. We see that in the book. Something that I think makes the book authentic is that even though the book is being written by a protagonist—Darren, who becomes Buck—he is not always presenting himself and his narrative in the most positive light. He is bearing his flaws.
*
What'd you buy?
Drew: Two lit mags: Black Telephone Issue One // Zo'Ona by Namwali Serpell (Breaking & Entering lit mag)
Christopher: The Secret Life of Groceries by Benjamin Lorr // All Girls by Emily Layden
Mateo: Iced by Ray Shell // a professional microphone
Recommendations:
Drew: Homeland Elegies by Ayad Akhtar // Oreo by Fran Ross
Christopher: Outlawed by Anna North
Mateo: How Much of These Hills Is Gold by C Pam Zhang //  Pimp by Iceberg Slim // Black Docker by Ousmane Sembène // The Angry Ones by John A. Williams
*
This week's themed cocktail: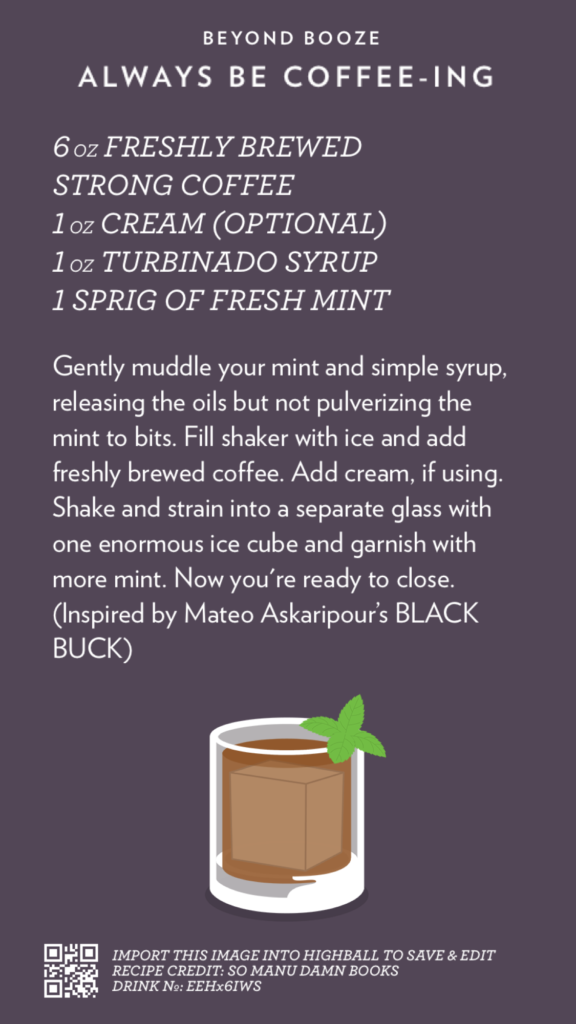 ---