Margaret Renkl on Finding Ideas Everywhere
"I pay attention to the natural world."
The following first appeared in Lit Hub's Craft of Writing newsletter—sign up here.
Whenever another writer discovers that I have an essay due every single week, the first question they always ask is, "Do you ever worry about running out of ideas?"
I used to worry about running out of ideas. I worried a lot. I worried about it every single day. As soon as I turned in an essay, I commenced to worrying about the next one. A weekly deadline is a treadmill you never truly step off: If you aren't writing or revising, you're pondering what to write about next, or you're reading something that will teach you what you'll need to know to write about that subject yourself.
But I don't worry about running out of ideas anymore. What I've learned in nearly four years of weekly deadlines is a truth I wish I'd discovered years ago: The more you write, the more you write. Writing is something like muscle memory, and it's something like prayer — the more you do it, the easier it is to do. Writing begets writing.
If you're writing a lot, the writing part of your brain becomes something like the dreaming part of your brain. Even when you aren't writing, it is solving problems your conscious mind has given up on, raising new questions you need to consider but haven't even begun to wonder about yet, making connections between things you didn't know were even remotely connected. Once that part of your brain is engaged, it's working all the time. All you have to do is keep writing.
For most of my life, I simply waited for a writing-worthy idea to come to me. After I took on a weekly deadline, I began to encounter the world much less passively.
Instead of waiting for my own ideas to bloom, I started paying attention to what might, of itself, generate an idea. The news of course — I write for a newspaper — but also what people far from the news are saying to one another. Listening to someone else is often a better spur to writing than listening to my own fretful thoughts.
Perhaps most of all, I pay attention to the natural world. Are the hummingbirds still here? Which wildflowers are beginning to bud? Is that a red-tailed hawk calling from the pine tree, or only a wily blue jay imitating a red-tailed hawk? The natural world settles my mind in a way that makes it possible to write without skittering off on a thousand different avenues of worry.
Also, I forget a lot of ideas almost as soon as I have them, so I take a lot of random notes — sometimes by jotting down observations in a tiny notebook that fits into my back pocket, sometimes just by dictating into the notes app on my phone. Occasionally I forget both the idea itself and the fact that I've written myself a reminder of it. When I find it again, I'm amazed. There it is, brand new and shining like a gift from the universe, ripe and ready now for plucking. Who could ever worry about running out of ideas when ideas are everywhere?
*
Read more on maintaining a writing practice:
Lore Segal on how writers get their ideas.
Amitava Kumar on the role of rituals in a writing life.
Brandon Stosuy on how attention can change a writer's approach.
Andrew J. Graff on staying loose in the writing process.
*
5 Essay Collections That Make Art from Everyday Inspiration
RECOMMENDED BY MARGARET RENKL
Emily Bernard, Black Is the Body
Brian Doyle, One Long River of Song
Mary Laura Philpott, I Miss You When I Blink
Ross Gay, The Book of Delights
Aimee Nezhukumatathil, World of Wonders
__________________________________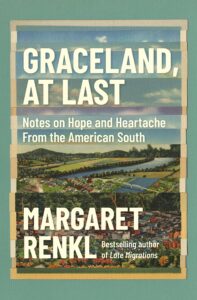 Graceland, at Last: Notes on Hope and Heartache from the American South is available via Milkweed Books.
---