Maggie Shipstead on Being Alone (But Not Lonely) in Paris
"A Sense of Purpose Distinguished My Solitude from Loneliness"
I sat motionless at my desk, breathing shallowly, my fingers resting on my laptop's keyboard. He knocked again, waited, knocked a little louder, waited. Under the apartment door, his feet cast shadows on the dark green linoleum. I didn't make a sound. Finally, he went on his way, footsteps receding. After a minute, the hall lights, which were on a timer, clicked out, and there was only darkness under the door.
The phone had rung a few times the previous day, and I hadn't answered. I knew who was calling. It was the same man who had just knocked: not a stalker or a creep, actually, but the Swiss composer who lived across the hall, an affable, fortyish guy with a mop of dark curls. I'd met him in the elevator earlier in the week. According to Google, he composed operas—not just any operas: underwater operas. (In related news, it turns out there are underwater operas. The world is a marvelous place!)
I had no friends in Paris and no reason to turn my nose up at someone who might or might not have been part humpback whale, but friendship, at the time, wasn't something I was after. In fact, when faced with a friendly overture, I was capable only of evasive maneuvers. I was alone, you see, which for me isn't a moment-to-moment condition, easily changed, but a way of being. Solitude is a well I fall (or jump) into from time to time and don't try to climb out of. I sit down there and enjoy the quiet.
This was the end of January 2012. I had been in Paris for almost a month, with two more to go. The Swiss composer and I were both residents at the Cité Internationale des Arts, a complex of 270 live/work studio apartments for artists in the trendy 4th arrondissement neighborhood of the Marais. Most of the apartments, or ateliers, were underwritten by arts organizations or universities or entire nations that also chose the residents, though a small number were managed by the Cité directly. Mine belonged to Stanford University, where I'd spent the previous two years on a writing fellowship, but the plaques on the other doors along my hallway mostly identified chilly European countries not known for garrulous people: Norway, Finland, Austria, Switzerland. Being the standout hermit in such company was, I think, something of an achievement.
Completed in 1965, the Cité's main building is a massive concrete block checkered with narrow, aluminum-framed windows. It stands at 18 rue de l'Hôtel de Ville, smack on the right bank of the Seine, bookended by the Pont Marie and the Pont Louis-Philippe. Its exterior has an aesthetic kinship with, perhaps, an automotive air filter, and it makes a startlingly Brutalist entry in Paris's grand riverside parade of elegant edifices. I lived in a smaller annex nestled on a side street between a hip artisanal coffee roaster and the city's Holocaust memorial. Beyond the memorial and its security guards and ticket window insulated by several inches of bulletproof glass was a high school, and beyond that was an extraordinary little bakery where I went to buy bread and pastries and to fail at comprehending the rapid stream of numbers spoken by the cashier. I would hand over a random assortment of bills and coins—say, €7,35 when I owed €3,76—and gaze haughtily into space while I waited for most of it to be handed back, pretending my intention all along had been to set a change-making challenge.
"I had no friends in Paris and no reason to turn my nose up at someone who might or might not have been part humpback whale, but friendship, at the time, wasn't something I was after."
Inside, the Cité's annex looked like a repurposed Soviet bloc government building: polished concrete, wood veneer, long, dark, hushed hallways floored in that green linoleum. My studio's small kitchen had a hotplate, electric kettle, and mini fridge, and the spacious, sunny, high-ceilinged main room was fitted out with a twin bed, bookshelf, dresser, table, easel, and giant white-painted corkboards where, if I were a visual artist, I might pin my work. The bathroom had a shower the size of a coffin and what my brother described, when he passed through town, as a prison toilet: lidless, black-seated, flushed by leaning one's whole weight on a steel button in the wall. The day I arrived, a Cité employee came to take away the spare sheets and blanket from the rickety trundle bed stored under mine, an economy that came to seem especially stingy after I realized the central heating turned off every night from eleven until six, the coldest hours, when a single wool blanket was not nearly enough. So the accommodations were spartan but very, very cheap and spectacularly located and worth becoming an artist of some kind purely in hopes of spending a few months there. From my tiny balcony I could survey the street below and, off to the right, watch the Seine flowing beside the Île Saint-Louis's limestone embankment. In the distance, the blocky Tour Montparnasse stuck up like an unwhacked mole.
(Here's a Paris joke. Q: Why is the best view in Paris from the Tour Montparnasse? A: Because it's the only place where you can't see the Tour Montparnasse.)
Residents of the Cité are supposed to speak French to one another. Ideally. I had taken a year of French in college, but the only phrases that stuck with me were the ones that related specifically to our textbook's ongoing plotline about corporate espionage (espionnage industriel). I didn't know how to order food in a restaurant, but I knew how to demand the whereabouts of the files (Où sont les fichiers?) and break the news that the body is in the canal (Le corps est dans le canal) and casually observe that somebody has a knife in his back (Il y a un couteau dans le dos). I certainly didn't know how to make small talk.
The composer and I, when we'd met in the annex's ponderously slow and ominously creaky elevator, had exchanged bonjours and then, in English because he hadn't asked for the location of the files or the body or the knife, established that we lived across the hall from each other.
"We should have a coffee sometime," he said.
"Definitely! Anytime!" I agreed with enthusiasm that must later have struck him as needlessly disingenuous bordering on straight-up weird.
My whole life I've been both shy and social. Strangers make me anxious, but as an adult I've learned to tamp down that anxiety and talk to people anyway. Once, at a book festival that involved several cocktail parties and dinners that were absolutely crawling with strangers, I was telling another author how I enjoyed the chitchat events but also found them exhausting. I described myself as shy. He shook his head. "You're a gregarious shy person," he said. "You can do the sociable thing, but you don't draw power from it the way real extroverts do. It takes something out of you." This struck me as almost eerily true, coming from someone I'd only just met. Takes one to know one.
Which is to say that under normal circumstances I would have gone to coffee with the composer, and he and I might have become friends or at least muddled through an amiable if potentially awkward conversation. ("So, do the singers wear snorkels?") In the Hollywood version, because we were in Paris, that magnificent aphrodisiac of a city so exquisitely beautiful it tricks you into believing you are owed an equally picturesque life, coffee would have turned into a long afternoon of conversation followed a chilly walk along the Seine as the streetlamps winked on, which would have segued into a soft-focus montage of a cozy winter romance: scenic walks in overcoats and chicly knotted scarves though the Bois du Boulogne, artistic toiling in our studios, leisurely meals at Left Bank bistros, copious wine, copious leisurely soft-focus sex. Everyone knows that's what you're supposed to do in Paris, or that's what Paris is supposed to do for you. But once I was out of the elevator and back in my safe little hidey-hole atelier with my hotplate and my bare white walls and insufficient bedding, the idea of voluntarily having a conversation with a stranger seemed impossibly difficult, downright frightening, and generally out of the question. Being alone is simple. Other people are unpredictable; they complicate things.
So I didn't answer the phone or my neighbor's knock. For weeks, I went so far as to listen at the door before I left my studio and peer underneath, checking to make sure the hall light timer had switched off so I would be less likely to run into anyone on my way to the elevator.
I first discovered my tolerance—my affinity—for solitude in 2008. I had finished my master's degree at the University of Iowa and, thanks to a small fellowship and paltry savings and occasional emergency bailouts from my parents, I was spending eight months on Nantucket (the cold months, October through May). I was trying to write a novel that was set on a Nantucket-esque island, and I thought being immersed in the setting would be helpful in getting the atmosphere and landscape right. As it turned out, being there was helpful, although not for the reasons I had anticipated. The atmosphere that surrounded me was nothing like the atmosphere in my book. I was writing about a vacation island in summer, full of bustle and resortwear and sunshine, when restaurants are full and beaches dotted with bright umbrellas, a place very different from the gray, windswept, semi-abandoned scrap of land where I found myself living among leafless trees and closed-up, empty houses. People do live on Nantucket in the winter, but I knew no one and didn't meet anyone. During my most isolated stretch, beyond saying thank you for my change in the grocery store, I didn't have a face-to-face conversation with another person for five weeks.
"Being alone is simple. Other people are unpredictable; they complicate things."
Instead, I stayed home and wrote my book. I worked in the mornings, then took my dog for a long walk in the early afternoon, then came home and had a beer and some popcorn and watched the DVDs that Netflix kindly sent over from the distant-seeming mainland. In the evening, after dinner, I went back to work or I read in the armchair my dog and I were in constant competition for, each hurrying to occupy it the moment the other vacated.
I found that having no social life can be a boon to efficiency. Noise and brain jabber dropped away. In the ensuing quiet, I found a particularly potent focus, and after seven months I had a complete draft of my novel, four hundred pages long. I had also found a way to be content living a largely internal life. Admittedly, I got a little strange during that Nantucket winter, disproportionately worried about small choices and tasks and overly bound to my daily routine, but, after the first couple of months, I found I was never bored and very seldom lonely. I became self-sufficient in a way I hadn't known it was possible for me to be.
In Paris, I was working on my second book, a novel about ballet dancers set in New York, southern California, and—this bright idea occurred to me once I was there—Paris. I slid easily back into solitude. I established a new loner routine. Most days I would wake up and eat a simple breakfast in my studio and then pack up my computer bag and set off for one of the city's many Starbucks.
I know, I know.
That's so American of me, so dull and corporate and safe, to choose Starbucks in a city chockablock with charming cafés, both new hip ones and classic ones with zinc counters and bentwood chairs and white-aproned waiters. Starbucks has no place in anyone's beautiful, romantic Parisian-montage life. True. Yes. But listen, those authentically French cafés usually don't have an abundance of electrical outlets for one's laptop, nor do they universally welcome excessive lingering over coffees that come in sizes petite to très petite. Starbucks sells giant coffees, and you can move in permanently for all they care. Parisian teenagers go to Starbucks to eat pancakes (in France, weirdly, they sell pancakes at Starbucks) and to make out. Often my laptop and I would be cozied up in an armchair directly across from an identical armchair containing two intertwined French kids, the girls with long manes of that mysteriously glossy Frenchwoman hair, the boys skinny and fashionable, both maker-outers maintaining bored expressions as they industriously smooched and groped.
After I ran out of writing energy, my goal for every day was to walk somewhere I hadn't been. My new place could be just one small street or an entire neighborhood, a cemetery or a museum or a park or a store. I wanted to explore the city a little bit at a time, no hurry. The winter is a fantastic time to walk in Paris, when there are few tourists and the city is just going about its business. I walked grand boulevards and narrow alleys. As snow sifted down from low clouds, I walked along the iced-over Canal Saint-Martin on my way to an afternoon showing of The Descendants. I strolled under denuded branches in the Tuileries and around the big fountain in the Jardin du Luxembourg, its water frozen into a cascading ice chandelier. During the winter sales I dug through bins of marked-down lingerie at Printemps even though I had no one to wear any of it for. I took in the stately pomp of the Pantheon, admired the stained-glass jewel box that is Sainte-Chappelle, watched white clouds of my breath dissipate in Notre-Dame's majestic nave. I visited the graves of Jean-Paul Sartre and Simone de Beauvoir, Susan Sontag, Marguerite Duras, Victor Hugo, Marie Curie. I climbed to the dome of Sacré-Coeur. I peered into shadowy cast-iron family chapels decaying among the graves at Père Lachaise. I walked the bone-lined tunnels of the catacombs. (Paris seems like an okay place to be dead—good company, at least.)
I did the usual Paris tourist stuff but at an unhurried pace, guided only by my own inclinations. I looked at people, at shop windows, at buildings, at the sky and the sidewalks and the bountiful dog poop on the sidewalks. I looked at the river. Once, late at night, I watched two giant rats jumping gleefully in and out of a trash can on the Pont Marie, squeaking away. Actively looking—noticing—is a bulwark against boredom. When I'm alone, I like that there's no pressure to turn what I see into conversation, to describe or opine in the moment. Days spent alone aren't filtered through anyone else's moods or subject to another's whims or preferences; likewise, I don't have to manage or compromise my own moods or whims, because they don't affect anyone but me.
Since France is a nation of food geniuses, I did a lot of eating. Since I was alone, I ate what I wanted, when I wanted. A late breakfast of roast chicken? Sure. Tarte tatin and red wine for dinner? Why not? I explored the boulangeries and patisseries and warring falafel joints in my neighborhood, worked my way through a marzipan-filled Epiphany cake, developed a fondness for the Breton butter pastries called kouign amann (added bonus: the shop that sold them was self-service, meaning I didn't have to talk to anyone), walked across the river to the food hall at Le Bon Marche and marveled at the cheese and the olives and the filmy slices of prosciutto and the yogurt aisle, which is the Platonic ideal of yogurt aisles. Even the soup-in-a-box I bought at Monoprix and heated up on my studio's hot plate was more delicious than it had any right to be.
As a resident of the Cité, I had an identity card that granted me free access to most museums—through the season pass-holders' entrances, no less, where there were never lines. I could meander through one or two galleries in the Musée d'Orsay, go back another day to see a few more, go back again later. One rainy afternoon, I sat in the Musée de l'Orangerie with no one else around, a private vista of Monet's water lilies wrapped around me.
There was vastly more to do in Paris in winter than on Nantucket in winter and exponentially more people around, but in the City of Light I found myself as heavily cloaked in solitude as I had been on the Off-Season Island of Very Little Light. This was because my aloneness was the product of an internal decision, an intentional shifting of gears, not a state imposed on me by external circumstances. A sense of purpose distinguished my solitude from loneliness, even protected me from it. I had chosen to be absorbed by my work, to encounter the city on my own terms, to retreat into myself.
To this day I almost never get lonely when I am by myself, but I am sometimes lonely among other people: at a party where I feel out of place, for example, or when I'm angry at a loved one or drained by too much small talk. Loneliness, for me, isn't rooted in the fact of being alone but in feelings of estrangement from others, in frustration and disappointment at the imperfection of my connections. Of course, all human connections are imperfect, and loneliness is part of being human. Each of us is isolated inside one consciousness, one body, one life, and so we are all inherently and permanently alone. But most of us spend our lives making endlessly hopeful attempts to connect, to peck our way out of our aloneness like chicks out of eggs, and there is a great and poignant beauty in the effort and great joy and peril in our successes. At the same time, maybe the sanctuary of the self, where you are both king and kingdom, is too often forgotten and neglected.
In France, my aloneness was intensified by my incompetence at the language. The city babbled around me, stray words catching my comprehension but none of it solidifying into any sense of what was being said. We kept private from each other, Paris and I. It was, perhaps, like listening to an underwater opera. One day, when I was out walking, a man fell into step beside me and said something. I apologized and said I didn't understand (in French, I'll have you know—I can manage that much). "Oh, you're not French," he said in English. "What are you?"
"I'm American," I said, a little sheepishly.
He took my hand. "I love Americans!" he said. For a few steps, we walked along like that, hand in hand, but said nothing else. Then he lifted my hand, kissed the back of it, and was gone.
"The city babbled around me, stray words catching my comprehension but none of it solidifying into any sense of what was being said."
In March, as warm days began to be interspersed with the chilly ones, my solitude began to thaw, too. My brother came to town for a couple of days, and a night out with his colleagues went rapidly off the rails until we found ourselves bedecked in glow bracelets, dancing at 3 am in a subterranean cave (I think it was a cave, anyway). Around the same time, I made a friend, Courtney, an American writer married to a Frenchman. Another friend, Michelle, came to visit, and when I found myself out in a bar with her and Courtney, talking and drinking, I realized I was perilously close to having a social life again.
Then there was the night I missed one person in particular. I went to see the Paris Opera Ballet dance La Bayadère. The Opéra Bastille, which seats more than 2,700, was packed, the audience elegantly and sparklingly dressed and serious about ballet and discerning about their intermission Champagne. Near the end of Act I, as Nikiya danced her mournful, sensual solo at her lover's wedding, the distinguished older French gentleman next to me who had been wiping away the occasional tear since the curtain rose began to tremble and quake. His shoulders jolting up and down, he pulled a handkerchief from the inside pocket of his blazer and mopped his tear-streaked face. In the half light, he gave me an apologetic shrug that seemed to ask how he could possibly not be undone by something so beautiful. How?
My mother had started taking me to the ballet four times a year when I was a kindergartner in Southern California, and her love of dance, which I had absorbed slowly over the years, was at the bedrock of the novel I was writing in my stark little studio and in all those corporate coffee armchairs. I thought I was all alone when I was working, but I wasn't, really. She was more than five thousand miles away but with me in Paris, too, animating the imaginary people I was writing about, shaping their world. The night outside the theater was cold; the sidewalk gleamed with frost. I called her as I walked home, clattering over slick cobblestones in heels. I told her I wished she had been there to see the performance, that she would have loved it.
At that moment, being alone felt inadequate. What I most wanted my mother to have shared with me wasn't the ballet itself—though it was marvelous—but the feeling of communal wonder among the audience, the openness with which the man beside me wept. Art is nothing if not a naked, earnest attempt to connect, to transcend aloneness, and that night, connection had lit the theater from within the way lightning flashes and flickers inside a thunderhead. I wished I could have taken a break from my aloneness to go to the ballet with my mother, so we could be bound together by the shared experience and then by its memory. I felt an irony in the fact that I seemed to need to cut myself off from other people in order to make something—a book, a story—that I hoped would resonate with readers I would never meet, bring them into the lives and minds of characters who didn't exist. I walked home over slick pavement that gleamed like an empty stage.
It would be nice to say the balmy spring days and blooming trees at the end of March drew me out of myself enough to knock on the Swiss composer's door to offer my apologies and invite him for coffee. But the last time I saw him was when we passed each other on the Cold War-chic staircase in the annex. I'd chosen the stairs because someone had been waiting for the elevator when I came in, and I'd learned my lesson about sharing elevators with people. I was going up, and the composer was coming down. As we passed, I nodded briskly, as though I'd never seen him before, and said, "Bonjour."
"Bonjour," he said.
I kept climbing, but I heard that his footsteps had stopped. When I was another flight up, I stopped, too, and peered over the banister. He was looking up at me. "I am your neighbor," he called plaintively.
I regarded him in silence for a few seconds, then pulled back into the shadows and continued to climb.
__________________________________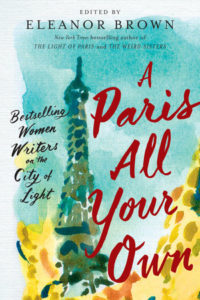 From "Paris Alone" by Maggie Shipstead in A PARIS ALL YOUR OWN: Bestselling Women Writers on the City of Light edited by Eleanor Brown, to be published on July 4, 2017 by G.P. Putnam's Sons, an imprint of Penguin Publishing Group, a division of Penguin Random House LLC. "Paris Alone" copyright © 2017 by Margaret Shipstead. A PARIS ALL YOUR OWN copyright © 2017 by Eleanor Brown.
---