Lydia Kiesling on Writing An Oil Novel In The Age of Climate Change
Jane Ciabattari Talks to the Author of Mobility
Lydia Kiesling's first novel, The Golden State, begins with her stressed-out narrator Daphne grabbing her toddler from day care and taking off from her job at the Al-Ihsan Institute in Berkeley. She drives to the mobile home her late grandparents left her in Alta Vista in the high desert of Northern California, where she encounters a neighbor aligned with the radical right State of Jefferson movement and a sympathetic older woman who has spent time in Turkey. Meanwhile, Daphne's husband is in immigrant limbo at his mother's house in Istanbul after being tricked into giving up his green card. Based on this multi-textured and sparkling debut, Kiesling was a 2018 National Book Foundation "5 under 35" honoree.
Kiesling's new novel, Mobility, also tracks a single narrator on a journey. When we first meet Bunny Glenn she is a bored, boy-crazy fifteen year old "diplomat brat" living in Baku, on the oil-rich Caspian Sea, after the collapse of the Soviet Union. Her travels as she comes of age and becomes an aspirational worker in the oil industry carry her around the globe, ultimately back to Baku. Kiesling offers richly detailed scenes set in Athens, Baku, Beamont, Houston, Yerevan, and other spots where oil is central, and captures the varying levels of luxury during plane flights over the years.
How much research went into these elements of the novel? I ask Kiesling. Did she live in any of these locations? "I am a foreign service brat, like Bunny, and my family had postings in Athens and Yerevan, among other places not explored in the book," she responds. "So there was a lot of travel and a lot of flying, and those experiences definitely fed the book. I traveled to Baku last year before I began the revision process. My father is originally from Houston and I grew up hearing about it, but had spent almost no time there at all, so I likewise traveled to Houston and the Golden Triangle area around Beaumont last year to solidify my descriptions."
Kiesling's gift for setting brings solidity to her novel as she explores the limits of willful innocence about the damage being down to the land, the air, the sea—the Earth—by extractive industries that put profit above all else. Our email conversation took place in West Coast time shortly before her book launched.
*
Jane Ciabattari: How have your life, work, and the writing and launch of your second novel been affected by these recent years of pandemic and turmoil?
Oil has been fundamental to human history in what I hope will not turn out to be a final, decisive way.
Lydia Kiesling: The writing was very affected by the pandemic–it basically ground to a halt. I spent months stewing about the very nascent draft of the book while juggling my small kids and paid freelance work. I finally ended up finishing the book in a series of trips to rustic rental cabins every few months, when I would work in two- or three-day bursts. I don't want to speak to soon, because Covid is still with us, but I feel I was fortunate in the timing, because by the time I had sold the book I was able to travel for a bit of research before starting the editing process, and (knock wood), I'm able to travel for events now. But anything could happen!
JC: I'm curious about the origins of Mobility. When did you begin to conceive of this new novel, and what triggered the interest? What models, if any, were on your mind as you developed this narrative? Why this title?
LK: I started writing it in 2017, i.e., spent two out of 365 days of that year typing it, and noodling around with ideas about setting and character. Essentially it began as a story about a callow teenager living in a country that is unfamiliar to her, and it grew from there. In the beginning I didn't really know where I was going, but as the story began to take on more momentum I was very influenced by Upton Sinclair's novel Oil!, mostly because it is a work of somewhat didactic but still entertaining fiction, and Madame Bovary, because for me it renders questions about a character's "likeability" somewhat irrelevant, and also uses one woman's story to talk about a lot of other different things. Later in the process I read Shirley Hazzard and Annie Ernaux, and they gave me a kind of permission to follow my interests in depicting women's lives against a broad stage. The title is thanks to my brilliant agent, Claudia Ballard. To me it felt perfect, from its evocation of ExxonMobil, to its class and professional associations, to the way it describes both the movement of fossil fuels, and the movement fossil fuels can facilitate (at costs that are now very evident). Bunny, the protagonist, experiences many forms of mobility in the novel.
JC: Why choose as your narrator Bunny Glenn, who we meet in 1998 when she is fifteen, living in Baku on the Caspian in the newly independent Azerbaijan, where she is the daughter of American foreign service public information officer and a former stewardess? What advantage is there to giving us a sometimes naïve, sometimes foolish narrator who is trying to parse the world around her as she is shaped by it? Did you consider multiple narrators? Including one more experienced "expert" narrator?
LK: I was influenced by Upton Sinclair's use of a teenage boy named Bunny in Oil! as a vehicle for observation and exposition for his readers. His novel is preachy, but it works because Bunny was a reasonable enough character to follow around learning beside. Oil! the novel was very concerned with the worker's struggle and class politics, and Bunny was very useful for carrying Sinclair's ideas. My Bunny performs a similar function, so her naiveté and foolishness are important for her to be effective in that capacity, although it's a tightrope walk since I'm aware some readers may throw the book down in impatience with her—even if ultimately her foolishness is important not just is as a device but as a theme of the novel. I also think that teenage girls are ideal, possibly underutilized devices for exposition in fiction, because they are often so observant, perceptive to a painful and perhaps paranoid degree, and broadly underestimated.
JC: By 2010 Bunny is living in Beaumont, Texas, working for an oil company. In the years to come, she becomes a mid-level executive for Turnbridge Oil Company and then Turnbridge Energy Solutions, a family owned business, and participates in "women in energy" gatherings spanning the globe. In the course of her career, she learns more about the history and complexity of the oil business, as do readers. That's an intriguing element of the novel; at a certain point there's an "aha" moment about the role of the oil business in the history of the last century, and our lives. Intentionally crafted in that manner, I assume?
LK: I wanted to write an oil novel, because oil has been fundamental to human history in what I hope will not turn out to be a final, decisive way, but will be if we do not change course. The novel is very much built around the inexorable and unconscionable logic of extractive practices generally and oil companies specifically.
JC: How did the novel's structure, with multiple scenes embedded in three sections—Upstream (1998/$13.45/$8.03), Midstream (and Downstream (2015/$312.52/$178.12)—evolve? How far along in the writing process did you settle on it? (And what do the prices mean—high and low prices of oil that year?)
LK: The prices are the high and low of US crude oil that year. It's a bit of a cute device (and one I later learned the writer Erika Bolstad also used for her great memoir, Windfall, which is about the North Dakota oil boom among other things), but it was actually helpful to me to organize the events of the book, since oil prices do have a significant role in other aspects of the economy, both as a driver of events and as barometer of events. I wanted to gesture at the wild economic swings that have characterized the time period described in the book. I learned while researching that the Oil complex has so many incredible metaphors and imagery built into it. I was struck by the idea of Upstream, Midstream, and Downstream as a way to think about cause and effect but also that aforementioned inexorable logic of oil and how it shapes our world.
I learned while researching that the Oil complex has so many incredible metaphors and imagery built into it.
JC: What sort of research was involved in tracking the trajectory of the oil industry from 1998, when the dissolution of the USSR led to a "gold rush," into the future, in 2052?
LK: The oil rush in places like Azerbaijan and Kazakhstan as the Soviet Union was dissolving (described very well in Steve LeVine's book The Oil and the Glory) also led to a rush for journalists. There were a lot of somewhat breathless accounts of Baku from the mid-1990s, because it was such a boom that there was plenty of colorful material for foreign journalists, who flooded the region at the time. I also read a lot of memoirs, often self-published, by "Oil Men"—engineers and geologists and executives. These were incredibly illuminating. I also researched particular companies and relied a lot on the work of journalists who have covered this industry for decades.
JC: You write of "Mr. Five Percent" (Calouste Gulbenkian, an Armenian oil engineer who brokered the merger of the Royal Dutch oil company and Shell and getting them the rights for the oil in Iraq), and of a man who participated in the "Contract of the Century," after the Soviet Union collapsed, as well as Frank Turnbridge, the founder of the company where Bunny works. Which of these are "real" characters, or based on real characters?
LK: Calouste Gulbenkian was real, and a very important figure in the oil history of the region. Many of the Baku characters were sort of composite characters inspired by real people. That part was a bit tricky; I wanted the freedom of fiction, but it's also the fairly recent past. I wrestled with the desire for accurate depictions and the fact that some of the people were not necessarily public figures even if I read about them in books. So there was some stitching together and biographical tweaking. One notable exception is Gina Haspell, who makes a cameo in the book and was in fact in Baku at that time (although the brief moment she appears in the book is of course imagined). Frank Turnbridge is likewise a figure of my imagination, although inspired by some real oil men.
JC: You have several journalists in the novel. There's Charlie, who is reporting for The Inter-Caucasian Times (aka The Intercock), when Bunny meets him as a teen in 1998 in Baku (he tells her, "There's basically never been a better opportunity for graft in the history of the world than right here, right now"), and whom she reencounters years later. And Sofie, the Swedish investigative journalist who is Bunny's brother's partner. They offer a counternarrative to the oil company founders, executives and staffers in Mobility. How did you create this alternative angle?
LK: Sofie was very important to me as someone who is completely unlike Bunny, i.e., someone who seeks out information rather than putting her head in the sand. It was important to me that she be a kind of foil to Bunny, but one that Bunny finds so compelling and attractive she ends up *almost* listening to her, or at least envying her. There's a corollary in Oil! again, because in that novel the boy Bunny is very influenced by an older oilworker named Paul, who is very much the noble figure of the novel. Having that alternate view and sort of teacher was important. Charlie the journalist likewise provides a more accurate view of the realities of our political and economic systems, but is himself a flawed man.
JC: What are you working on now/next?
LK: Right now I'm taking a break, but I'm sort of marinating the ideas for a new book, one that will involve no research at all, ideally! I'd like to do a story that's close to home—a neighborhood story about people who live in close proximity to one another, and see where it goes.
__________________________________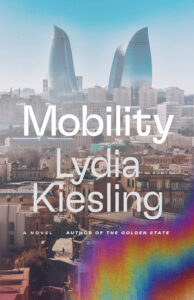 Mobility by Lydia Kiesling is available from Crooked Media Reads.
---