Loving a Country That Doesn't Love You Back: A Reading List
Wajahat Ali Recommends Books That Celebrate a Multitude of American Identities
If you're lucky, like me, you receive numerous, unsolicited messages from strangers every day trying to help you live your best life. Even though I was born and raised in California to Pakistani-immigrant parents, I'm apparently supposed to go back to Iraq, Afghanistan, Iran, the Middle East, and India. Might as well pack my bag and give my salaams and Namaste.
What do you say to a country that you love but doesn't love you back? An America that treats you as an invader, even when you're a native? A nation that still sees you as a suspect two decades after the 9-11 terror attacks, but asks you to sell the American dream and the model minority myth abroad? What's your role in its ongoing narrative when your inclusion is always conditional and subject to revocation on the turn of a dime?
I'm always looking for writers who have been able to articulate the joy, pain, hope, absurdity, dark comedy, and deep longing for this messy and hypocritical America; the one which we have tried to stretch and expand with our pens and stories. Our "economic anxiety" has never been given a proper elegy.
Children learn their place and caste in the American hierarchy through school assigned reading lists, on the streets, and on TV shows. My 6th grade, our World History teacher skipped right over the section on Islam. (Civilization was Greece, Rome, The European Renaissance, The Enlightenment, and white "founding fathers" of America.) People who looked like me or my parents weren't the protagonists of any 80's and 90's movies. All we had was Apu, who was a 2-D cartoon voiced by a white man, but we took it.
We were a footnote or goofy sidekick, the punchline. Often, we are cast as the villain, the bogeyman of the day. You might know us as  "the invaders," or those who come from "shithole countries." Nah. We're just people trying our best to tell our stories even as people are trying to ban our books and remove our heroes from schools and libraries.
Here is a list of books that honestly and eloquently express the complexity of being a modern citizen and human in an absurd country where boundaries and identities often blur, and where our existence serves as a reminder, a resistance, a correction, and a hope for a country that can still achieve its noble aspirations by including and celebrating the rest of us who've always been here but never received the spotlight.
*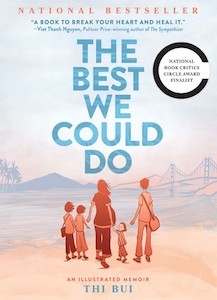 Thi Bui, The Best We Could Do
(Abrams ComicArts)
There will be a massive bias towards Bay Area writers, and I won't even apologize. Bui's elegant, touching and searing graphic novel serves as a memoir, a remembrance, an investigation, and much-needed Vietnamese perspective to a war often framed and told through the white man's gaze. A Vietnamese American writer talking about the Vietnam War?! WHAT?! WILD!
She charts her family's tale as refugees from the Vietnam war who eventually settle in America, but the trauma of war doesn't end upon arriving at the shore. Bui reveals how war not only shatters countries and families, but also traumatizes generations and haunts memories. Ultimately, the act of writing her story is its own healing, and she serves as a helpful guide offering remembrance and gratitude, especially of our elders, the immigrants with the "ethnic accents" who gave up so much, so we, their children, could have a chance to taste this thing called the Amreekan Dream. (Amreeka is how my immigrant parents and many in my community sometimes refer to this country).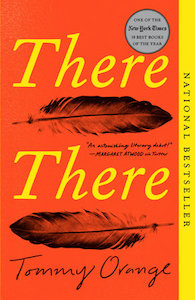 Tommy Orange, There There 
(Vintage)
Like Bui, Orange is also a writer from the East Bay. (I'm from Fremont, so I must represent.) His book's also critically acclaimed and has racked up all the literary nominations and street cred. But, there's no pretension here. No sanitized, cardboard version of the magical Native American who offers peace pipes and stoicism to an white man in need of enlightenment. There's no John Wayne or cowboys. There's no casinos. There's the aftermath, the consequences of colonization, betrayal, and genocide. A people, the original Americans, who have repeatedly been outsourced to reservations or snuffed out, but they're still here, living, in Oakland, California, meeting up at a community pow wow. There's a panorama of perspectives told through several vignettes of characters just trying to live and get by. Some suffer from fetal alcohol syndrome, and nearly all are affected by poverty, trauma, and pain. The characters are so bruised and authentic you're convinced Orange straight up copied them from real life, changed their names, and said, "Fiction."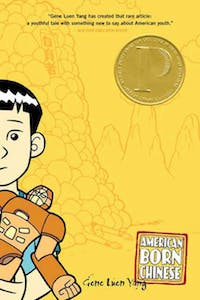 Gene Luen Yang, American Born Chinese 
(Square Fish)
Like me, Yang grew up in the Bay Area and the only time he saw Asian heroes on the screen was Luk Duck Dong, the grotesque monstrosity in John Hughes totally overrated Sixteen Candles, which really hasn't aged well. Yang's graphic novel shares the pain of hating yourself simply due to your name, your ethnicity, your eyes, and your skin color. What happens when you look in the mirror and see only disappointment and shame? What happens when only whiteness is centered? When your school crush and the rest of the girls see right past you because you're invisible?  The graphic novel, using ancient Chinese tales, supernatural characters, realistic coming of age drama, mixes it all up and gives us a way forward.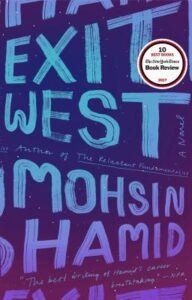 Mohsin Hamid, Exit West 
(Riverhead)
Mohsin Hamid isn't from the Bay Area, but I'm going to throw down the Pakistani card and roll with him for this spot. I recall seeing Moth Smoke at the bookstore during my Freshman orientation at UC Berkeley and being amazed a Pakistani writer had written a book published by a mainstream publisher. I immediately picked it up. Two decades later, Hamid wrote this lovely and heartbreaking fantasy of a world on fire, where boundaries and map lines no longer mean anything, as citizenship and nativity is erased almost overnight through magical portals that let our heroes, refugees from a unnamed country that resembles Pakistan, travel with other refugees around the world, first to Europe and eventually to the Bay Area. Traditions, relationships, hierarchies are uprooted, mutated, and eventually give birth to new, messy, vibrant identities of people trying their best to hold on, survive, and claim a piece of life and land of their own as everything else seems to be falling apart. In 2021 going to 2022, the book is more prescient than ever.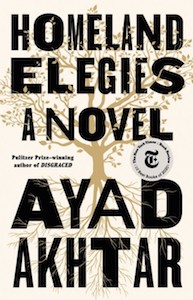 Ayad Akhtar, Homeland Elegies
(Little, Brown)
Let's stick with the Pakistani love fest. Homeland Elegies is a novel about an immigrant family and father-son relationship, but it's more than that. It focuses on the personal to illuminate a fractured America: a country torn between its alleged myths and ideals of exceptionalism and freedom, and its enduring sin of racism and xenophobia. A country resisting, reforming and retrenching all at once, enduring the rise of Trumpism and the mainstreaming of anti-Muslim and anti-immigrant hate, but also trying to find a way forward through the pain and grief.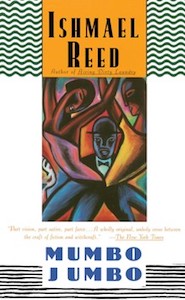 Ishmael Reed, Mumbo Jumbo 
(Scribner)
Going back to the Bay, here's Ishmael Reed's masterpiece which is celebrating its 50th anniversary. Reed was my UC Berkeley professor who encouraged me to start writing a play. I'm not putting him on this list to return a favor, but it's there simply because the work demands it. Read this book now and tell me we aren't dealing with the same restrictive, terrified, constipated forces of white supremacy trying desperately and feverishly to stomp out stories, fashion, language, books, identities and culture of those they fear will "replace" them? Reed called it out in 1972 in this wild satirical romp that breaks free from all convention and form, mixing up a cocktail of history, fiction, jazz, poetry and voodoo to tell a quintessential American story of Black art and traditions that "jes grew" despite white supremacy's best efforts to quash it.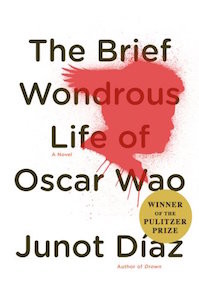 Junot Diaz, The Brief Wondrous Life of Oscar Wao 
(Riverhead)
You can win a Pulitzer even if you quote Watchmen and Galactus? I remember thinking that when I first read Junot Diaz's celebrated novel. I loved the way his characters spoke, and how he unabashedly brought forth what is considered "high" and "low" culture together in his book, doing it with intentionality to tell a larger story of how the "fuku," the curse from the motherland can travel to Amreeka, and haunt and traumatize immigrant generations for decades. Even though the family in his story is Dominican, I found many parallels with my Pakistani families. The universal is often found in the specific.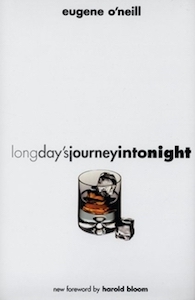 Eugene O'Neill, A Long Day's Journey Into Night
(Yale University Press)
When Ishmael Reed told me to write a play in his short story writing class (yes, you read that correctly), he asked if I had ever read this O'Neill play. I replied, "Yes," and he said, "Great, write me the Pakistani-American version of that." People often forget that the Irish weren't considered White in this country. Neither were Italians, Eastern European Jews, or Germans. In fact, we're all "ethnic." Some of us are just reminded on a daily basis and are told to occupy a small, unlit corner of the playground marked off just for our kind. But, O'Neill's deeply fucked-up      family in his celebrated play is a classic, "ethnic," American family. James Tyrone, a bitter actor, is a first generation Irish immigrant, who perhaps made the mistake of assimilating too much and giving up the traditions and memories in search for Whiteness and acceptance. The American Dream in the household seems like an American nightmare, crushing each and every family member.
Lorraine Hansberry, A Raisin in The Sun
(Vintage)
In Raisin in the Sun, a young, brilliant playwright, Lorraine Hansberry, describes how a Black family still continues to hope despite dreams deferred, but they're always outgunned by racism, double standards, and setbacks. Within this specific context of a Black family trying to make a better life for themselves in Chicago, we also see universal themes present in most "ethnic" families in America, even now in 2021, more than 60 years after the play's release. When I was writing my play, I thought to myself, "Well, if I as a Pakistani Muslim kid can relate to these plays, maybe people can relate to mine?"
I was right.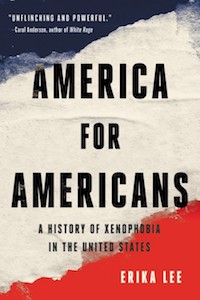 Erika Lee, America for Americans: A History of Xenophobia in the United States
(Basic Books)
America loves reboots and updates. It just casts new actors. Back in the day, the invaders were Germans. They were replaced by the Irish, then the Italians. Along the way, America passed the Chinese Exclusion Act and raised the alarm over "The Yellow Peril." In the next century, these same fears were used to intern American citizens of Japanese descent.  In 2021, this would be remixed and unleashed to invoke fear and hatred of all Asian Americans, who somehow were magically responsible for a pandemic that didn't have a zip code, ethnicity, or religion. America also treated Mexican workers like shit after we benefited from their labor and this was decades before Trump said they were rapists and criminals. The War on Terror then made anyone who looked Muslim-y into a suspect, including Balbir Singh, a Sikh gas station attendant who was the first hate crime victim after the 9-11 attacks. Bigots aren't nuanced. Fear, hate and ignorance flatten everyone. Famed historian Erica Lee is able to clearly and concisely chart a path from then to now, connecting the dots, and remind us that Trumpism isn't a new phenomenon after all. It's as Amreekan as apple pie.
G. Willow Wilson and Adrian Alphona, Ms. Marvel Volume 1: No Normal 
(Marvel Universe)
There's a Pakistani Muslim American superhero in the Avengers. Her name is Kamala Khan, a smart, adventurous, bonafide geek who's trying to be a good daughter, resist her childhood crush Bruno's affections, pass high school, and also try to save her city as a newly empowered superhero. New York has Spiderman and Daredevil. New Jersey has Kamala Khan.
Willow Wilson and Sana Amanat had no idea their character would blow up, literally and figuratively, in such a big way and become one of the most exciting and beloved Marvel superheroes around the world. I know because I asked them. But here we are. It's proof that "the people," often code for white people, will line up behind and for a character of color if they are interesting and if audiences are invested in that character's story. If you build it, they will wear spandex.
I wish I had Ms. Marvel growing up, but at the very least, I'm glad my kids do. (Yes, I bought my daughter her action figure.)
___________________________________________________________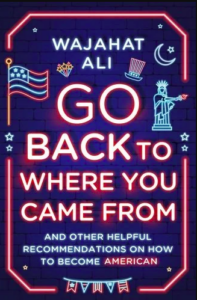 Wajahat Ali's Go Back to Where You Came From: And Other Helpful Recommendations on How to Become American is available now via W. W. Norton & Company. 
---