Living Fossils: Inside the World of Jellyfish
Dr. Lisa-ann Gershwin Considers These Dangerous Yet Beguiling Sea Creatures
Jellyfish, jellies, medusae, quallen, and agua mala—regardless of what you call them, they instill fear and wonder in humans. They are slimy, cold, wet, and jiggly, lacking a brain or a heart or any sort of remorse when they sting us. Indeed, the world's most venomous animal is a jellyfish— this creature doesn't just sting; it kills its victims in as little as two minutes. The pain can be so intense that some say death would come as a relief.
Jellyfish, however, are as beguiling as they are dangerous. They are found in a dazzling array of colors, shapes, and sizes. They are distributed from the North Pole to the South Pole, from the surface to the deepest of the deep seas, and even in freshwater. Some are so delicate they shatter with the smallest disturbance to the water, while others are so appallingly tenacious they can withstand almost any temperature or salinity, starvation, or even being chopped into bits. Some are biologically immortal.
Academic and amateur study of natural history has been dominated by charismatic megafauna, that is, creatures with fur and feathers, plus frogs. Jellyfish have been virtually ignored for hundreds of years. However, they are now enjoying something of a renaissance. This, one might argue, is because jellyfish have become so bothersome that they are demanding our attention.
Increasingly, many people are noticing larger blooms of jellyfish in areas impacted by humans. Overfishing, pollution, climate change, and many other types of disturbance to coastal habitats are stimulating some species of jellyfish to bloom into superabundances, where they wreak unimaginable havoc. Industries from aquaculture to power plants, from shipping, to tourism the world over are cursing the losses they incur because of jellyfish.
But while some are shaking their fists in anger, others are smiling all the way to the bank. Jellyfish are now being commercially harvested and used in a range of products, including thickeners for caramel candies, fat-free substitutes in baked goods, potato-chip-like snacks, a super-growth fertilizer for rice, super-absorbent paper towels and sanitary products, and as a delicacy in many Asian cuisines.
With this attention on jellyfish problems and opportunities, their fascinating biology and ecology are receiving more interest too. People want to understand these mysterious alien beings. One of their least-told secrets is how these living fossils have survived more than half a billion years of Earth's ever-changing history. Millions of other species have evolved and become extinct, some have grown legs or bones or feathers, or walked on land or learned to fly, but jellyfish haven't changed. They haven't needed to. What they do, and how they do it, works. They are so adaptable and so perfectly suited to changing environments they have outlived 99 percent of the species that have ever existed. And still they thrive.
__________________________________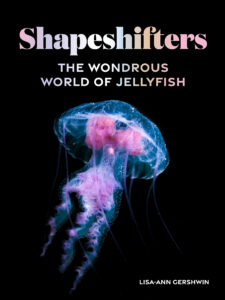 Excerpted from Shapeshifters: The Wondrous World of Jellyfish by Dr. Lisa-ann Gershwin. Copyright © 2023 by UniPress Books Limited. Available from Abrams Books.
---