Literary Los Angeles: Against not-entirely inaccurate stereotypes
Maria Wyeth, Neil Young and coyotes
Los Angeles is a large city. I suppose this comes as no surprise–we talk about it often and show its wide expanses in film and television, and yes, books. I often think of Joan Didion and her character, Maria Wyeth, driving the freeways all day in Play It As It Lays.
I say all of this to warn you that an attempt to capture the Los Angeles literary scene will fail to capture the breadth and scope of what my big, glittering, smoggy, meltingly hot at the moment city offers. We tend to live in pockets here, a phenomenon I cannot believe is peculiarly ours. I have my neighborhoods I think of as no distance, as well as those that to go to would feel like I'm taking a trip, they are so far away in my mind, if not in measured miles.
My literary scene is tied to these places, the tent pegs placed at home, at work, at the homes of those I love. There is a flourishing literary community all over the city, but I know best those stores, those theaters, and those small presses that fall into the circle my places have formed.
There are readings and signings available every day across Los Angeles–usually several a day, thanks to busy and prolific bookstores and a wonderful public library system. We also have an abundance of book-related performances to offer–Literary Death Match, live podcast recordings, live reads of scripts–in addition to the more traditional readings, lectures and workshops.
On a rare rainy Saturday afternoon, I walk over to Skylight Books, my neighborhood bookstore, to hear debut novelist Andi Teran read and discuss her Ana of California. She is a trained actress who read her own audio book, and that experience shows in her skilled reading. The room is full of her friends (and full disclosure, I am one of them), as this is her neighborhood too and it is the final stop on this book tour. Questions come from those in the crowd who don't know her, who haven't spent time discussing this with her in the last two years in which she wrote the novel. People ask about the ethnic diversity of the real town on California's Lost Coast that is the basis of the fictional setting of the book, and about the role that Neil Young plays in the book.
It is easy to feel that most author events are attended by friends or fans, but this crowd reminds me that there are literary people who just want to attend readings. They want to hear an author talk about his or her process, listen to a passage that may convince them to try a new author or a new title, and just want to breathe in the life of a book outside of the reading experience.
Los Angeles has a number of small presses and alt lit publications, and they have created their own lit scene. When I think of literary life in Los Angeles, it is not just the author events that I can attend to meet someone whose words have moved me and an opportunity to get a signed book. I think too of those who are creating literary life–the authors who live here, but also the folks who have decided to edit and publish and provide outlets for those writers.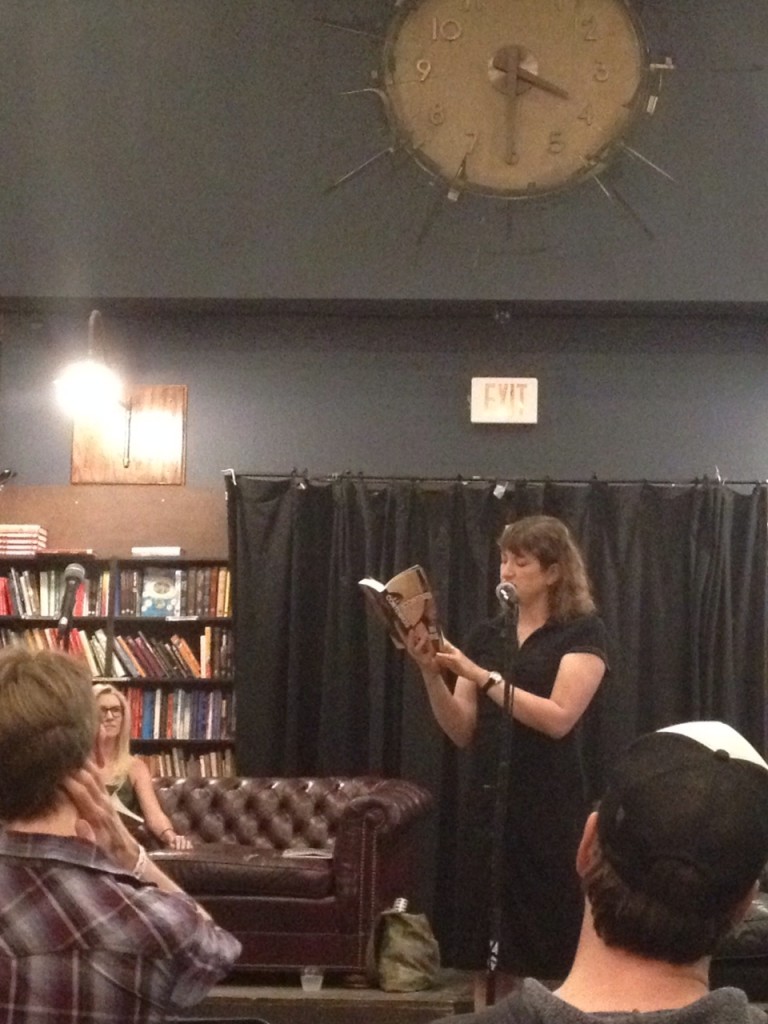 I attended a party and reading that Rare Bird Books, a local small press, threw for their author Erika Krause and her book Contenders at The Last Bookstore, where I work. Krause is from Colorado, and as an Amtrak writer-in-residence, she came through Los Angeles. Her publishers, who believe strongly in the novel she wrote about a tough street-fighting thief who becomes a MMA fighter, wanted to celebrate her, and it was a great chance to catch up with the people who work hard at this small press to bring work they believe in to an audience that should have these stories available.
A few weeks earlier, we hosted an event for Lidia Yuknavitch's new novel, The Small Backs of Children. Several other authors participated in the reading, including Roxane Gay, xTx, and Wendy Ortiz. Ortiz's book, Hollywood Notebook, is published by another of our small presses, Writ Large Press. I've spent time with these presses and others at our largest literary event, the Los Angeles Times Festival of Books, and have seen the dedication they have to their authors and to the work they produce.
The Los Angeles literary scene is not just about a rich community of readers who want to dive deeper into the literature they love or find new voices to explore. It is full of people who create literature as well. Even within this city, I meet many people who are surprised that other people still read, still buy books, still write books, because there is a not-entirely inaccurate stereotype about the sort of people who live in Los Angeles. However, we are not just an entertainment industry city; there are artists and engineers and teachers and restaurateurs and civil servants and so many more people in the city who want more than to build a perfect body and network with all the right people. These are the folks who show up to our literary scene.
During the question and answer portion of Andi Teran's event, someone asked her about living in Los Angeles, as she mentioned that she and her husband had moved from New York City shortly before she began writing this novel. Teran said, "At the end of the day in New York, it was hard to come home and do creative work. In Los Angeles, it came easily. No matter what you do [for a living], you can walk up a hill and have seven coyotes cross your path." The creative community here and the city's own ability to provide places to recharge, like Griffith Park where the aforementioned coyotes reside, provide the heart of our literary life.
---