Literary Disco's Best Books We Read This Year
Book Love from Julia Pistell, Tod Goldberg, and Rider Strong
On Literary Disco, co-hosts Julia Pistell, Tod Goldberg, and Rider Strong read books, stories, and essays, and periodically bring authors onto the podcast to select a book to discuss. Sometimes they do other things as well, including games, live shows, getting on whale ships (courtesy of Julia), going on book tour (courtesy of Tod), rants (courtesy of Rider), and bringing on guests who are teachers, librarians, authors, and actors.
On this episode of Literary Disco, Julia, Tod, and Rider discuss the best books they read in 2018 (not all of which came out in 2018).

Julia Pistell on Educated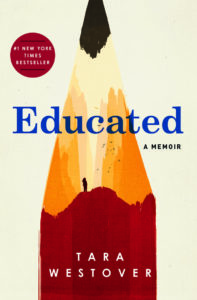 Julia Pistell: The book that I picked has been very popular this year—it's Tara Westover's Educated. Since I started listening to the audiobook version of it, it's been popping up on all these year-end lists and I feel like a dumbass for not reading it before! The book is a memoir by a young woman who grew up in a survivalist Mormon family in Idaho—she never went to school, never had a birth certificate. One of her brothers gets out, teaches himself a bunch of math, and goes to school, and she decides that she's going to do the same thing. She's a really good reader but doesn't know any math, so she teaches herself from an ACT book and passes the ACT. She and her brother basically lie on her college application, and she gets into Brigham Young Univeristy, which is such a completely new environment for her. She's never even been in a classroom before or interacted with anybody in the mainstream. Even so, she ends up teaching herself everything and now has a PhD from Cambridge in History. . . and she's still only 30 or 31. It's a memoir about this really interesting survivalist family and while there's a lot of trauma and abuse in it, at its core, it's this super-American Horatio Alger story of "I'm gonna teach myself everything" and finding success.
*
Rider Strong on This Thing We Call Literature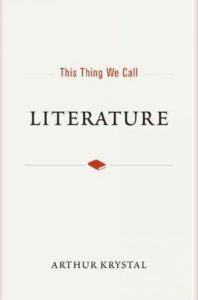 Rider Strong: I picked this book for reasons that are fairly obvious, and it actually didn't come out this year. It came out in 2016, and it's a collection of essays called This Thing We Call Literature by Arthur Krystal. He's a book reviewer and literary critic, and I read something he wrote early on this year and was so blown away by it that I had to go buy the book. He's a really clear, simple, direct writer. In this time, in the Trump era, where there's a backlash against postmodernism and there are these culture wars and conflicts, especially concerning academia, Krystal's book is really a defense of the canon, or at least, a defense of the idea that we should be arguing for the value of a canon. He has such a measured, enjoyable tone.
The major thesis of the book is that nowadays critics measure the value of a book by popularity, first and foremost. In the social media age, the book that gets the most clicks or gets talked about the most gets bought the most, so that's the kind of book that keeps getting written. He thinks that's a bad thing, and we should be writing and thinking about literature not just in terms of what's popular, but also in terms of why someone chooses to write the book they do. I think that's a valid argument.
Tod Goldberg: These are the questions I ask my students all the time! Why are you writing this book? What are you filling within yourself by writing this? What are you trying to say? I don't necessarily think that every book has to cause some great social change or draw off some giant movement. But anything that's worth writing has some backbone, some other level to it aside from just popularity. Even the most commercial fiction writers don't think, "Eh, I'm just writing popcorn."
*
Tod Goldberg on (((Semitism))): Being Jewish in America in the Age of Trump (plus a few more books)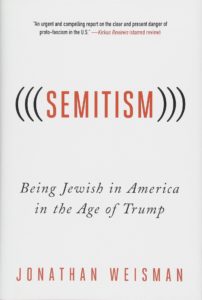 TG: I've got a lot of favorite books—Tommy Orange's There There was my favorite novel of 2018 by far. My favorite book actually was Killers of the Flower Moon by David Grann. It touches on everything I'm into, and is one of the absolute best nonfiction books I've ever read. It tells a story that not many people know, about the murders of the Osage tribe and the start of the FBI. It is a uniquely American story of crime, murder, sex, abuse, and above all else, memory—people have forgotten about this terrible thing that happened. It's a story for our time, because it's one that will happen again time and again. But the book that had the most importance to me is (((Semitism))): Being Jewish in America in the Age of Trump by Jonathan Wiseman, a writer and editor for the New York Times.
During the election, he was really targeted by Nazis online. I'm a big fan of his writing—he's also a wonderful essayist and novelist as well. The book traces the rise of anti-Semitism in America over the last couple of years, how social media has affected anti-Semitism and what it means to be Jewish. It also offers a guidebook on how to be an activist Jew in America today, particularly if you're a writer. It's not a life-changing book of nonfiction, but as a Jew. . . we're only 1% of America's population. . . it's good to know that we're not alone. It's good to know that I feel, as a jew who writes, that I'm not working alone or in a vacuum. So if you're in a Jew in America, that's the book I recommend. But if you just want to read a great book, read Killers of the Flower Moon by David Grann. Oh, and one other thing. You gotta read Digest by Gregory Pardlo. It's the best book of poetry we've read all year.
---