Lit Hub Recommends: Pumpkins, Poetry, Picasso, and More
Also, It's OK to Watch TV in the Bath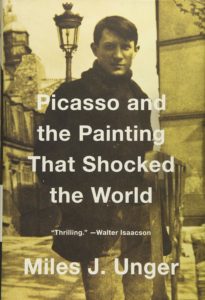 This week I'm reading Miles Unger's Picasso and the Painting that Shocked the World, not so much for the art criticism, which I'm sure is well done though I don't really know, but for the detail of Picasso's early life in Paris, and especially for the illumination of the Spanish concept of 'tertulia,' which is a group of friends (traditionally men although I'm assured that's no longer the case) that meets roughly every day in the same cafe at about the same time to drink and generally shoot the shit outside of the house, and which in Picasso's case was an essential feature of life in Paris, and in my case is the main thing I'm interested in about most people, not just artists but anyone—who are the friends they meet with at cafes and what do they talk about while they're there? So go on, treat yourself, read this Unger book, it's fantastic.
–Dwyer Murphy, CrimeReads Editor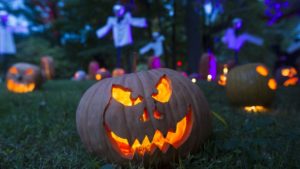 For the past four years my wife and I have browbeaten loved ones living in the Tri-state area into coming with us to the most electrifying event of the Halloween season: The Great Jack O' Lantern Blaze. What is The Great Jack O' Lantern Blaze, you ask? Well, it's 7,000 illuminated jack o' lanterns—each one designed and hand-carved on site by a team of pumpkin artists—arranged into all manner of spooooooky structures (we're talking gigantic jack o' lantern sea serpents, spider webs, carousels, butterfly flutters, circus troupes, haunted mansions, and, if memory serves, a T-Rex), spread out over a couple of fields in Sleepy Hollow and accompanied by a spooooooky soundtrack. When you're done enjoying your leisurely (but spooooooky) pumpkin walk, or when your toddler starts to cry, you can always return to the entrance tent and enjoy some hot cider and pumpkin pie. It's a goddamn delight and you should all go.
–Dan Sheehan, Book Marks Editor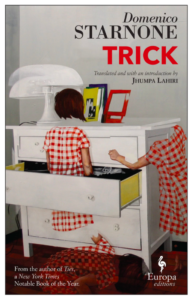 You are old, weary, tired of the intrusive sounds of traffic, the demands of work, the innumerable petitions of a family you've mostly shunned. That's what we know of the narrator of Domenico Starnone's Trick, translated by Jhumpa Lahiri, the author's close friend. (They're up for the inaugural National Book Award for Translation). The premise sounds like the set-up for a comedy, which, in some ways, it is: a once-great illustrator living in Milan bitterly obliges his daughter's request to watch her four-year-old son in Naples while she and her estranged husband attend an academic conference. We learn, quite quickly, that the grandfather detests being summoned back to the violent streets he managed to escape as a young man. Mario, the grandson, embodies the overwhelming vitality that has slowly been draining from the elder for decades. The series of domestic hijinks in the book is as nerve-wracking as it is funny, and we get the sense that the illustrator is creeping toward catastrophe. Overt references to Henry James (the protagonist has been commissioned to illustrate a new edition of James's short story "The Jolly Corner") remind us of this: not all scary stories need ghosts.
–Aaron Robertson, Assistant Editor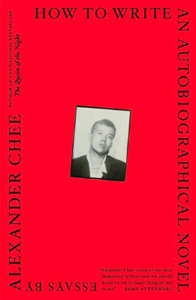 I'm not done reading Alexander Chee's essay collection How To Write An Autobiographical Novel as yet, but I think I'm far enough into the book to recommend it. While some of the essays speak more directly to the "writing life" than others, I think there's something in here for anyone who enjoys elegant, insightful prose on everything from queerness to gardening. I'm far from the first person to say it, but Chee's style is both elevated and accessible, and capable of delivering an emotional gut punch when he wants it to. Alongside reading How To Write An Autobiographical Novel, I've been looping Rufus Wainwright's All Days Are Nights: Songs for Lulu. It's easily the most minimalistic album he's written—all vocals and piano, the lyrics often deeply personal. The two things went together better than I expected—there's a certain elegance and wistfulness shared by both the songs and the essays. Also, if you're as easily amused as I am, there's a particular kind of fun in reading "The Rosary" (one of my favorite essays so far) and then listening to "What Would I Ever Do With A Rose?"
–Miriam Kumaradoss, Editorial Fellow
After starting in on Forrest Gander's recent collection of poetry, Be With, which takes as its very difficult subject the loss of Gander's partner, the poet CD Wright, I have returned to their work in parallel. It's a fool's game to seek the outline of a couple's love dimly mirrored through their art, but it has brought me again and again to these lines from Wright, from the poem "Floating Trees," so that's ok:
the room he brings into you
the room befalls you
like the fir trees he trues her
she nears him like the firs
–Jonny Diamond, Editor in Chief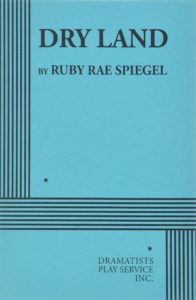 I recently reread Ruby Rae Spiegel's play, Dry Land, which is about two girls on a high school swim team. (Actually, my friends and I read it aloud to each other, which I do recommend.) One of them is pregnant, and in the first scene, she has her friend repeatedly punch her in the stomach because they don't know what else to do. It's about abortion, yes, and also sexuality and eating disorders and the power dynamics between friends. They talk the way teenagers talk, not the way people think teenagers talk, and it walks the line between dark and actually quite funny.
–Katie Yee, Book Marks Assistant Editor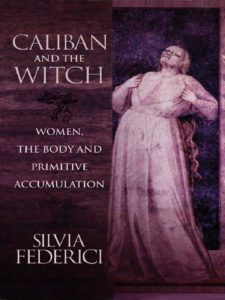 This week, I'm making a second attempt at making my way through Silvia Federici's dense but mind-blowing marxist-feminist classic, Caliban And the Witch: Women, The Body, and Primitive Accumulation. In her seminal text, Federici takes us through the early modern era and examines witch-burning and other attacks on the independence of the female body as the first steps in the formation of capitalism, in particular examining witch-burnings and the subsequent loss of reproductive autonomy as the foundational step in alienating women from the product of their labor (as opposed to the factory as the site for male alienation from labor). If that sounds confusing, that's because I'm admittedly only a chapter in, and even what I've read so far is truly difficult to reduce to a paragraph-long blurb, but trust me, this is the book that all the cool kids are reading. Or at least, all the cool anarcha-feminists.
–Molly Odintz, CrimeReads Associate Editor
My bookshelves are out. of. control. In an attempt not to be a hoarder, I've spent the week making a donate pile–books I read and didn't enjoy, books that I read in college that I kept because I read them in college, books my dog has destroyed, books my baby has destroyed. This minor purge has lead me to reencounter books that I loved and completely forgot about, so I'm in the midst of rereading two slim ones: Sylvia by Leonard Michaels (now I know why I was so depressed in high school!) and Renata Adler's Speedboat (now I know why I thought I was so cool in college!). Hello self-discovery.
–Emily Firetog, Managing Editor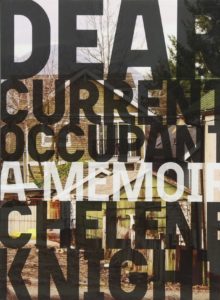 Chelene Knight's Dear Current Occupant will sing to anyone for whom home is a place of inquiry, rather than arrival. Made from a series of poems, stories and letters to the 20 houses she lived in across Vancouver growing up, the book assembles its narrative as it asks of it hard questions. What's in a home? Is a father who never was a father, still a father? Why do children remember so well what they'd be wise to forget? Orbiting these questions and more, Knight maps out the spaces of her childhood one image at a time. Here's where the girl living next door looked down at her feet, just as Knight did. And here's where Knight's mother left each night with a face painted on atop her real face, to hide its shine. Here's where Knight learned to tell stories, and here's where Knight once made herself a fort, because a child told to pack a bag so often wants protection. Although the places change, parts of its soundscape stay the same. A brother's basketball thumping the wall is the comfort of routine, whereas water running in a bathroom with the door closed inspires dread. Another night on the town for her mother. This is a sad, beautiful book twenty years in the making, built from hard work on the self, because Knight's self was not something she could take for granted, but a thing she had to make from shards. "I've been a crack in my own narrative for a long time," she writes, near the book's end. Now with this memoir that self has another container, and by showing her readers where fissures are, Knight allows us do something all the best memoir writers do: to celebrate with her the miracle of its existence at all.
–John Freeman, Executive Editor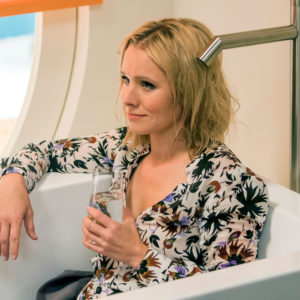 It has become cold in New York. For this reason, I will now be recommending baths. I now recommend baths for almost every occasion and ailment. If you would like to be coddled and comforted, you can draw a nice hot bath with bubbles, light a couple candles, and prop your computer on the sink to watch The Good Place while you soak. If you are sore and/or too wired to sleep properly, I recommend a hot-but-not-scorching bath lavender-scented Epsom salts—particularly for men, who (in my experience) don't really understand how to relax. After a long run, I recommend a more tepid bath which you will then slowly warm up with frequent jets of the hot tap. The dissonance can be nice on well-used muscles. Really any of these baths can be improved with the propped-up computer show of your choice (I have a special table in my bathroom for this purpose, which I can also recommend if you don't feel safe with the sink idea), or some nice music of a relaxing varietal. I like candles around the bath, but I don't recommend scented candles. You never know what will happen when you mix all those scents in a small space, and the whole point is to enjoy yourself. Which I recommend you do. This has been Lit Hub Recommends.
–Emily Temple, Senior Editor
---