Ling Ma on Patterns of Return and the Ways Speculative Fiction Helps Illuminate Real Life
Jane Ciabattari Talks to the Author of Bliss Montage
Ling Ma's eerily prescient 2018 novel Severance, which she has described as an "apocalyptic thriller, coming-of-age roman à clef, immigration narrative, and office novel," revolves around Candace Chen, a millennial who works at a Bible-publishing firm, and who is one of nine survivors who flee New York City during the fictitious 2011 Shen fever pandemic. With fluid ease, Ma merges speculative and realistic fiction as she explores what happens in the aftermath of disaster, including who's in power (in Candace's case, Bob, a former IT technician), who controls culture, and who decides the guidelines for religious practice.
She continues her blending of speculative and realist in Bliss Montage, a collection of eight sometimes satiric stories, all told from a woman's point of view. The collection's title and inspiration, Ma notes in her acknowledgements, come from the film historian Jeanine Basinger's book A Woman's View. Basinger describes the paradox of the successful woman's film of the thirties, forties, and fifties: "It both held women in social bondage and released them to into a dream of potency and freedom." The "bliss montage," Basinger writes, is a "Happy Interlude," a brief sequence in which the "leading lady can be seen laughing her head off, dressed in fabulous clothes, racing across the water in a speedboat, her yachtsman lover at her side." It is "a woman's small piece of action, her marginal territory of joy… And it isn't going to last." Decades later, this montage effect infuses Ling Ma's stories, making the surreal blossom into the sublime.
*
Jane Ciabattari: How have the past three disorienting and tumultuous years been for you?
Ling Ma: Pretty busy. I wish I'd managed to have more fun, but that tends to be my regret most of the time. "Having more fun" is always the vanishing point on the horizon, along with "being in the moment."
JC: How would you map your life from birthplace to now, including Fujian, Utah, Kansas, University of Chicago, Cornell, and now teaching at UChicago? How has that journey influenced your writing?
There's something about adding a fantastical element to the story that forces the issues and questions to the surface.
LM: My answer isn't about any specific place, just a broader observation that my life pattern seems to be composed of a series of returns. My family moved to Utah once, then moved to Nebraska, then returned to Utah, leasing an apartment in an adjacent complex from our old one, and I was re-enrolled in the same school. As an adult, I've moved to Chicago at least three times, for example, and once back to the same apartment.
There's more, but the gist is, I tend to keep circling back to where I used to be, though often these returns were enabled by circumstantial opportunities rather than an active agenda. This pattern of returns did cross my mind when I wrote Severance, which is partly about routines, nostalgia, and home.
JC: I included Severance, which won the Kirkus Prize, the NYPL Young Lions Fiction Award, and the VCU Cabell First Novelist Award, in my BBC Culture piece about pandemic fiction. https://www.bbc.com/culture/article/20200413-what-can-we-learn-from-pandemic-fiction  Do you look back at Severance and think of it as prescient?
LM: Severance has definitely taken on a life of its own. It was nice to hear how readers found some consolation from the novel during the pandemic. I was surprised myself by how much the book seemed to resonate during 2020—not so much the coincidence of the plot centering on a disease from China, but its reckoning with work and capitalism. There's probably more to say, but that novel has outgrown me.
JC: What drew you to speculative and other genre fiction?
LM: There's something about adding a fantastical element to the story that forces the issues and questions to the surface. I seem to have more difficulty making that happen in a story conventionally rooted in realism, pushing the story beyond the realm of the everyday.
That being said, there are two stories in Bliss Montage that are more realist. In writing "Peking Duck," I was interested in using structure and sequencing to surface these questions about immigrant storytelling. And with "Oranges," I saw it as a companion story that paired with the more fantastical "Los Angeles." I wanted to address the similar themes in "Los Angeles," but from a different approach. I was also aiming for "Oranges" to feel like a continuation of "Los Angeles" on some level.
JC: When did you begin working on Bliss Montage?
LM: I worked on the bulk of this collection during the first year of the pandemic. It felt like I wrote it in hibernation. None are about pandemics.
I tend to keep circling back to where I used to be, though often these returns were enabled by circumstantial opportunities rather than an active agenda.
JC:What was the process by which you wrote these eight surreal, sometimes satiric stories?
LM: Many of the stories existed as a sketch or a scene snippet for years. I think it took me a long time to return to these because I initially lacked the perspective to understand them. Years ago, when I tried to write "G," the initial scenes were just too overheated. These volcanic gushes of emotion would just overtake the narrative, scarring it before it could take any shape. The same with "Returning," which started out as a woman waiting at an airport for her husband… and that's as far as I got. I needed the critical distance of time to be able to complete these stories, and to understand how its emotionality can shape the narrative, rather than overtake it. Other pieces, such as "Peking Duck" or "Tomorrow" were more straightforward in terms of process. Both were written in a shorter time span, within a year.
JC: "Los Angeles" begins with a jolt: "The house in which we live has three wings. The west wing is where the Husband and I live. The east wing is where the children and their attending au pairs live. And lastly the largest but ugliest wing,…is where my 100 ex-boyfriends live" and ends with a threat. The Husband, who works for an investment firm, speaks in dollar signs (fascinating dialogue). What a set-up!  How did you research this story?
LM: I've never been to Los Angeles proper, though it's easy enough to get there. Growing up in Utah, LA was always this dream city to me as a kid, and I liked to think about it from afar, placing various daydreams there. Concurrently, I had read somewhere that some of those Bravo reality lifestyle shows use sets or second residences to film, so I was also thinking about a set or a soundstage against which this woman was emoting, this free-floating fantasia.
In terms of "research," maybe it was just watching a bunch of '80s DePalma films and Mulholland Drive right before going to sleep and having dreams. Also, several years ago Moby used to maintain a Tumblr about LA architecture and I would scroll through it as I wrote the story, thinking about how these places would look through a car window, and casting for backdrops for scenes.
JC: In "Oranges," the second story in the collection, you focus on the same woman and her abusive ex-boyfriend Adam.  Combined, with the first story, it's an indictment of the ways in which one man can cause damage to many women. How did you come up with your narrator's payback moments, as she sifts through layers of personal history?
LM: "Oranges" is set up as a chase narrative. A woman, walking out of work, spots an ex boyfriend on the street and starts following him. But I didn't think of this as a story about revenge or payback exactly. The question for me as I wrote this story was, Why is she following him home? And with that, Why can't she put the relationship to rest? Why isn't she at peace, as much as one can be at peace with past trauma, with what happened?
There's a moment when she spots him on the street and tries to avoid him, but at some point a switch happens, and she becomes committed to following him. As we learn later, she's already had this epiphany about who he is, about why he did what he did, and he's already seen some repercussions for his choices. So why keep following? Maybe the story doesn't answer that so much as play out her compulsions over the course of a night.
JC: "G" is about a drug that renders users invisible.  "It lifts the tiny anvil of self-consciousness. You can go anywhere, unimpeded by the microaggressions of strangers, the obligatory, waterlogged civilities of friends and acquaintances. Just go out and voyeur around, nothing but a Guston eyeball bouncing down Amsterdam…"  Bea and Bonnie, two former high school and college best friends, do G the night before Bea heads to Los Angeles for a film studies PhD program. In the course of the evening, we learn about their experiences as immigrants, both arriving in New York as children, their relationship over the years, and the not so subtle consequences of rivalry.  I'm curious about how many versions of this story you crafted, given the complexity of your themes.
LM: There are nine drafts in my files, but it was likely more. I had a few paragraphs of this story tucked away for years. There wasn't much to it, just this idea of two formerly close friends spending time together in New York before one friend moves away. It would be encapsulated within one night in New York, and it would feel heady and romantic in the way that friendships sometimes feel romantic. I knew they were going to take drugs together out of habit, but I didn't anticipate the surreal premise that would ultimately creep in. The story seemed to be activated once it incorporated these physical sensations of being on G. I think that fantastical element was my way into the story.
JC: What are you working on next?
LM: More fiction. I still feel like I'm starting out as a fiction writer, and I'd like to work with this form for awhile longer.
__________________________________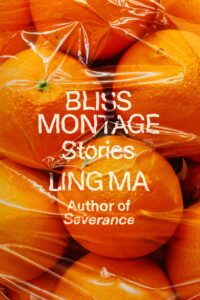 Bliss Montage by Ling Ma is available from Farrar, Straus and Giroux, an imprint of Macmillan.
---