Life on the Road, and in a Walmart Parking Lot
Jessica Bruder Goes on the Road with the Modern Day Drifters
As I write this, they are scattered across the country–
In Drayton, North Dakota, a former San Francisco cabdriver, 67, labors at the annual sugar beet harvest. He works from sunrise until after sunset in temperatures that dip below freezing, helping trucks that roll in from the fields disgorge multi-ton loads of beets. At night he sleeps in the van that has been his home ever since Uber squeezed him out of the taxi industry and making the rent became impossible.
In Campbellsville, Kentucky, a 66-year-old ex-general contractor stows merchandise during the overnight shift at an Amazon warehouse, pushing a wheeled cart for miles along the concrete floor. It's mind-numbing work and she struggles to scan each item accurately, hoping to avoid getting fired. In the morning she returns to her tiny trailer, moored at one of several mobile home parks that contract with Amazon to put up nomadic workers like her.
In New Bern, North Carolina, a woman whose home is a teardrop-style trailer—so small it can be pulled with a motorcycle—is couch surfing with a friend while hunting for work. Even with a master's degree, the 38-year-old Nebraska native can't find a job despite filling out hundreds of applications in the past month alone. She knows the sugar beet harvest is hiring, but traveling halfway across the country would require more cash than she has. Losing her job at a non-profit several years ago is one of the reasons she moved into the trailer in the first place. After the funding for her position ran out, she couldn't afford rent on top of paying off student loans.
In San Marcos, California, a thirtysomething couple in a 1975 GMC motorhome is running a roadside pumpkin stand with a children's carnival and petting zoo, which they had five days to set up from scratch on a vacant dirt lot. In a few weeks they'll switch to selling Christmas trees.
In Colorado Springs, Colorado, a 72-year-old van-dweller who cracked three ribs doing a campground maintenance job is recuperating while visiting with family.
*
There have always been itinerants, drifters, hobos, restless souls. But now, in the second millennium, a new kind of wandering tribe is emerging. People who never imagined being nomads are hitting the road. They're giving up traditional houses and apartments to live in what some call "wheel estate"—vans, secondhand RVs, school buses, pickup campers, travel trailers, and plain old sedans. They are driving away from the impossible choices that face what used to be the middle class. Decisions like:
Would you rather have food or dental work? Pay your mortgage or your electric bill? Make a car payment or buy medicine? Cover rent or student loans? Purchase warm clothes or gas for your commute?
For many the answer seemed radical at first.
You can't give yourself a raise, but what about cutting your biggest expense? Trading a stick–and–brick domicile for life on wheels?
Some call them "homeless." The new nomads reject that label. Equipped with both shelter and transportation, they've adopted a different word. They refer to themselves, quite simply, as "houseless."
From a distance, many of them could be mistaken for carefree retired RVers. On occasions when they treat themselves to a movie or dinner at a restaurant, they blend with the crowd. In mind-set and appearance, they are largely middle class. They wash their clothes at Laundromats and join fitness clubs to use the showers. Many took to the road after their savings were obliterated by the Great Recession. To keep their gas tanks and bellies full, they work long hours at hard, physical jobs. In a time of flat wages and rising housing costs, they have unshackled themselves from rent and mortgages as a way to get by. They are surviving America.
But for them—as for anyone—survival isn't enough. So what began as a last-ditch effort has become a battle cry for something greater. Being human means yearning for more than subsistence. As much as food or shelter, we require hope.
And there is hope on the road. It's a by-product of forward momentum. A sense of opportunity, as wide as the country itself. A bone-deep conviction that something better will come. It's just ahead, in the next town, the next gig, the next chance encounter with a stranger.
As it happens, some of those strangers are nomads, too. When they meet—online, or at a job, or camping way off the grid—tribes begin to form. There's a common understanding, a kinship. When someone's van breaks down, they pass the hat. There's a contagious feeling: Something big is happening. The country is changing rapidly, the old structures crumbling away, and they're at the epicenter of something new. Around a shared campfire, in the middle of the night, it can feel like a glimpse of utopia.
As I write, it is autumn. Soon winter will come. Routine layoffs will start at the seasonal jobs. The nomads will pack up camp and return to their real home—the road—moving like blood cells through the veins of the country. They'll set out in search of friends and family, or just a place that's warm. Some will journey clear across the continent. All will count the miles, which unspool like a filmstrip of America. Fast-food joints and shopping malls. Fields dormant under frost. Auto dealerships, megachurches, and all-night diners. Feature-less plains. Feedlots, dead factories, subdivisions, and big-box stores. Snowcapped peaks. The roadside reels past, through the day and into darkness, until fatigue sets in. Bleary-eyed, they find places to pull off the road and rest. In Walmart parking lots. On quiet suburban streets. At truck stops, amid the lullaby of idling engines. Then in the early morning hours—before anyone notices—they're back on the highway. Driving on, they're secure in this  knowledge:
The last free place in America is a parking spot.
NOMADS ONLINE
On Reddit, a thread called "vandwellers" began in 2010 and grew to include more than 26,000 readers. On YouTube, dozens of do-it-yourselfers showed off tricks for transforming humdrum passenger vehicles into well-appointed cabins on wheels. Some websites compiled tips and updates from travelers across the country, feeding them into searchable maps of nomad-friendly places. One of them, FreeCampsites.net, logged idyllic places in nature where visitors could stay for free, from small city parks to sprawling national forests. Another, AllStays.com, tracked businesses that allow overnight parking, from truck stops to casinos, Cabela's sporting good outlets and Cracker Barrel restaurants. It also sold a smartphone app dedicated to "Wallydocking," or boondocking at Walmart.
Walmart has long endeared itself to RVers by letting them stay overnight in its parking lots. Some believe founder Sam Walton, an avid bird hunter, started the tradition in solidarity with outdoorsy types. Others think it's a canny strategy to capture more shoppers. Either way, nomads appreciate the invitation, though it frustrates paid campgrounds and RV parks that don't like losing business. The policy, however, isn't in effect everywhere. Some Walmarts are located in cities that ban the practice. Others have revoked the privilege because visitors started overstaying their welcome, setting up barbecues and lawn furniture, building semipermanent encampments. In March 2015, a melee between police and an eight-member family of Christian musicians from Idaho, who'd been living out of their Chevy Suburban in the parking lot of the Walmart Supercenter in Cottonwood, Arizona, ended in a struggle over an officer's gun that left one of the travelers dead. The store started rousting overnighters after that. ("It is so sad that a few morons have to ruin a good deal for everyone," wrote the editor of the RV Daily Report website.)
Some Walmarts are in a gray zone, struggling to manage the swelling ranks of nighttime visitors—many living out of automobiles—brought on by the precarious economy. Food trucks from an outreach group called Mobile Loaves and Fishes make regular visits to the retailer's parking lots around Austin, Texas. "Customers of Walmart probably get wigged out a little bit by people sleeping in their cars in the Walmart parking lot," Alan Graham, the organization's founder, told a local radio reporter. "But god bless [management] for continuing to allow that."
The proliferation of blogs through the mid-2000s encouraged otherwise solitary travelers to chronicle their adventures before a wide audience, and inevitably online conversations between kindred wanderers spilled into real-world gatherings. As the nomads met over campfires in forests and deserts around the country, they began to form the kind of improvised clans that the novelist Armistead Maupin called "logical"—rather than "biological"—family. A few even called it a "vanily." For some of them, spending holidays together became  more appealing than reuniting with actual kin. A typical scene: Christmas dinner on a barren, moonscape-like stretch of desert near Interstate 10 in California draws more than a dozen vehicles, whose inhabitants range in age from their twenties to seventies. They share a 15-pound turkey that has been deboned, halved, and cooked on a pair of portable grills, with sides of mashed potatoes, gravy, and cranberry sauce and two kinds of pie, until even the dogs licking leftover crumbs from the plates are sated.
Much of the action was happening out West, but get-togethers—also known as GTGs—were also coalescing back East, from Ohio down to Alabama, Georgia, and Tennessee. When folks caravanned from place to place together like wagon trains of yore, setting and breaking camp along the way, they called it a "roving GTG." In 2011, what became one of the most anticipated gatherings of the year was organized for the first time: The Rubber Tramp Rendezvous, or RTR, was inspired in part by the rough-and-ready mountain men of the 19th century, who spent much of the year in hardship and isolation, trapping critters in remote places but reuniting each year at an annual fur-trading rendezvous. Held on public desert land near the town of Quartzsite, Arizona, for two weeks in January, the winter RTR was a chance for nomads to share skills and stories, make friends, and mentor newcomers to the lifestyle. Vandwelling aspirants sometimes showed up with tents or borrowed vans to learn everything they could before hitting the road themselves. The event was free and awareness spread mostly by word of mouth.
For this community, making an effort to gather in person was no trifling thing. Members spend much of the year scattered across the country. Often they lack the gas money to drive long distances in a straight shot. And many consider themselves loners. Among the hermits, blogger RV Sue has cultivated an especially solitary reputation, pleading with her blog readers not to drop in on her campsites unannounced, explaining that "blogging suits me well because I can interact with all kinds of interesting people without having to actually meet them." Some of her fans have written about coming across a familiar 17-foot Casita during their travels—then realizing who that trailer belonged to and immediately hightailing it in the other direction.
Some folks who attend the Rubber Tramp Rendezvous deliberately park on the outermost edge of the camping zone, while others can only handle human company in small doses and stay for a short while rather than the full two weeks. When someone arrived at an RTR session wearing a T-shirt that said "Introverts Unite: We're Here, We're Uncomfortable, and We Want to Go Home," she got smiles and nods of acknowledgment all day.
Their numbers are likely to keep growing. Bob Wells, who founded the RTR and created an online hub for nomads called CheapRVLiving.com, wrote to one commenter there: "I think you are right, many, many more people are going to be forced into a much simpler life. My goal is to help them make the transition as easily as they can and hopefully eventually find joy in it, just like so many of us have."
Feature photo by SwankieWheels.
__________________________________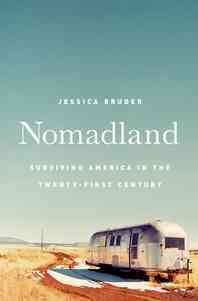 From Nomadland by Jessica Bruder, courtesy W.W. Norton and Co. Copyright 2017 by Jessica Bruder.
---