Learning to Go With the Flow, in Rafting and in Writing
Andrew J. Graff on the Hard Work of Staying Loose
"You just have to stay loose," he said. "Go with the boat, the flow, loosey goosey." It was my first day on the job as a raft guide in training on Wisconsin's northern border, and Jack was offering me last minute advice. I think he sensed my rigidity during the morning's run down this same stretch when I wedged both feet up to my ankles between the raft's inflated thwart and floor, let go of my paddle, and clung to the gear bag. This afternoon I was determined to do better. Find the flow. I nodded and took a deep breath of the cedar trees and river rocks, looked ahead at the horizon of the waterfall where the river disappeared except for a spray of sunlit mist rising from "the tongue"—a river-wide V, our point of aim, three thousand cubic feet of water per second folding itself into a ten-foot drop before erupting over boulders and ledges for an eighth of a mile.
"Go with boat," I reminded myself. "Loosey goosey."
Jack had been guiding several seasons and was tan as a river carp, shoulders the size of snapping turtles. He had a tattoo of a heron that took up the entirety of his back. He looked born into the back of a raft, so when it came to how to sit in one I figured he ought to know.
I plucked my feet loose of their anchor, gripped my paddle, and rolled my neck like a boxer might, or a runner, loose jaw, easy breath.
Jack bellowed an "all forward," and the customers hooted with glee and dug in with their paddles. The horizon opened, the boat dropped, and in the space of one paddle stroke I fell out of the raft. Darkness. Breathless tumbling. Gone.
*
I was taking gen-eds at a community college that year, a non-traditional student back home after a tour in the United States Air Force. Not long after that first season on the river, I transferred to nearby Lawrence University in Appleton, Wisconsin, and started trying to be a writer. What I learned about not staying loose on the river quickly translated to my studies. When Jack finally yanked me out of the whitewater that day—he was laughing and told me I had the fear in my eyes—I quietly decided I would never stay loose in a boat again. I'd wrestle that river, resist its surprise spins, ignore its boils and eddies and angles. I'd plow the water, with my feet tucked beneath thwarts I made sure to inflate extra tight. It was one way of doing it.
I had heard, of course, professors talk about the joys of a freer mode of storytelling, writing as exploration, loosey goosey. But I always resisted it.
At Lawrence, I'd sometimes spend eight hours writing on the fourth floor of the Seeley G. Mudd Library, and then as a senior even got to use my own small office. I was writing a novel about my time in Afghanistan. I'd lock the office door, click on my small green lamp, and stay in there until I came out winded and blinking. I had a few other English major friends who were similarly driven, and all have become novelists. Plowing was productive. But forcing a page count and plot line into a predetermined path also felt unhealthy in some way, the way wrestling a river felt unhealthy. It's like fighting the weather, an adamancy in the act that just leaves a person tired.
When I defended my undergraduate honor's thesis, a completed draft of a novel, one of the writing professors—an older novelist who smoked cigarettes before class in his flannel and jeans on the steps of Main Hall—asked me a question I was unprepared to answer.
"How much of this project did you experience as exploration?" he asked, in a way I felt suggested, perhaps, just a hint of disappointment. "And how much of it did you experience as control?"
I swallowed. All of it, I thought. I controlled every word. I had heard, of course, professors talk about the joys of a freer mode of storytelling, writing as exploration, loosey goosey. But I always resisted it. To me, writing that way seemed to be no way to write at all.
*
Years later, I'm a busy dad and a writing professor at Wittenberg University in Ohio. In summer, I drive four hours into the heart of West Virginia to get my rafting fix. The rivers are big there. I guide rafts part time on the Lower New, and once a year if life permits I reconnect with a handful of guides from Wisconsin who make the trip down to raft the Upper Gauley River. During the months of September and October, the dam above the Gauley releases high water, turning a classic summertime run into a world class stretch of Class V rapids. I once heard a West Virginia guide describe the Upper Gauley to guests while handing out beers after a day spent on the Lower New. He was inviting them back to try the Gauley in fall, making the pitch.
"The easy class five on that river is a fourteen-foot waterfall," he said.
They call the Upper Gauley the "Beast of the East," and for my money, I consider Gauley guides some of the best on earth. Many of them have grey beards, grey braids flying from their helmets. I dream of becoming one.
The first time I ran the Upper Gauley was during a river festival with a guide named Jay. He was older, permanently tanned, chewed Skoal and wore a bright orange helmet covered in river stickers.
He carried a wooden paddle instead of the more common carbon or fiberglass. He told us—a group of guides from Wisconsin and the East Coast—while we were getting ready to launch from the put-in, that he'd spent the festival weekend eating mushrooms in his tent, but that he felt "alright." He looked upstream at the dam releasing its heap of water, then at the sky, then downriver. "Let's go," he said, and we pushed off.
It quickly became apparent, psilocybin aside, that Jay was more than just alright on the water. He didn't just aim and plow the river, as I had done up north, yelling for more paddle power. Jay guided quietly. He slow-danced with the river, and told us between rapids how he considered the most successful runs to be those requiring the fewest possible paddle strokes. It was a better way to raft, he said. To do so, he had to find the flows, read the river instead of fight it. As we tumbled down the opening Class III and IV rapids—we hadn't yet reached the storied Class V named Pillow Rock—I witnessed Jay finding flow. Mid rapid, he'd nose the raft's bow into an eddy, let the current swing the stern, stop the rotation with a gentle pry, and call a forward paddle, perfectly aligned for the next big wave or drop with the perfect amount of momentum. And he didn't just use current. He used the whole canyon, at times lightly pinballing the raft off of house-sized boulders to set up his next move.
"They're all about the spin down here," said one of my Wisconsin friends, smiling. I nodded and smiled too, impressed.
"Hey Jay," I said, turning back for a moment. He raised his eyebrows in the back of the raft. "Thanks for taking us out on the river. Awesome whitewater," I said, and others nodded in agreement.
Without taking his eyes from the river he said, not unkindly, "You can thank me when we've been through some whitewater."
Around the next bend was Pillow Rock, where Jay danced the raft up a twelve-foot high pressure pillow of water, and danced it right back down. And he did this all day, explosive rapid after explosive rapid. It was one of the most skillful, gentle, enjoyable days on any river I've ever experienced.
*
I've long heard of writers, and now know a few, who write the way Jay guides. Marilynne Robinson is one. She once described her process to our graduate workshop as one that sounded purely exploratory— sitting down with a blank page and a pen, discovering her way to that page's end. I'd love it if writing and guiding rafts someday felt that way to me, but the reality is I may never become a Gauley guide. I have made progress, felt at times the possibility of genuine flow.
We can't stay loose while learning. Who can? We don't know when or how to stay loose, and if we try too soon we swim.
I still can't enter a blank page without some sort of outline. I still need a point of aim in a rapid. But I don't only plow anymore. I try to dance, to accept and integrate a surprise spin—an unforeseen decision made by a character, for instance—and allow it to change my aim. I've felt it on rivers too, been pushed off my plan to go right of a boulder instead of left of it, revised the run in real time, nosed the boat into an eddy and let the stern sweep around. It's definitely easier on the shoulders, and ultimately a more fruitful expenditure of energy than trying to adamantly muscle everything back the way it was.
As with living into the second half of life, I suppose it's really a matter of experience. We can't stay loose while learning. Who can? We don't know when or how to stay loose, and if we try too soon we swim. We have to plow straight lines first, become good and tired of it, and then wonder if there's a better way than making adamant demands of writing, life, rivers. I believe the telltale characteristic of Gauley guides, those holy ones with grey beards and braids, is that they have more fully yielded to the inevitability of co-laboring—lightly, forgetfully, fruitfully—with the inexhaustible forces of abundance that were there all along.
_______________________________________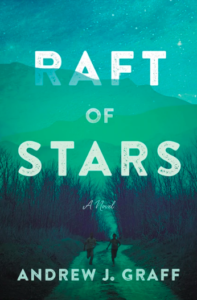 Raft of Stars by Andrew J. Graff is available now via Ecco.
---