Learning from the Work Muriel Rukeyser Left Unfinished
Rowena Kennedy-Epstein on Suppressed Literary Histories
In series of letters between the poet Denise Levertov and Muriel Rukeyser in 1965, Rukeyser wrote, "I feel like being fat is a visible sign of my dark side." Levertov responded by qualifying, "You actually give the impression of lioness grandeur, of hugeness, but not of ugly fatness." I read this exchange as a doctoral student in my twenties, on one of my first trips the archives.
At the time presided over by a man in suit and tie, the New York Public Library Berg Collection was so cold and dark that it felt like working on the moon: hermetic, silent. Dressed in a wool sweater and scarf, even at the height of summer, I'd leave the quiet of the library at the end of the day and strip off the layers as I walked down the staircase, absorbing the heat and noise of Fifth Avenue. The archive, a place that happened to preserve this lost story between women, was not built to accommodate the living bodies of women, I thought.
As I read their correspondence, I was struck by the wicked perniciousness of sexism—that two of the 20th century's most exciting and radical women poets would spend time talking about the size of their bodies in such a way depressed me. But of course, I now realize that's not the only thing they were writing about. They were really writing about what it means to be a woman who takes up space—not just physical space, but intellectual, verbal, literary, and political space—and what taking up that space implies about desires, appetites, affiliations, bodily acts, and artistic impulses.
In Rukeyser's first and only novel, Savage Coast, written through a formal approach that could not be classified by any one genre, she writes of how it feels to be "a big angry woman."  Her editor rejected the novel in 1937 based on a reader report that described it as "BAD" and the autobiographical heroine "too abnormal"—it was left unfinished in another archive.
After one of the first lectures I gave on my rediscovery of the lost novel and the reasons for its initial rejection, someone from the audience approached me and said, "I studied with Muriel, she was a wonderful teacher, but so ugly." Others have spoken of the difficult and expansive unevenness of her work in context of her difficult personality, and reviewers of her work in public and private also mistook her literary output for her gender manifestations, writing of her body and her sexuality while criticizing her texts and her politics, so that it can be difficult to tell what is under review: her inability to conform to gender orthodoxies or textual orthodoxies.
In letters and book reviews, she was called a "Helen, who was a lesbian," "a hussy" who wrote like a "deflated" Whitman, a threadbare "Sybil" and "the Common woman of our century, a siren photographed in a sequin bathing suit"—criticism that both imbued her work and body with power while degrading that power at the same time. This critical doubleness occurs religiously in critiques of Rukeyser, figuring her as both a central and peripheral figure in the 20th century. It is no surprise, then, that Rukeyser herself would write about the reactions to her work and her body at the same time. What she muses on in the letter to Levertov near the end of her life, about what her body exposes about her intellectual, sexual, and formal interests, is an indication of how much gender politics has informed the reception of her work.
For the following decade I have continued to return to her archives. I sit in dark, cold rooms or stuffy, florescent ones. I get lost in a maze of drafts, one-sided correspondences—each cardboard box, so prosaically stuffed with manila folders, could contain a lost story, or just one small handwritten note that flutters out onto the desk like a leaf that I would carefully scoop up, examine and fold back up again.  I have followed a life and work that is far more expansive, innovative, and revolutionary than what I was able to read in books.
What we have of Rukeyser's writing in print is only a fraction of her contribution to 20th-century culture—she was everywhere, and she wrote in every genre. I have found, among other things: an incomplete biography, the typescript of the lost novel misfiled as miscellany, transcripts of radio shows, film treatments and TV shows, plays, translations, lectures, all kinds of visual-literary collaborations, and a rejected essay that theorizes this very state of unfinishedness as the normative condition of women's literary production. In it she writes, "there is waste in nature, waste in art, and plenty of waste in the lives of women."
Commissioned by The Nation in 1957, as Rukeyser was grappling with her own increasingly marginalized position in Cold War America, this essay was supposed to be a review of recent poetry by women, but it turned instead into a theoretical exploration of the influences that shape—and waste—women's work and lives. A literary star of the 1930s and 40s, by the 50s Rukeyser was a queer, single mother, a blacklisted radical trailed by the FBI, whose innovative avant-garde literary projects were judged anathema to the gender and genre orthodoxies of an increasingly conservative cultural climate. Ultimately the essay, "Many Keys," which so painstakingly traces how women's negotiations with patriarchal power shape their artistic choices, was rejected by the editor for "failing to communicate its point" and remained, until recently, buried in her archive.
When examining Rukeyser's vast archive of unfinished texts, there is no way to understand the erasure of so much of her work without understanding how gender functions at the inception and in the reception of women's artistic practices. In 1971, at the height of the women's liberation movement—one that claimed Rukeyser as an essential foremother—the feminist art historian Linda Nochlin challenged our perception of women artists, not merely by recovering their work, but by asking us to look at the institutions and ideological structures that formed women's exclusion from art history, asserting that "it was indeed institutionally made impossible for women to achieve artistic excellence, or success, on the same footing as men, no matter what the potency of their so-called talent, or genius."
These ideas have come into renewed focus through our ongoing reckoning with how sexual harassment and gender bias not only shape institutions, but every aspect of women's careers—the political, legal, and cultural frameworks, as well the work itself—as exemplified in the #MeToo movement.
Rukeyser's writing often asks us to look beyond what is most easily visible in our culture and documents what has been supressed in service of power.
One moment felt especially illuminating for thinking through larger questions of women's artistic production. A few months after the groundbreaking New York Times exposé on the long and disturbing history of serial sexual harassment and assault by the movie producer Harvey Weinstein, the actor Salma Hayek published a testimonial about her experience making and starring in the innovative film about Frida Kahlo, whose radical, avant-garde, feminist modernist vision changed modern painting and how we view women's artistic subjectivity.
In the chilling New York Times op-ed, Hayek describes how Weinstein had pursued her for years after he agreed to produce her movie, asking her to have sex with another woman in front of him, among other humiliating fantasies. She refused each time. During filming, he began to demand things—that she sexualize Kahlo, change her traditional Tehuana dress, modify her bold eyebrows—and then, as she was finishing the film, Weinstein approached with an ultimatum: if Hayek did not add a full-frontal sex scene between Kahlo and the photographer Tina Modotti (played by Ashley Judd), he would kill the movie, shut down production, and bury it.
Hayek wrote of having to make a choice: either capitulate to his humiliating fantasy, and vicarious sexual assault, in public, for every viewer to see in perpetuity, or lose the self-defining artistic project she had worked on for years. How, she writes, after so many people had contributed, could she let all this "magnificent work go to waste?" She did the scene and went on to be nominated for an Oscar, popularizing Kahlo's status as a feminist cultural icon as well.
In writing her #MeToo story, Hayek exposed a truth about women's lives that is rarely articulated: it is a narrative about the struggle to produce work, to have a career, to be a public citizen under patriarchy, to say "NO"; it is also a narrative that exposes how the aesthetics, history, and politics of an artwork, and an artist, are shaped by private "tyrannies and servilities," as Virginia Woolf describes them in Three Guineas. Hayek conveys how the artist and work are not metaphorically shaped, but quite literally: edited, altered, changed, redrawn by the desire, both singular (Weinstein's) but global as well, to punish and humiliate women, particularly women who refuse to submit to gender and artistic norms.
This is not a new revelation. In fact, one of Rukeyser's most famous lines—"what would happen if one woman told the truth about her life? The world would split open"—has become ubiquitous for framing #MeToo stories. And while this kind of silence-breaking has been an essential part of previous women's liberation movements, what is new about this iteration is how effectively these stories have mapped the persistence of inequality in more exact ways for understanding the forces of change and reaction that have shaped the last century. Hayek's sexual exploitation and abuse is written into Kahlo's narrative, into the narrative of Mexican Modernism, and into Modotti's narrative.
Every viewer of the film will also sexualize Kahlo in the way that Weinstein wanted Hayek, as Kahlo, to be sexualized, a sexualization that Kahlo self-consciously struggled against in her own work, in her own life. The effects of Weinstein's harassment influence multiple strands of women's history and aesthetic legacies, and Hayek's narrative shows us the precarious space between disappearance and visibility in which women's work exists.
When I read Hayek's narrative, I had also just encountered Rukeyser's "Many Keys" in the archive, for the first time. In the essay, Rukeyser writes of two kinds of influences found in women's writing. One is the integration of the personal and political worlds; "the other," she writes, "fascinating and difficult to trace, consists of those influences rejected in the writer's work." She continues, "We hardly have the biographical methods, or the critical beginnings, to let us perceive the struggle against influences, and how these reactions may be used, turning rebellion, hostility, desires begun in hatred and in fear into the movements, reaching art, that may surpass [their] origins."
Just as Hayek's narrative shows how her struggle against influence, and capitulation to it, was transformed into an aesthetic legacy, here Rukeyser, in the fifties, began to think toward such a critical stance, one that helps us read the complex gender politics of artistic production in the period and that anticipates the feminist activism and literary criticism that would arise around her work in subsequent decades. The reading Rukeyser is describing takes into account the forces women writers have had to work against, with, or in—the influences of teachers, critics, parents, editors, readers, lovers, mentors—as well as a literary heritage that positions women as object or "audience" and not the subject of literary and textual history. But she goes further, for she asks us to understand the aesthetic implications of such an influence: "There is waste in nature, waste in art, and plenty of waste in the lives of women. Waste is an influence, and the making of poetry works against waste."
By the time Rukeyser was commissioned to write "Many Keys," she had become intimately aware of the gender politics of waste—Savage Coast, the reviewer wrote, has been "a waste of time." In her 1974 preface to an anthology of women poets, she begins with a recollection of the 1940s and 1950s: "Why should there be a book of poems by women? 'If they are any good,' a publisher (male) says, 'they can stand up in an anthology with men.' What shall such a book be, a kind of wastebasket?" Is it any surprise, that she would also be remembered for making decoupage wastepaper baskets out of her own rejection letters?
Each of Rukeyser's "wasted" works gives us a unique view of the conditions that produce a text's unfinished-ness—the sexism of editors, the withdrawal of funding or publishing contracts, political censure or intellectual derision, motherhood and economic precarity—and they are also bound together by Rukeyser's radical vision for artistic creation and political engagement, changing how we might read a period often defined by a conservative gender and artistic ethos. As I discover and read Rukeyser's lost work, I often find myself asking: what if it had been Rukeyser and not Adorno who shaped our postwar thinking about culture and art and fascism? What if it had been the "Rukeyser era" and not the "Pound era"?
By following Rukeyser's unfinished projects, we are given a wider, more complex literary history to work within.
The unpublished and unfinished text can move us toward new understandings, and it can help us recognize communities and aesthetic legacies we have not recognized before, while also exposing the histories of suppression. Aware of the ways in which people refuse to see and connect, Rukeyser's writing often asks us to look beyond what is most easily visible in our culture and documents what has been supressed in service of power—the stories of Spanish refugees, the deaths of Black miners to industrial capitalism, the experience of childbirth.
"There is also in any history," she writes in The Life of Poetry, "the buried, the wasted, the lost." She even asks us to look beyond just the published text—the very existence of which, as a tangible object that we can hold, means we already accept, to some degree, the value judgment of a literary and cultural marketplace—and to go to the archives instead: "When the books do not exist, we must visit the houses for the papers themselves."
She spends decades developing a formal space that allows her to hold voices and histories that have been suppressed, while acknowledging that their disappearance is not a sign of their value. Of course, she would argue the opposite—their disappearance is often a sign of their extraordinary value for challenging systems of power. As she wrote in her sixth "Elegy" in 1949, "I being wasted everywhere saw waste."
By following Rukeyser's unfinished projects, we are given a wider, more complex literary history to work within, dissolving the rigid boundaries of disciplines and forms that Rukeyser always insisted were "false." We are also asked to re-evaluate the gendered and raced norms through which we approach texts, images, histories, and ideas, by thinking through the processes of tradition-making itself. The unfinished work—messy, fragmented, diffuse, and hard to read, found in miscellany folders, in a folder in someone else's archive—is, I think, the condition of women's writing, and women's artistic production, to a large extent.
It should never be assumed that at any time the fraction of work that women have had published is, at all, representative of what they have actually produced. We need to move away from the assumption that publication confirms authorship, and thus authority, and that what is left incomplete in an archive confirms obscurity or unimportance. For what happens between the moment of creation and the moment of publication is a series of negotiations with power structures that shape not only the culture in any given period but also the forms of the works themselves, and then our responses to them.
Rukeyser ends "Many Keys" with a radical call to transform the waste, the influences, the negotiations with power into new forms of being and making: "To use the possibilities so that life is allowed and nourished; the life also of the forms… To move with the receptive until it finds its forms, so that the buried life finds its poetry, in all its voices, approaching alive and now."
__________________________________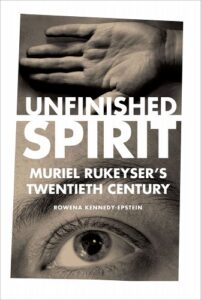 Adapted from Unfinished Spirit: Muriel Rukeyser's Twentieth Century by Rowena Kennedy-Epstein, published by Cornell University Press.
---