Leaning into Mystery: On the Inner Life of an Aging
Shelter Dog
JoAnne Tompkins Considers the Resilience, Strength, and Companionship of a Beloved Pet
My shelter dog, Oscar, is a particular mystery. A Miniature Schnauzer found starving and matted on the streets of California, Oscar arrived in the Pacific Northwest already in advanced old age. He had lived a lifetime before ever laying eyes on me, and he can tell me nothing of it.
That unknown draws me. I attempt reconstruction by studying the topography of his body. His hairless elbows and heels and his atrophied hind legs speak to bedding down on concrete pads, to short chains and kennels too tight to pace or perhaps even to stand in. His body tells of confinement and neglect. He arrived to me with a near baboonish rear end, a freshly neutered senior, and I conclude he was in a puppy mill, that his cruel masters left him to fend for himself when his services were no longer desired.
But I suspect this is the writer in me looking for a tragedy, a narrative arc in which I am cast as the heroine. So, each day I watch him, looking for more clues. What makes him bark with sudden alarm in that raspy old-dog way? Why does he keep going into my closet and staring at the back wall? Which people seem to provoke his ire by their mere existence and why?
With dogs, I exist far more in the present moment than I do the rest of my life. Of course, every sentient being is a mystery, including every human, no matter how many years or decades they have lived beside us. Yet it is easier to remain open to the possibility of the unknown with different species. We understand that each time a dog steps outside and takes a sniff, entire kingdoms open to him of which we will never know.
I am not the only one watching. Oscar watches too. He watches me watching him. He watches me when I'm not looking. And we do learn more about the other, he and I, but we never learn enough to think we are done with the learning. I am grateful for this.
*
I have come to think of my fictional characters as shelter dogs. They arrive a mystery. I sit and watch them, wondering who they are, why do they do what they do, what events have led up to this moment. I am confident that whatever their exterior reveals or conceals, their inner life is rich with all that has come before.
Years back, I asked an MFA advisor—one prone to Yoda-like aphorisms—about techniques for working in backstory. She was silent a long minute. When she spoke, she did so slowly, each word presented with care.
"I don't know backstory," she said. "It's all just story." Her advice thus completed, she asked if I had any other concerns.
It was only later that night that I woke and understood: if "backstory" is not operating in the forward momentum of the story, then it's not part of the story at all; if it is, then it's not backstory, it's very much present story regardless of when it happened. Who knows if that is what she meant, but after that, backstory no longer felt like a post-manufacture add-on that had to be jerry-rigged into place. It was there, living in the moment, or it wasn't.
Of all my advisor's aphorisms, my favorite was this: "Write into the mystery." This would usually be said after chiding me for being in my "lawyer mind" or presenting too many scenes in a logical sequence. When I expressed a desire to know where my story was going, she asked: "If you haven't written it yet, how can you possibly know?"
She was right to worry about my "lawyer mind." Having spent nearly 30 years as a lawyer and judicial officer, I appreciated one neat, contained thought, following logically from the last. In my prior career, I would never have considered setting out to write a legal brief not knowing what conclusion I would reach. When that same MFA advisor threw out my outline for my thesis project, I asked how she wrote her acclaimed novels.
"I write to the heat," she said. "Each day I sit down and write to whatever is rising in me. After I've written around 200 scenes, I spread them out and see what's there."
"That sounds very inefficient," I said.
"Maybe," she said. Her bemused smile made clear that applying a concept like efficiency to a work of art struck her as odd if not profoundly wrongheaded.
Over time, I have come to realize that alert waiting, remaining open to what is offered no matter what is desired, is not only a wondrous way to write but a miraculous way to live one's life.
*
The power of this trust was brought home not only in my MFA project which blossomed into the book that is being released this spring but in the outcome of my long and resistant journey to Oscar.
When my beloved spaniel mix, Maddie, died last June, I concluded that what I most needed was a list. What exactly did I want in a dog? I'd had shelter dogs all my life and though I have loved every one, each had their problematic traits. Certainly, I thought, these difficulties could be avoided with enough planning. I needed a dog who loved everybody and everything, would hike with enthusiasm for miles when leashed up and would be quiet and complacent when I wanted to write, wouldn't bark except at felonious intruders, was completely house-trained, was still young and healthy, liked to be near me without being overly needy and weighed under 30 pounds with a non-shedding soft-to-the-touch coat.
We understand that each time a dog steps outside and takes a sniff, entire kingdoms open to him of which we will never know.
Surprisingly, I found several dogs on Petfinder whose resumes made them good candidates. Three times, I applied; three times, dozens of other pandemic households applied; three times, I was a finalist but inched out by a family with children who needed a non-biting playful mellow dog more than I did.
Then I did what I thought I'd never do. I put a deposit down with a breeder. After much research, I concluded that Bolonka puppies satisfied each of my criteria with the exception of not arriving in the world already house-trained, which seemed forgivable. But for the first time, when the mother gave birth a month later, only one pup arrived. I was number two on the list. It was only then, once again thwarted, that I let go of all my requirements and said, OK, Universe, you obviously have other plans for me. Show me what I need.
I opened Petfinder again, and there was Oscar. When I first inquired about the small, deep-eyed senior then named Larry, the woman on the phone said many things about his housetraining and good nature. Somewhere in his list of accolades, she tossed in: "He has some hearing issues, not that bad." Her tone was casual, and I concluded I would have to speak a little louder to the old guy, or, worst case, whistle to get his attention.
Upon arriving home, I realized the proper translation was this: The dog is deaf. Totally, completely, deaf. Which, to be fair, I was starting to understand before I ever left the pick-up point. When I asked if it would be a problem to change Larry's name to Oscar, she laughed and said, "Not at all. You can call him something different every day."
Another thing I heard on my initial call was this: "His hind legs are a little shaky but he can walk fine," which, with the benefit of hindsight, meant: He will have trouble staying upright on hardwood floors. At times, all four legs will slide out from under him, and he will be stuck squirming, belly to floor, not strong enough to push himself up. As for walking, he is fine as long as you have righted him, placed him on carpeting to get started, the ground is level, you walk slowly for no more than ten minutes and ensure that no stairs are involved.
Oscar meets few of my listed "needs." Oscar is perhaps the most wonderful dog I have ever known.
*
Many speak of what dogs can teach us about acceptance and resilience, about the value of play and a good nap. But for me, dogs help me live in the wonder of another creature without presuming knowledge. They arouse my curiosity and open me to the possibility that I have their inner life wrong. They are a reminder that every being who appears before me, real or fictional, carries inner realms I know nothing of.
The story of Oscar hasn't gone as expected. When he arrived, I concluded that he had only a few months to live. I was wrong. Three months in, he had grown so strong he could hike three miles and have energy left to terrorize squirrels and bark at horses. I rewrote his story then, pronouncing that he would have years more. Now, seven months after arrival, Oscar seems to be failing, having bouts of vertigo and disorientation, at times finding himself once again stuck belly to floor unable to get up. But today, this day, he woke up cheerful, trotted beside me on the leash as we went to visit one of his horses. Each day is an unknown. Each day is its own mystery waiting to unfold.
Oscar and I don't share a history or a common understanding of facts. We do not smell or hear or see the same world. Not only do we speak different languages, we have never once heard the same sound. Yet, we have learned to trust one other, to seek affection, to have fun. I have come to love him and, by all appearances, he has come to love me. We have achieved this not despite our differences but because they require us to approach each other certain only of what we don't know.
*
As I've been writing this, Oscar has been snoring softly on a pad by my desk. Just now, he roused himself, leaned against my leg, and set his head on my knee. When I glance down, he stares steadily into my eyes.
We meet once again in the mystery between us.
__________________________________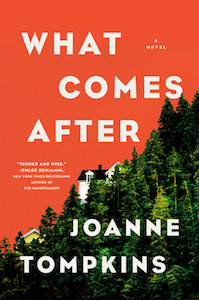 What Comes After is available from Riverhead Books, an imprint of Penguin Random House LLC. Copyright © 2021 by JoAnne Tompkins.
---