Leah Vernon: A Day in the Life of a Fat Model
"She's possibly never seen cellulite in her life. She'd probably vomit seeing mine."
I went to Big Sister's house to pick up my mail. I hadn't planned on living in Detroit for this long and instead of switching my address eighty times, I kept it in one spot until I got my shit together. It'd been almost two months, and I'd been waiting for my first modeling check to come. Every day, I'd text her and ask her if it came. I'd hear her eyes rolling over the phone, followed by a no, not yet.
Then boom! It arrived. I couldn't hide my excitement as I carefully tore open the envelope to make sure the three zeros were there, followed by the one. With tears welling in my eyes, I began to laugh uncontrollably, still with the check in hand.
"What's so funny?" Big Sis leaned in my passenger side window with a burgundy bath towel on her head, shielding her upper body from the blazing sun.
"People are actually paying my fat ass to model." I wiped my eyes with the back of my hand. "I'm short. My teeth aren't straight. I'm Black and I'm Muslim. I can't even walk in heels."
I remembered painstakingly dialing up AO L and looking up the standards for modeling. Every single agency from New York to LA required their models to be at least five feet eight and between the sizes of zero and eight. Long legs. Giraffe necks. Most of them were pale too. But legally, I don't think they could say they were only looking for white-white models.
Only a few of them had plus-size divisions. My mouth watered. For sure, I'd be able to fit into that category. Wrong. Still had to be tall and statuesque, with a tad bit more meat, but only in the right places. They wanted sizes eight to fourteen, and the gag was they had to be "proportionate." I was about one hundred pounds too big and seventy inches too short. I could lose weight. To get to a size six from a twenty-four would require immediate death. I'd have to be dead for at least forty days or so to drop the unwanted poundage; then maybe if I was a good Muslim and I prayed super-duper hard, God would resurrect me like Jesus. A thinner, more model-esque Jesus. I had only one other problem. My height. I had been a dorky kid, so I knew all kinds of interesting facts. I had heard through the grapevine that in order to gain a few inches of height, Asians were having doctors break their kneecaps and then fusing some extra bone, cartilage, whatever, and that when they healed, they were three to four inches taller than before. I was already five foot four, so it'd be perfect.
My eyes scanned over it, in search for the fuck you, you're very ugly, and never apply for anything remotely like this ever again in your life.
The practice wasn't legal in the States, so I'd have to travel to Asia. I could stop spending my chore money on the ice cream truck and 7-Eleven slushies and put that money to better use. The last step was recovery from them breaking my bones. I thought about my pain tolerance and how I had fractured, not broken, but fractured my tibia that last summer, and how much pain I was in and kiddie depression. For eight weeks, I wore a misshapen and smelly cast. If I went through with the procedure, I'd have to wear not one but two misshapen and smelly casts.
This wasn't going to work.
I gave up and embraced the thought that I'd never be pretty and that I'd never be a model like Tyra Banks, until an online friend living in New York told me that she'd gotten an email from an agency looking for hijabi models and that I should apply. Ha! I said to myself. I'd never get chosen by an agency. Do you know how many models are in New York already? How many pastel-wearing, perfect-Instagram-life, hijabi bloggers were already there that'd beat me in followers and picture quality? I'm too raw. Untamed. I mean, I am fierce but New York fierce, I think not.
Me: Girl, they'd never pick me.
Her: Apply anyway
Me: *Cyber rolls eyes*
I was sitting in my office, and by office, I mean bed with two worn pillows propped behind my back and another pillow and folded blanket that works as a makeshift laptop desk. I clicked on the link she had sent, and it led me to an agency website and application to fill out for the position. I giggled the entire time as I typed in my measurements and height and added a few flattering photos. What's the harm in trying?
Submit.
Early the next day, I checked my email as I usually do while drinking spicy apple cider vinegar tea and speed-eating oatmeal, which I absolutely hate, but eat anyway because oatmeal is good for you and it takes a second to make.
The agency had emailed me back in less than twelve hours after I sent in my app. Clearly, they had been so disgusted with my disproportionate measurements that they thought it was fitting to reject me on the spot. I got it. I wasn't everyone's cup of tea with a splash of almond milk.
My eyes scanned over it, in search for the fuck you, you're very ugly, and never apply for anything remotely like this ever again in your life. Instead, they used phrases like "our client loves you" and "we are pleased" and "are you available Tuesday?"
Gulping down the last bit of oatmeal, I messaged my friend.
Me: Girl, why this scam ass agency talking about some they love my look. Ha! Sounds like a scam to me.
Her: Scam? That's a legit company. I've worked with them before.
Me: Huh?
Her: That's a real company, boo boo. You got it!!!
Still in disbelief, I emailed the supposed agency girl back and asked which company would I be so-called "modeling" for?
She responded, "Refinery 29."
The head stylist was that typical tan, privileged, and thin white girl with even whiter teeth and soft brown tresses with honey blonde highlights.
I couldn't help but think that somehow I had scammed them into believing I was worthy enough to model for them, that they'd find out that I was fatter than my photos showed, and that they'd toss me off the set as soon as I walked through the door. I was a small-time model from Detroit without an agent. I mean, I had modeled in Paris and LA, but those were smaller gigs that I had set up myself. Oh, and I had modeled for Adidas Originals, too, but I could barely fit into their stuff. New York was intimidating. They'd expect me to be on the entire time. What if my IBS acted up, I shitted in their fancy schmancy clothes, and ruined the whole shoot? What if I died on the way there and they'd be like, "Ugh, I knew her fat ass would so die on the way here. Such a typical fattie." And worse, what if I couldn't fit into any of their wardrobe?
The team and I emailed back and forth about what I could and couldn't wear due to being a covered Muslimah. Then we got into sizing. The agency gave me the stylist's Instagram, so I could see who'd I be working with. The head stylist was that typical tan, privileged, and thin white girl with even whiter teeth and soft brown tresses with honey blonde highlights. She's possibly never seen cellulite in her life. She'd probably vomit seeing mine. I'd been on a set before, and I'd have to be naked during fittings and outfit changes. I knew the drill. Beads of sweat rolled down my neck as I anticipated the judgment.
I sent in my size and measurements. She replied: "Great. Do me a favor and just bring in some of your fave outfits."
I sighed. I read that again as: "Whoa. You are super big. Bigger than we thought. Please, bring your own shit cuz clearly we can't accommodate all that bawdy."
I responded: "Will do."
The day of the shoot, I woke up super-early to hit the musty streets and lugged my entire life in a large piece of luggage down and up eight hundred steps before I reached the headquarters of R29, forty-five minutes late.
It was surreal to be standing there. Me. A broke bitch from Detroit. The girl whose dreams were to model in the Big Apple and even thought about breaking her kneecaps just to have a spot among the elite.
Just life in the day of a fat model.
__________________________________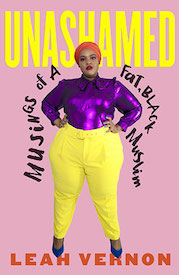 Lead photo by Velvet D'Amour. Excerpted from Unashamed: Musings of a Fat, Black, Muslim by Leah Vernon (Beacon Press, 2019). Reprinted with permission from Beacon Press.
---